Air Force to build data base to combat Glaucoma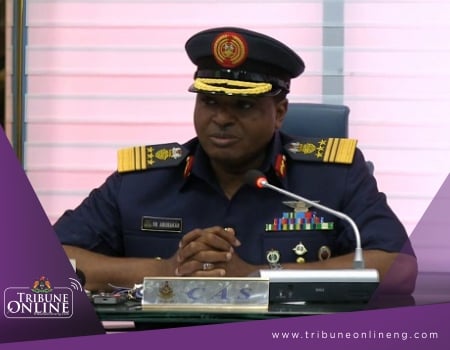 The Nigerian Air Force (NAF) says it will build a data bank of the population with glaucoma at all its commands in order to prevent blindness among personnel and their families.
The Chief of the Air Staff (CAS), Air Marshal Sadiq Abubakar, made the disclosure on Tuesday in Lagos at an awareness campaign against Glaucoma blindness.
Abubakar, represented by the Air Officer Commanding (AOC) Logistics Command, AVM Ibrahim Yahaya, said the data would assist the service in the expansion and upgrade of its facilities to effectively tackle the condition.
The programme, with the theme "Winning the War Against Glaucoma Blindness", was organised by the NAF headquarters in conjunction with 561 NAF Hospital, Ikeja.
Abubakar said, "We want them to check their eyes to ensure there are no cases of Glaucoma, and if any, fight it. Glaucoma blindness is preventable if detected early.
"Secondly, we are trying to build a data bank on personnel, both serving and retired with Glaucoma, as well as those without it.
"Such data bank would help us plan appropriately on how to expand our facilities and equip them for better service delivery," he said.
The Air Force chief said that the eye was a vital organ which nobody would want to lose.
"We do glaucoma awareness annually. We did one in March, but this time around, we decided to embark on awareness and enforcement campaign in all the commands.
"It has been done in Makurdi and Kaduna. Lagos is the third place and I am sure they would proceed to Yenagoa in Bayelsa State and Bauchi," he said.
Earlier, Chief of Medical Services, AVM Sale Shinkafi, who was represented by Air Commodore Mohammed Shaibu, said the NAF had over the years, provided preventive and curative medical services.
"Like you are all aware, preventive services are cheaper and some of those medical conditions are preventable.
"Blindness from Glaucoma is preventable and the best prevention is early diagnosis.
"Glaucoma does not have symptoms and that is why we have encouraged our people to have their eyes checked once a year, because once the blindness comes, it is permanent," he said.
Shinkafi said such programmes were organised so that such conditions could be identified in good time.
"We would not want to wait until they are fully established before offering treatment.
"The medical services are free. The checkups and drugs, eyeglasses are free.
"Those who require surgical treatment would also get that for free because the CAS has made adequate provisions for it.
"That is why it is important to have records of those with this problem," he said.
According to Shinkafi, the enormity of the problem determines how often the Air Force engages in campaign to combat it.
He said that the ratio of Glaucoma cases among personnel and their families is a reflection of what is happening in the society at large.
In his opening remark, the Commander, 561 NAF Hospital, Air Commodore Benjamin Okunola said the campaign was a demonstration of the CAS' commitment to ensure that officers and their families are in good health
The News Agency of Nigeria (NAN) reports that free eye screening for personnel and their families was conducted.
Free drugs were also distributed to persons with eye defects, while those with surgical or advance optical conditions were referred to the hospital for free treatment.