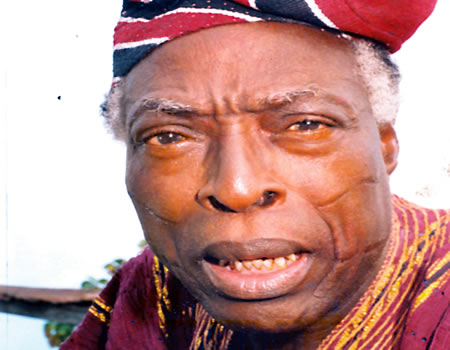 Nigeria's foremost playwright, poet, journalist, author and actor, Chief Adebayo Faleti, who died last Sunday at the ripe age of 86, , was born on 26th December 1930.
Chief Faleti attended the University of Dakar in Senegal and obtained a Certificate of proficiency in French Language and Civilisation in 1966. He was a graduate of the University of Ibadan, where he studied English in 1971. He also attended the Radio Netherlands Training Center in Hilversum, Netherlands, where he got a certificate in Television Production.
This veteran journalist was one of the pioneer staff at Western Nigerian Television (WNTV) where he was a film editor and librarian. He was once the General Manager of the Broadcasting Corporation of Oyo State (BCOS).
Adebayo Faleti was a Yoruba translator par excellence, who translated the speeches of the former military president, General Ibrahim Babangida, and of that the Head of the Interim National Government, Chief Ernest Shonekan, from English to Yoruba. Faleti also translated Nigeria's national anthem from English to Yoruba.
Faleti established his theatre group, Oyo Youth Operatic Society in 1949.
As an author, he wrote great books and plays, among which were, a dictionary containing the formal use of Yoruba names,  as well as Basorun Gaa, Sawo-Sogberi, Thunderbolt: Magun, Afonja, among others, which were developed into films by Mainframe Productions' Tunde Kelani.
Faleti co-produced Tunde Kelani's first film, ''The Dilemma of Reverend Father  Michael" (Idaamu Paadi Mikailu), when he returned to Nigeria after he finished from the London Film School.
He was a recipient of many awards, which included, Officer of the Order of the Niger (OON), the Festival of Arts award and the Afro-Hollywood Award for Outstanding Performance in Arts.
Samuel is a cultural enthusiast.