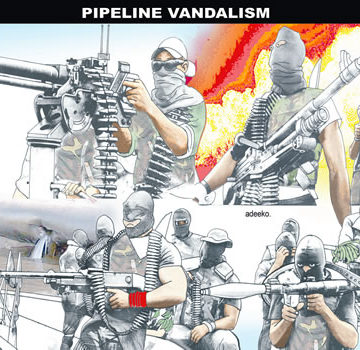 Terrorism is a global tormentor. It is now the world's biggest affliction.
Nigeria has, for several years, been battling the Boko Haram insurgency which is responsible for thousands of deaths in the North-East.
We know about the Boko Haram insurgency, Niger Delta militancy, kidnapping, armed robbery, cultism and ritual killing, among others. But new sects have been posing threats to the nation.
Now, we hear of herdsmen's menace and Badoo cultists. While not as formidable as before, Boko Haram remains the most active threat in terms of numbers of attacks.
In Nigeria's oil-rich South-South, a resumption of militancy saw armed groups attacking oil installations, hobbling Nigeria's oil production and exports.
The Badoo cultists are considered deadly because they allegedly kill their victims in a crude and horrific manner using millstones. And in most of their operations, their aim was to exterminate or wipe-off whole families.
Moreover, unlike the religious fanaticism which drives Boko Haram, the Fulani herdsmen are driven by conflict over access and control of land between the semi-nomadic herdsmen and farmers.
The Niger Delta militants are driven by the goal of acquiring control of regional petroleum resources, and the Badoo cultists are driven by the quest to acquire vast wealth, while the Indigenous Peoples of Biafra (IPOB) secessionist movement is driven by the agitation of some Igbo people to leave Nigeria.
While Boko Haram is still operating on a hit-and-run basis in the North-East, the waves of kidnapping, armed robbery, cultism, ritual killings, are still giving and our military, the police and other security operatives Sleepless nights in the South-west.
It is crucial that we ask ourselves what needs to be done to eradicate these malaise.
To me, Nigerians should stop supporting dictators and those funding terrorists. And the Federal Government should order effective border management through round-the-clock surveillance and patrol of the border areas.