2023 presidency: Give me 3 months to decide to run or not ― Bauchi gov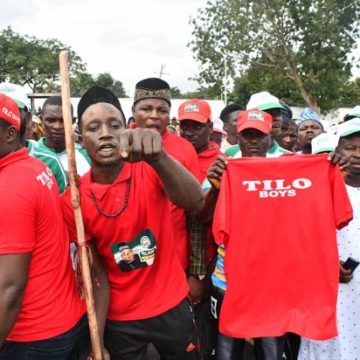 As pressure continues to be mounted on him to declare interest in running for the 2023 presidency under any political party, Bauchi State Governor, Sen Bala Mohammed Abdulkadir has assured that in the next three weeks he will make a public declaration of his intention for the 2023 general elections after he might have concluded consultations.
The governor made the declaration, on Thursday when a crowd of coalition of organisations, associations and individuals trooped to the government house to reiterate the call on him to aspire for the presidency.
Bala Mohammed told the crowd that he was about to conclude his consultations, meetings and discussions with all the critical stakeholders after which he will then make a final public declaration on the matter.
He said that "as wide as the country is, with its diversity, there is the need for me to deepen consultations before making my position known.
He explained that he has already consulted his political allies who are Senators, Ministers and even his political party, the PDP, who have all given him the nod to go ahead with his aspiration as they are solidly behind in whichever direction he is going.
He, therefore, urged the coalition and others who are calling on him to allow him to conclude his consultations within the next three weeks to enable him to talk to all critical stakeholders and leaders across the country assuring that if given the ticket and subsequently the mandate, he will bring to an end the scourge of insecurity bedevilling almost every part of the country.
While assuring that he is ever ready to make sacrifices with his life for Nigeria to be united, Bala Mohammed, said that he has the leadership experiences to steer the ship of the Nigerian state saying that it has become imperative for all well-meaning Nigerians to join the movement for salvaging Nigeria from the myriad of problems confronting it.
The coalition is made up of Northern Youth Leaders Forum, North-East zone, which led the group, as well as NURTW, National Youth Council, Traders and Artisans Association, Market Women Association, and Students Union, among others.
Chairman of the Northern Youth Leaders Forum (NYLF), Dr Elliot Affio said that they were at the government house to hold a solidarity rally for Sen Bala Mohammed pleading with him to consider their demands on him to declare his interest in the presidency under any political party or face legal action from the coalition.
He further said that the coalition alongside other organizations are fully prepared to market the governor to Nigerians with a view to seeking their votes come 2023.
It will be recalled that the same coalition and other groups have sometimes in June this year, called on the governor to declare interest and contest for the presidency of Nigeria in 2023 or face a legal battle.
YOU SHOULD NOT MISS THESE HEADLINES FROM NIGERIAN TRIBUNE
2023 presidency: Give me 3 months to decide to run or not
We Have Not Had Water Supply In Months ― Abeokuta Residents
In spite of the huge investment in the water sector by the government and international organisations, water scarcity has grown to become a perennial nightmare for residents of Abeokuta, the Ogun State capital. This report x-rays the lives and experiences of residents in getting clean, potable and affordable water amidst the surge of COVID-19 cases in the state.  2023 presidency: Give me 3 months to decide to run or not