We have not had water supply in months ―Abeokuta Residents
•We have started work from scratch, expect results in three months —Govt
In spite of the huge investment in the water sector by the government and international organisations, water scarcity has grown to become a perennial nightmare for residents of Abeokuta, the Ogun State capital. IFEDAYO OGUNYEMI reports on the lives and experiences of residents in getting clean, potable and affordable water amidst the surge of COVID-19 cases in the state.
Adijat Aderibigbe groans as the rhythmical tunes from her minute alarm system pierce her eardrum around 4:30am on Friday, January 15. Her mind raced as the thought of getting water for the early morning bath came to her mind.
Aderibigbe, a nurse at one of the private healthcare facilities located at Ibara axis of Abeokuta, the state capital, told our correspondent that she only had half-a-bucket of water left from the meal she prepared the night before.
"I knew I had to wake up early in order to beat the queue that's usually at the well. It's a beehive of activities as early as 5a.m.," she said. "It's not a new thing around here. We've always had this problem since I was an undergraduate at MAPOLY. That much I know."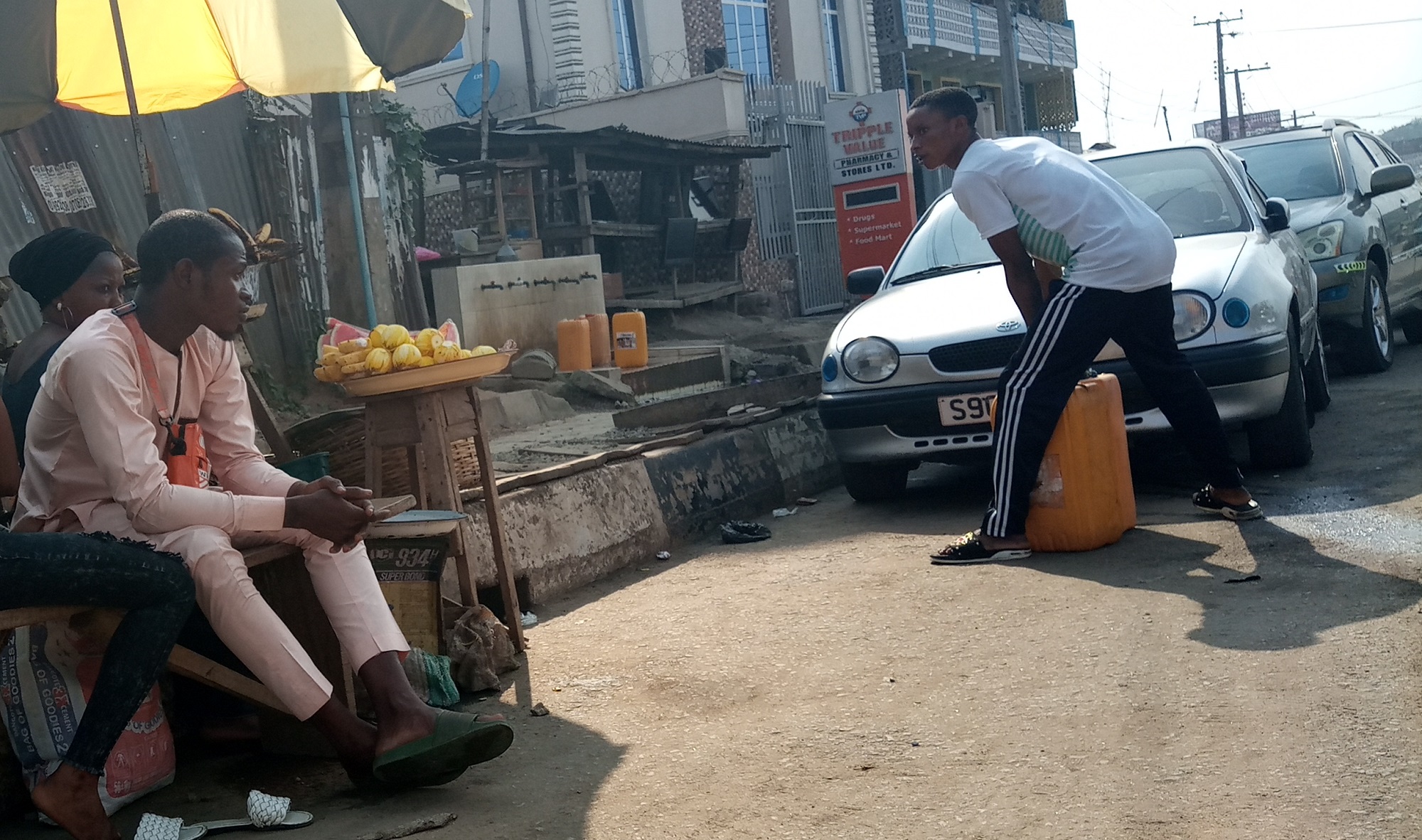 She later told Saturday Tribune she was fortunate to meet four women and a young man on that fateful morning. "There are two hotspots for crowds at wells and some boreholes around here – early morning and late in the afternoon when people are back from work. I also join them during the weekends. I have no choice because I have laundry to do as well," Aderibigbe said.
This ordeal confirms Saturday Tribune observations about a week earlier. When our reporter reconnoitred the state capital on Friday, January 8, some residents were seen carrying jerry cans under the scorching and skin-rapping sun in and around areas and communities seeking where to fetch water.
Places visited by Saturday Tribune include sections of Obantoko, Asero, Elega, Ilugun, Oke-Saje, Adatan, Ake, Sapon, Itoku, Ago-Oba, Ago-Oko, Enu Gada, Sokori, Totoro, Ita-Eko, Omida, Panseke, Adigbe, Onikolobo and Oke-Ilewo.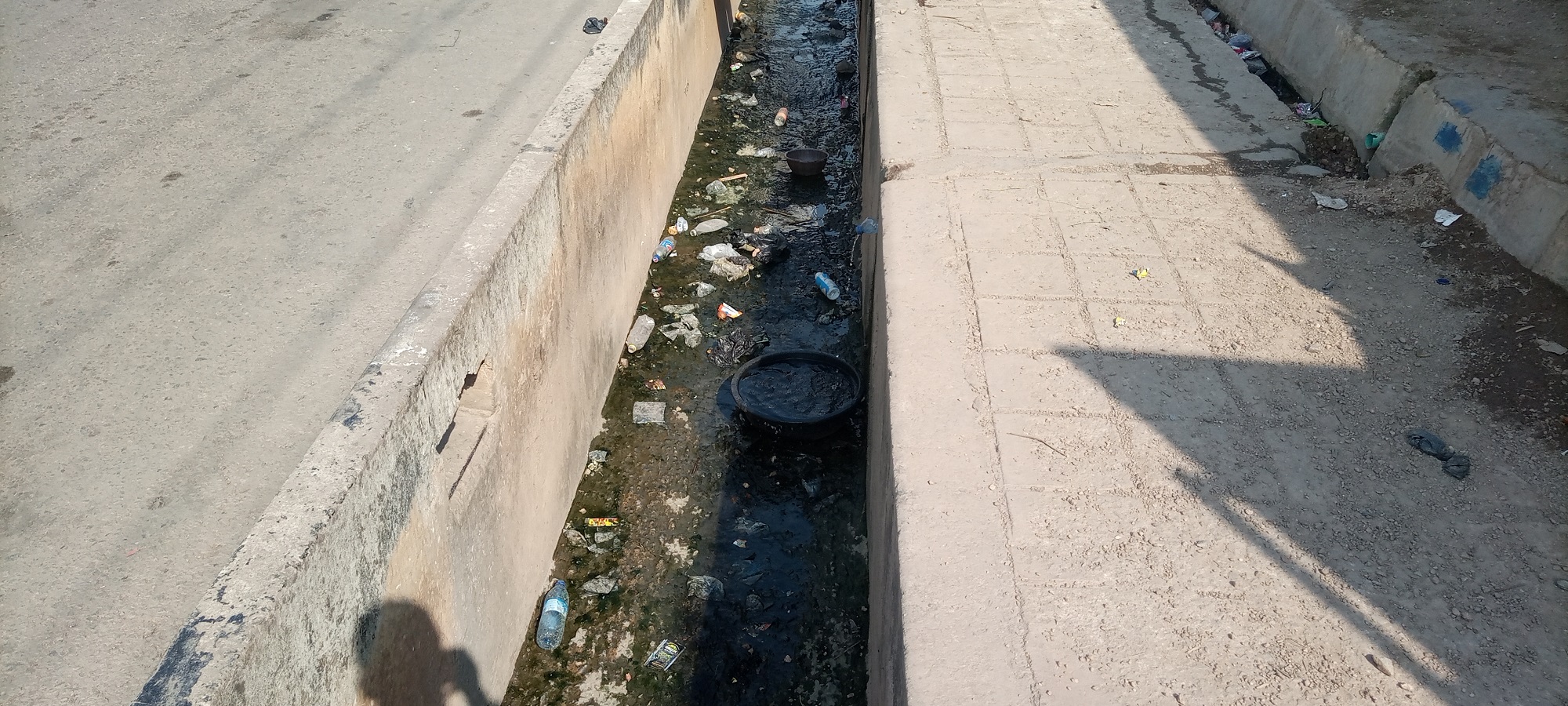 Unpleasant and unclean alternatives
Water, according to the European Federation of Bottled Waters (EFBW), is a basic necessity for life and lots of human activities depend on it largely because it contains essential nutrients that play a key role in the human body. Water makes up on average 60% of an adult's body weight, from 31 % in bones to 83% in lungs. When access to potable water proves difficult, people seek alternative water sources including dirty collection of water, stagnant and smelly water etc. and as much as 60 million of Nigeria's 200 million people do not have access to safe water, a 2017 WHO report found.
It is for this reason that Mrs B. also joined the league of residents who get water from unclean sources. Mrs B. allowed Saturday Tribune to document how she gets her water from beside a pavement. Her only condition was that her face and  identity be concealed.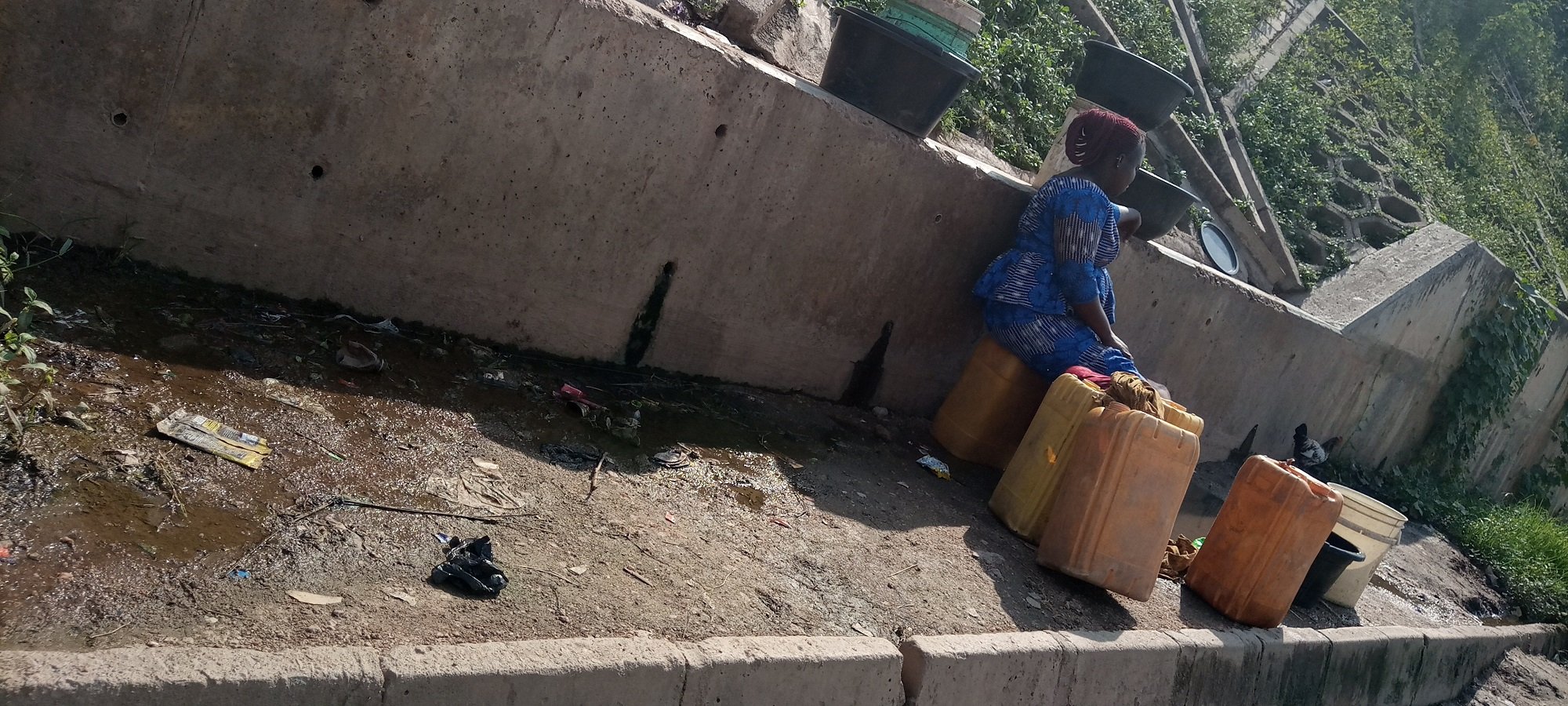 When Saturday Tribune met her at Ago-Oba area of the state capital, she sat – without covering her head – on a jerry can stationed right beside a dirty collection of water. Five other jerry cans, four black bowls and four paint-buckets surround her. Other spectacles that caught the eyes of Saturday Tribune reporter include the build-up of algae on a section of the pavement and in the dirt-filled and smelling drainage system – part of many projects constructed by during the urban renewal drive of the immediate past administration of Governor Ibikunle Amosun.
A young man in his twenties, Abdulahi is one of those who seek alternative water sources in unpleasant places. Saturday Tribune met him fetching water from a small hole inside a drainage system at Ago-Oba.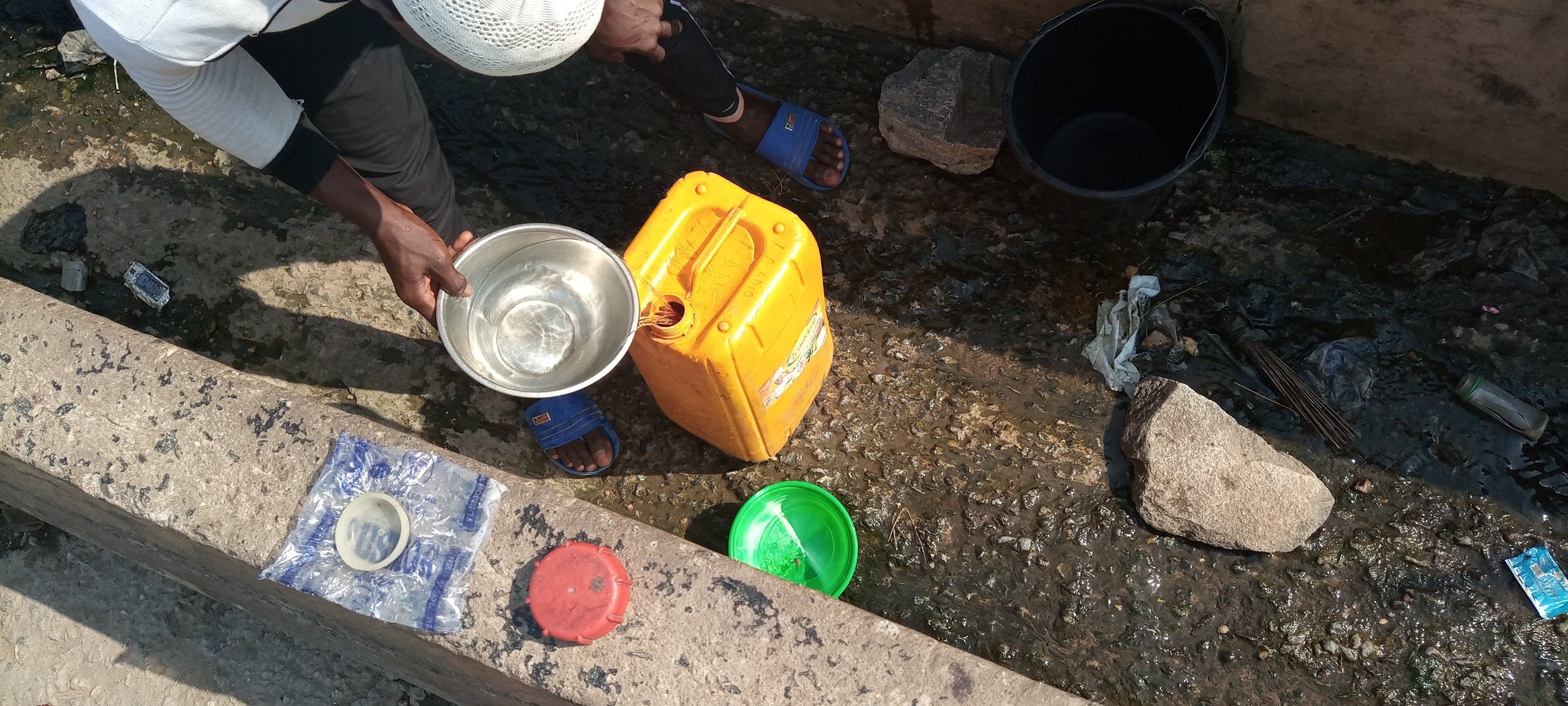 He had crossed the Itoku Bridge and trekked a few metres to get water when Saturday Tribune met him. When asked if the water was meant for other purposes other than drinking, Abdulahi who had just come into the town a few weeks back said "I don't know of other people but I drink it."
When further asked if he knew the source of the water he comfortably drinks, he answered in the negative. "The well inside the mosque where I stay is no longer deep and there's no fund to repair it. It's just sitting there."
Soon after Abdulahi was done, a group of children under the age of thirteen besieged the point to also fetch water into their jerry cans and large bowls.
As Saturday Tribune followed Abdulahi up to the mosque from whence he came, our reporter noticed that a borehole was sited behind the mosque but the facility located at Oke Ija-Ofa, Gbagura Abeokuta – a stone's throw from the mosque the mosque in front of Totoro roundabout – was deserted.
An Islamic cleric who worships at the mosque, Alhaji Ismail Adeleye, said the facility works once in a while and it is not dependable. While Saturday Tribune learnt the facility was facilitated by sons and daughters of Gbagura to commemorate the one year anniversary of the Agura of Gbagura Egbaland, HRM, Oba Saburee Bakre, Adeleye confirmed that the facility was commissioned about two months ago by the traditional ruler.
Adeleye said: "There is hardly water in this vicinity; we trouble too much to get water. This borehole facility you see here works about once a month and the well we have here is dried up and we don't have the capacity to dig it deeper."
A Gbagura prince and Regional Editor of BusinessDay, Razaq Ayinla, told Saturday Tribune that: "There has been perennial challenge of water in Gbagura and Owu land because of rocky and hilly nature of the place unlike Egba Ake and Oke-Ona that are lowlands. We want to engage some personnel to man it because it needs power and monitoring for it to work perfectly. Therefore, we want to employ some people to be in charge, we are ready to earmark some funds to that effect."
Failures of MDGs? Failures of SDGs?
This problem is one of the key issues the Sustainable Development Goals (SDGs) Nigeria signed on to eradicate by 2030 after the end of the Millenium Development Goals in 2015.
But a 2018 study found out that 62 million Nigerians are yet to meet the MDG water supply indicators because they depend on unimproved water sources or spend more than 30 mins traveling to fetch water. 185 million Nigerians are off the SDG target on water supply because they do not have access to improved water supply, located on premises, available when needed and free from fecal and chemical contamination.
While only 15.7% of schools have basic water supply and sanitation services, only 5.5% of schools have basic, gender sensitive, water supply, sanitation and hygiene services (in line with SDG requirements). Just 5.2% of health facilities have access to basic, gender sensitive and disability-friendly WASH services (in line with SDG requirements) and only 12.4% of markets/motor parks have basic water supply and sanitation services in Nigeria.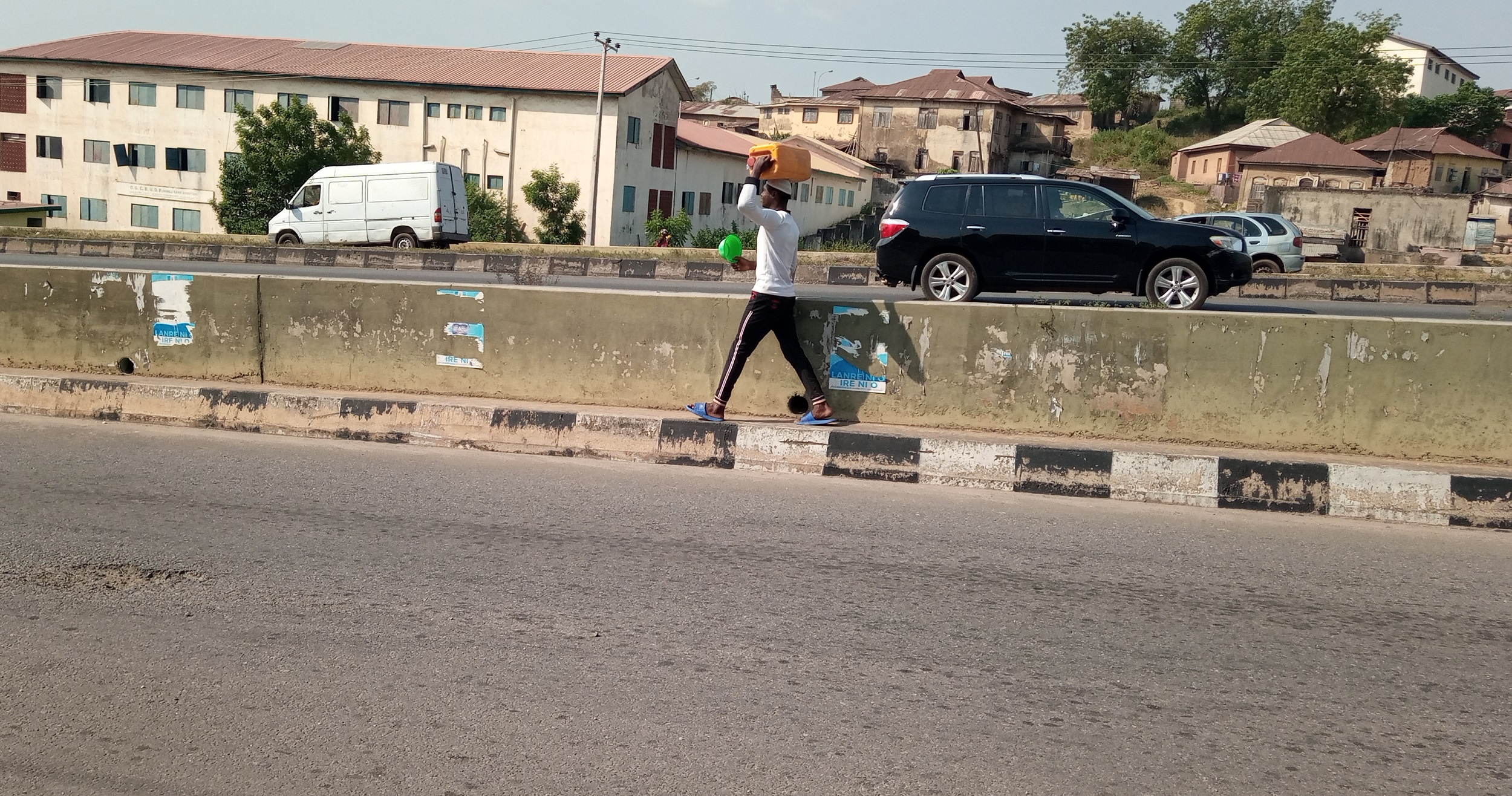 Multiple tragedies
Experts have warned that lack of access to clean water poses a danger to the overall wellbeing of and given community as it could lead to the outbreak of an endemic, a pandemic – such as COVID-19 – and health crises including typhoid fever, cholera, giardia, escherichia coli (e. coli), dysentery, hepatitis A and salmonella.
The World Health Organisation (WHO) also noted that access to clean water is key in the fight against COVID-19 which had killed about 39 persons from the about 2,928 confirmed cases recorded in the state as of January 19.
Saturday Tribune reports that clean water is key to the hand washing guideline given by the world, national and state health governing bodies as preventive measures against COVID-19. It is also worthy of note that places such as hospitals, markets and schools also depend on water.
From these places, among others, a total of 1,464 have died of COVID-19 and 113,305 were confirmed carriers of the virus in Nigeria as of January 19. This is a sharp contrast to the more than 70,000 under-five children that  die every year in Nigeria from diarrhoea, according to UNICEF and between 128,000 and 161,000 people globally who die from typhoid every year. And at least 47 million people in Nigeria practice open defecation according to the findings from the 2018 WASH National Outcome Routine Mapping (WASHNORM) survey.
Huge investments gone down the drain?
To reduce the high, scary statistics, sorrows, tears and deaths relating to lack of adequate water in Nigeria, international agencies and organisations have continued to pump money into the water sector in the state and the country by extension.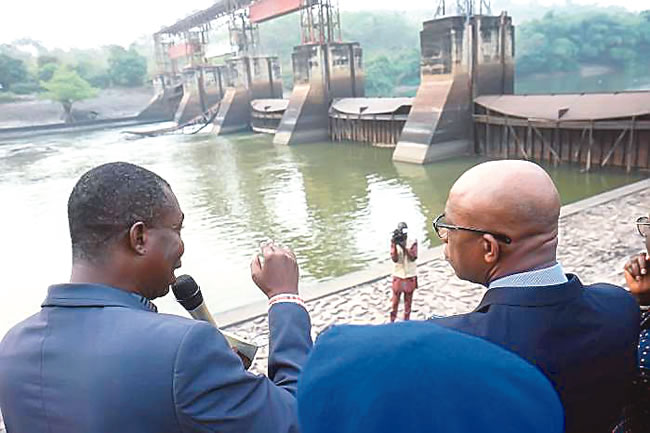 Between 1885 and 2010, the World Bank completed seven water projects in Kaduna, Ogun, Enugu, Lagos, Cross Rivers and the Federal Capital Territory (FCT). The total World Bank/International Development Association (IDA) investment for the 10 projects is about US$1.4 billion. US$345 million covers the First Urban Water Reform Project of which US$120 million was earmarked for the states of Kaduna, Ogun and Enugu. The project aims to rehabilitate existing water facilities in 13 towns, establish state water policies, and foster the engagement with the private sector.
In 2014, the French Development Agency AFD, Country Director, Hubert Dogin said the agency will assist Ogun State with $33million in its urban water reform project.
Also in 2019, the World Bank said that it disbursed $350 million to assist Nigeria address water challenges in the country's rural communities and to combat open defecation. Part of the catchment areas for this fund is Ogun and Kano States where over 700 water facilities were to be constructed at the cost of N1.6 billion because of the high infant mortality, deteriorating lifelong health and poor educational attainment caused by a lack of clean water.
It was also reported in 2019, the World Bank also approved 26 micro-projects for immediate implementation in 13 communities in six Local Government Areas of the state in its quest to provide quality social infrastructure –  water supply, health, education and road construction, among others – and improve the standard of living of the rural dwellers.
The General Manager, Ogun State Community and Social Development Agency (CSDA), Engr. Sakirudeen Salaam, listed the benefitting Council areas to include Remo North, Abeokuta North, Odeda, Yewa North, Ado-Odo-Ota and Ipokia.
In 2019, the Ogun State Water Corporation budgeted a total sum of N9.1bn, with recurrent expenditure set at N1.6bn, capital expenditure at N7.5bn and the target revenue for the 2019 fiscal year aimed at N300m.
Governor Dapo Abiodun at the presentation of the 2020 appropriation bill to the State House of Assembly on Tuesday, December 3, 2019 said that the state will earmark N9.823bn for execution of various water and sanitation projects.
These funds "have been set aside for pipeline extensions in more areas and the rehabilitation of the older schemes in order to make them more productive. We shall ensure that more people have access to potable water… There would be improvement in the supply of potable water in the coming year.
"It is my belief that, by year 2020, the laudable programme of our administration on rural water and sanitation, would reach all corners of the state, and, at least, over 70% of the rural populace is expected to have access to potable water supply and healthy clean environment. A provision of N9.823billion is earmarked for the execution of the various water and sanitation projects in the year 2020."
At the turn of the new year, Abiodun decried the failed investments of the water sector in the last fifteen years, noting that his administration would look at the entire scheme and engage necessary consultants on the way forward. He also promised that his administration would take a closer look at the operations of the State Water Corporation.
These investments would have turned the fortunes of water supply in the state for the better but when Saturday Tribune went round Elega where the state water corporation is situated, a resident of the community told our reporter that access to water has continued to be the bane of the community. A well in his compound, he said, has continued to serve residents who live on the street and beyond every other day. 
He told this reporter that the well is locked every other day in order to make sure it has enough water to serve the residents and occupants of the house. He took this reporter through the inner sections of Elega including Ilugun community where the laying of pipe-borne water stopped around 1980.
"These places were not inhabited then. Government stopped the laying of pipes at Ilugun. It was later that the Federal Government under Shagari built the Elega Federal Housing Estate and most homeowners built then later resorted to construction of boreholes and wells in their individual houses."
These gaps should have been bridged considering the huge investments channeled into the water sector in the state. An SDG expert, Olasupo Abideen said the perennial issue of water scarcity shows that there is a weak institution and that the government has not prioritised the provision of basic amenities important for living a sustainable life as it should.
Abideen said: "There will be a lot of water-borne diseases. People walk kilometres to get water that is not even clean. That is another keg of gunpowder and it will get to a stage where  more people will die. There are students who don't go to school because they do not get water. This situation needs a holistic review from the government.
"In line with the Water Act, FG funds 30%, local government funds 10% and the state government funds 60% in the implementation of funding for water projects. That act is not enough for policy making in meeting the water and sanitation demands. I think there should be a gradual privatisation of this sector because we have been talking about it and we will still continue to talk about the issue of water scarcity.
"The fundamental starting point for food and life is water and its scarcity is a critical global issue. Millions of children die each year from contaminated water; about 95% of deadly diseases in the human body is associated with the consumption of liquid contents. About 25 million Nigerians are diagnosed to have died from highly-chemicalized products. That tells us this is an issue of utmost importance.
"I do not see Nigeria realising the SDG targets by 2030. COVID-19 has also affected these issues. Do governments even have a database of communities that need water today? Until we start using data and technology, I don't see the political will to really achieve that."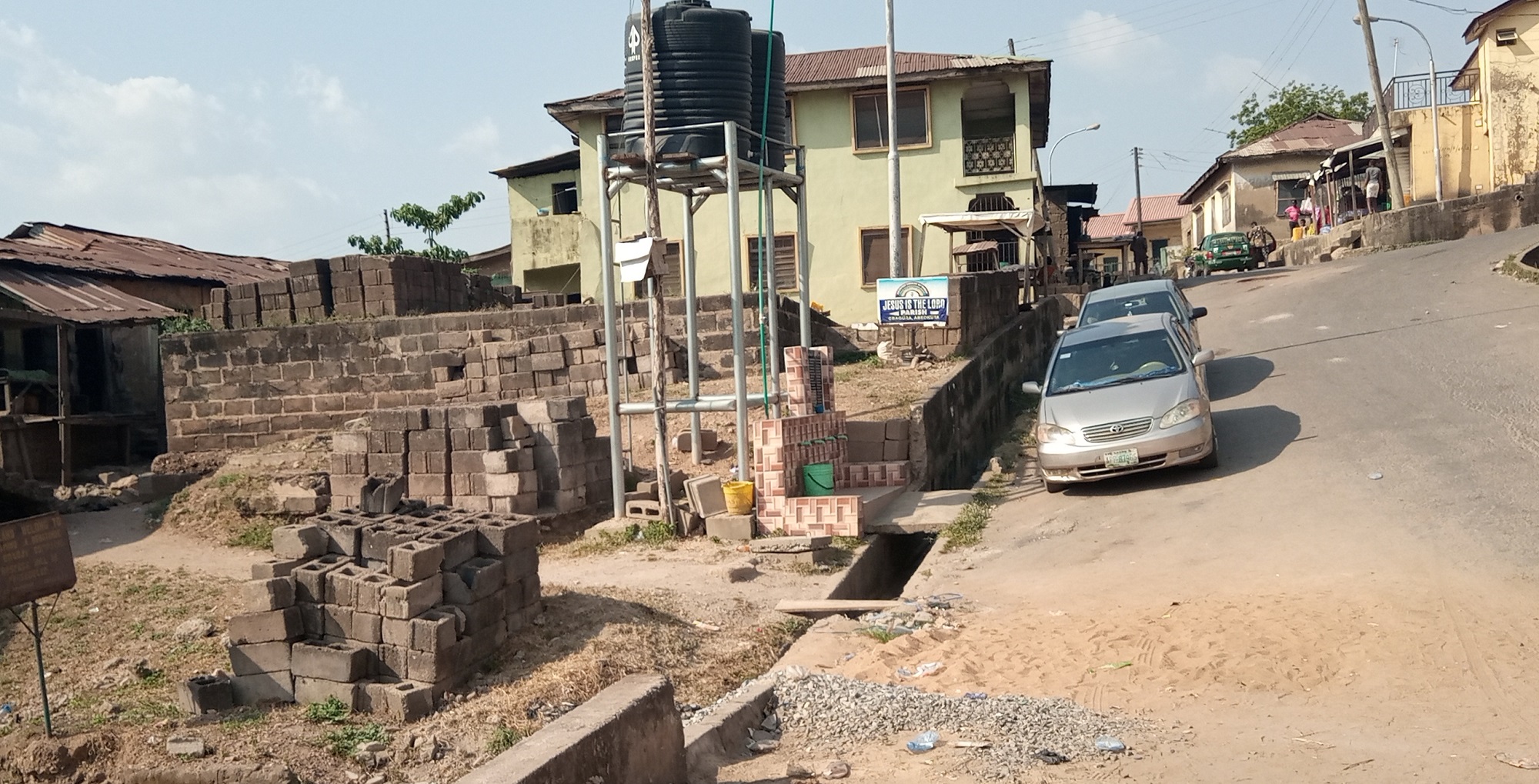 Impact of Governor Amosun's MITROS
Many of the residents whom Saturday Tribune spoke with said the perennial challenge of access to potable water was compounded by the activities of the immediate past administration. They pointedly referenced the Mission to Rebuild Ogun State (MITROS) of the Senator Ibikunle Amosun-administration which disconnected about 67km of water pipeline in order to pave way for massive construction projects – roads construction and expansion, construction of bridges among others – in the state.
Efforts have, however, been concerted on replacing these water pipes and channels. The then General Manager (GM) of the Ogun State Water Corporation (OGWC), Engr. Monsurat Agboola, in January 2019 promised the corporation's preparedness to increase its service from 517,093 customers to 2,960,889 in urban, semi urban and rural communities in the state from 2019 to 2021.
Projects domiciled in OORDBA's budget
Documents obtained by Saturday Tribune showed that in national budget, in 2015 N55 million was budgeted for the construction of 33 boreholes in Abeokuta as Zonal Intervention Projects (ZIP) under the supervision of the the Ogun-Osun River Basin Development Authority (OORDBA), a federal agency under the Ministry of Water Resources. The project was nominated by Prince Lanre Tejuosho (APC) who represented Ogun Central Senatorial District at the Senate at the time.
In 2017, N222 million was budgeted for Villasol solar power to support 3,000 homes, transformers and boreholes in all the six local governments in Ogun Central Senatorial district under the purview of OORDBA as nominated by Prince Tejuosho.
In 2018, N20 million was also budgeted for 12 motorised boreholes in Abeokuta South Federal Constituency as well as the supply of four 500KVA transformers in the constituency at the rate of N22 million under the purview of OORBDA. This project was nominated by Segun Williams (APC) who represented Abeokuta South Federal Constituency at the time.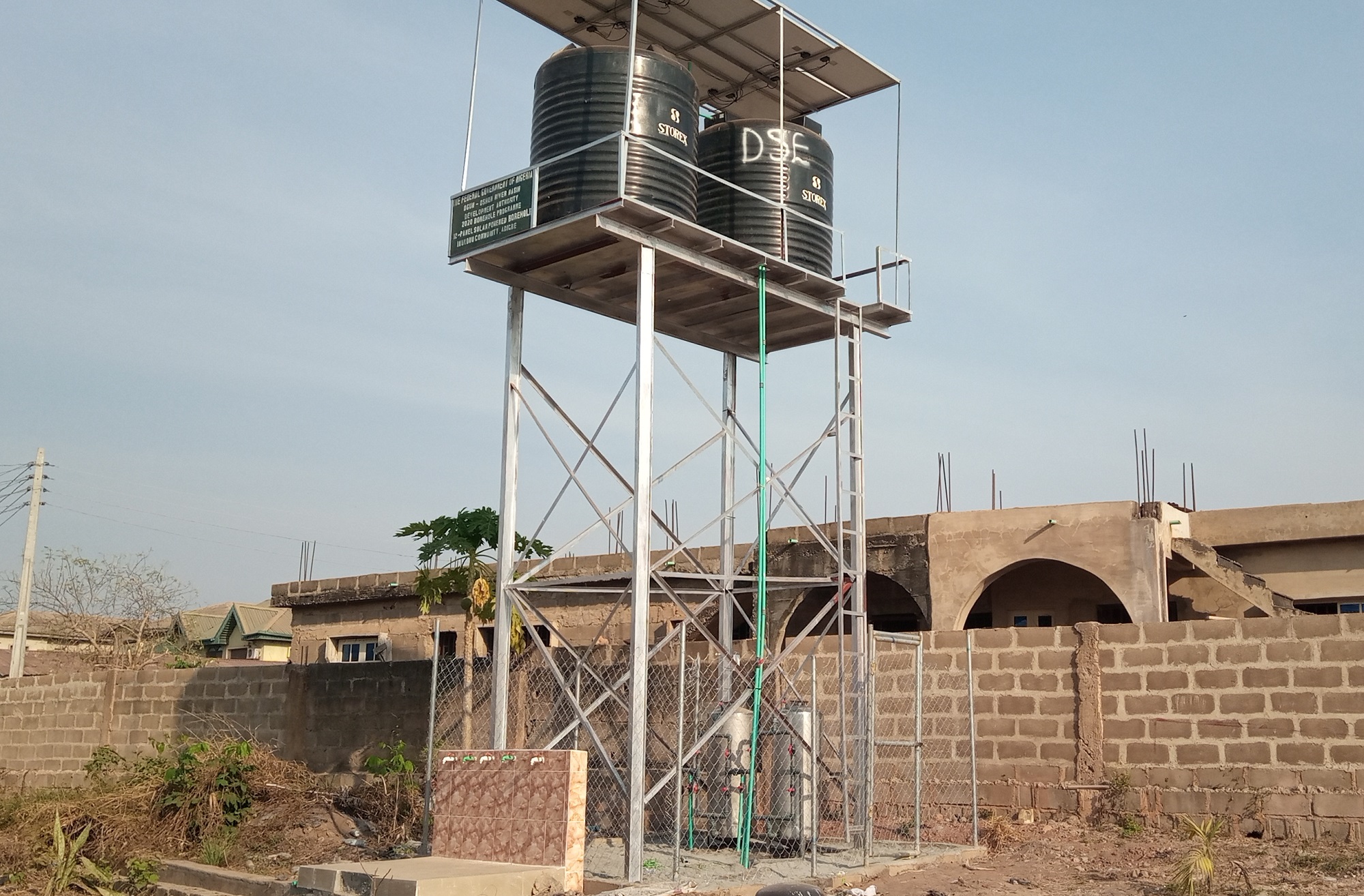 A 2020 investigation revealed that some of these constituency projects done by OORDBA were diverted into private properties. However, Saturday Tribune sighted one of the 2020 constituency projects – a 12-panel solar-powered borehole – at Inukonu community in the Adigbe area of the state capital. The project was yet to be inaugurated at the time of Saturday Tribune's visit, a similar project was inaugurated by Hon Olumide Osoba in Odeda recently.
The new sheriff in town?
During his assessment tour of the Ogun State Water Corporation, Arakanga – with a pumping capacity of 103.68 million litres per day – in Abeokuta North Local Government Area on Wednesday, January 8, 2020, Governor Abiodun said that water supply will be restored to about 7,000 homes across the state soon.
He added that the supply, when restored to the 7,000 homes, would translate to much more than that in terms of people, assuring that "as soon as the transformer is restored, an additional 15,000 homes would have water supply restored to their various homes in the next few days."
Abiodun disclosed that his administration had immediately interfaced with OORBDA to release water to the water works, adding that "we have also called on the Ibadan Electricity Distribution Company to restore power supply to the corporation."
Later in November, Governor Abiodun was also reported to have ordered GM of OGWC, Engr Oluseye Maku, to ensure that water is supplied to the nooks and crannies of the state or face dire consequences. Abiodun gave the warning  when Maku appeared at a two-day Treasury Board meeting on the 2021 budget to defend the corporation's budget proposals for 2021.
A livid Abiodun interjected the GM who requested for additional four weeks to put measures in place for good pipeline construction, adding that he hoped that Maku would be the person to execute the water project and not someone else.
But eight weeks after the governor's warning, residents of Abeokuta still face the problem of water scarcity. Residents of Abeokuta who Saturday Tribune spoke to reeled out a gale of lamentations. They accused the present government of neglecting the water sector.
A resident who had spent more than thirty years in the state capital Olushola Abeeb said: "People here in Abeokuta are living on borehole water and well water. Hardly will you see water around. Communities like Elega, Oke-Efon, Imala which used to have tap water don't have anymore. There's scarcity everywhere. Oke Lantoro where I onced lived never had water supply for years. Oke Lantoro, Elite, Idi-Iba are believed to be hills and they don't have water even from the days of former Governor Olusegun Osoba when I was still very young.
"Even at the Osiele/Obantoko axis where I now live, there is nothing like public water supply there. People are living on sachet water, well water or borehole. Those who are well-to-do and have boreholes in their respective house do extend a couple of taps outside for other residents to use.
"I have been turned into a local government chairman in my area. Anytime we put on our generating set and pump water, they will swarm this place and this is a student area. How much more FUNAAB or Obantoko axis. Students will return from school and instead of getting rest, they will be looking for water everywhere. Wherever they see water, they will finish it every time," Abeeb added.
We are expanding our capacity to generate, store and distribute water ― Abiodun's aide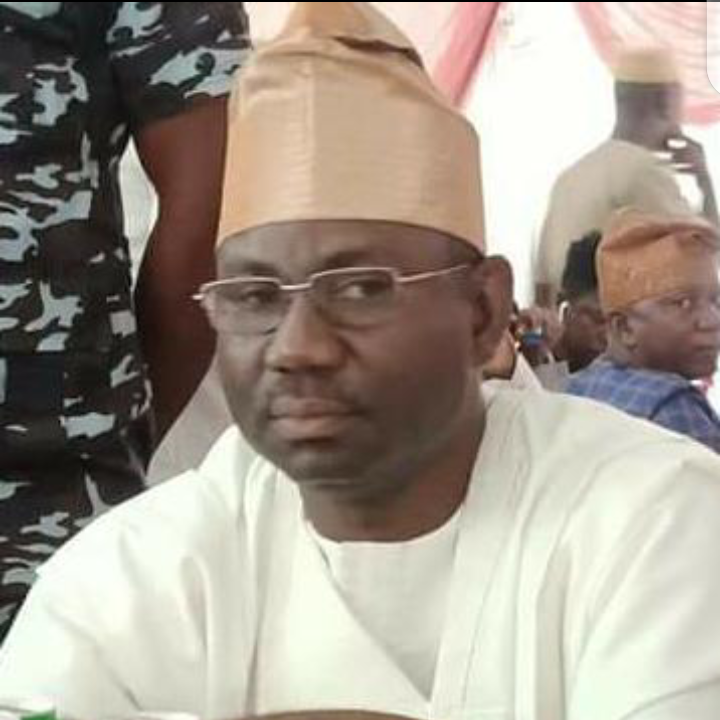 When contacted over the phone, Special Adviser, Special Duties (Water) to Governor Abiodun, Engr Kunle Otun told Saturday Tribune that the present administration is presently expanding the capacity of the Arakanga waterworks while tackling the issue of water scarcity in the state capital from the source. He noted that the government is presently working to replace the gates of the dam – which have been damaged due to age and use over the years – that supplies water into Arakanga waterworks.
"​We came in, we discovered so many things that have been left undone in the area of water supply in the entire Ogun State, not only Abeokuta. In Abeokuta in particular, we have decided to increase the volume of water that comes from our major waterworks at Arakanga.
"Before now, the production capacity of Arakanga is 82 million litres per day. But with that capacity, it (water) is not delivered for some many places. Most of the delivery tunnels have been cut off due to urban renewal efforts done in the last administration.
"Even if we return these pipes to people, there is already an increase in population and the demand for water has also increased. So we have decided to expand that Arakanga from 82 million capacity to 162 million even though the 82 million litres it produces do not serve the people as it should."
Otun added that water supplied from the dams will be treated and distributed to the residents, adding that: "We have commenced procurement and we have also commenced sourcing for contractors for the next stage which is treatment capacity expansions. We will get enough pumps for abstraction and distribution. We are procuring that any moment from now, a contractor will be announced that will be doing that any moment from now – one month or one and a half month. The contractor that will commence that project, we are also expanding our distribution since we are expanding the treatment."
He noted that a 50km pipe will be constructed to link Arakanga with a yet-to-be constructed booster station at Oke Temidire for the purpose of storing and distributing water into the communities. "The sourcing for a contractor for that purpose is also ongoing so that the two can go pari passu."
On reticulation of water, he said another contractor is being sought to ensure that over 23,000 households are connected in addition to the already connected 43,000 households. "We are expanding and we have a package. I am telling you that in the next two to three months, Abeokuta is going to be a construction site for water."
When asked if the administration is looking at probing the investments in the water sector over the years which the governor described as a failure, Otun said "people are crying that there is no water and we have decided to take the responsibility. We are not going to be apportioning blame about what has happened in the past. The past has gone with the past and I don't want to talk about that and that's why I'm giving you our agenda commitment for people and we are focusing on it. We are technically starting from scratch in terms of providing water from the dam.
YOU SHOULD NOT MISS THESE HEADLINES FROM NIGERIAN TRIBUNE
South-West Speakers Rally Support For Tinubu's Rumoured Presidential Ambition
The rumoured ambition of former Lagos State governor, Senator Bola Ahmed Tinubu, to run for the office of the President in 2023 is gradually becoming a reality as current and former speakers of houses of assembly in the South-West have thrown their weight behind the…