Why I declined top offer at Chevron —Bimbo Ajibola
Bimbo Ajibola, a graduate of Microbiology from Olabisi Onabanjo University, Ago-Iwoye, Ogun State is the Chief Executive Officer of HoneyBimz Couture. In this interview by WALE AKINSELURE, she speaks on her journey into fashion world and challenges of entrepreneurship in Nigeria.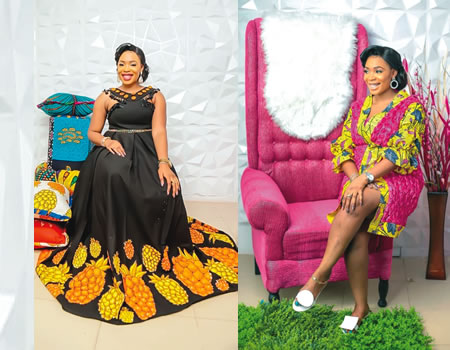 Tell us your to becoming a fashion designer.
I attended Olabisi Onabanjo University, Ago-Iwoye, Ogun State, where I studied Microbiology and graduated in 2012. I was posted to Imo State but redeployed to Ibadan. During my service year, I made a decision to train in fashion designing. However, I had been into fashion business since university days, selling fashion items. After my fashion designing training here in Ibadan, I was practising at home before I summoned the courage to get myself a workshop. Before I decided to venture into fashion design, I had had some makeover training but stuck to designing because of my love for fashion. At school, I was the best dressed as I loved dressing in a fashionable manner. My mum was also fashionable, so I picked my interest from there.
Tell us about the nexus of your love to look fashionable and your decision to venture into the business of fashion designing.
I had to go into the business aspect because I found out that I had an insatiable desire to produce a lot of clothes which I can't all wear. Also, when I see people appreciate certain kind of dresses, I am inspired to want to make such dresses. I sew everything clothing that I sell and source for the materials I use locally. I only import my fabrics for men like the Swiss Cotton but I buy the Ankara locally. We do English materials too but it depends on the style that the person wants. I sell handbags for women, matching shoes and purses for women, waist belts, earrings, fabrics, aso ebi packaging, Atiku Swiss cotton for men and bridal aso oke.
You studied Microbiology, why did you abandon your line of study for fashion designing.
I searched for job for six months and no offer was forthcoming. Many people kept asking me to send my curriculum vitae, which I did, yet I could not pin down an offer. I couldn't continue to be idle hence I ventured into business of designing. I got a top offer at Chevron but the person gave me the condition to be his intimate friend which I declined.
Tell us about the HoneyBimz brand?
The brand, HoneyBimz, has been existing even before I ventured into fashion designing. I started business in 2012; that was when I had my first business trip. The brand is registered too. My name is Bimbo but I had a very close friend back then in secondary school. The two of us made future plans not knowing whether it would work or not. Now, we are just friends but I do not want to change the name I developed then because it is now a brand.
In the last five years, what challenges did you encounter in attempting to stabilise this business?
There have been challenges in erecting billboards. Government asks us to pay several bills. The local government disturbs entrepreneurs a lot asking us to pay several bills and we kept paying on a weekly basis all in the name of income generation drive. Poor power supply is also a challenge as I spend a minimum of N2,500 on fuel every day. It's also saddening when you put in a lot of efforts to bring out a particular design and you don't have people who are like-minded. When people work for you, they take it as if they are doing you a favour. When you have so much work to do, you need people to assist in completing the job. Sometimes, the customers insist on you being present before they come to the office. So, the business consumes your personal time and you hardly are able to do anything. Also, we have the challenge of stylists. You can't rely on apprentices because they might come today and not come the following day. And, it is difficult to get a good hand; you have to worship them once you find one good hand. Even when they make mistakes, they do not accept corrections. Sometimes your customers also frustrate you and it is challenging managing workers. No one wants to wear an outfit that is not perfect. I supervise, source for the fabric myself and train others. Sometimes I wake up in the middle of the night to work and my parents usually ask me to take it easy. Going by my training, there is no challenge in fashion designing that I cannot face. I am strong. The major challenge is getting good stylists that can do the job as if they are working for themselves. Some stylists could be very disappointing. When you have an idea and do not have good hands to translate it, it could be very disappointing.
Why do you say apprentices are not reliable?
Apprentices only want to train for six months and after that, they feel they can stand alone. As compared to the past, we no longer have apprentices who are desirous of learning the job and serving their bosses for two years. They tell you that they want to learn fashion designing in three months. Once they learn a bit, they want to stand alone. Everybody wants to be a boss. I had training for about two years and was sure I could stand alone before I ended the training.
You must have sacrificed a lot to build your brand
I have sacrificed a lot. I am unable to go on holiday. In fact, some of my mates are married and have kids, so I have sacrificed a lot. My siblings are not in Nigeria and it is just my business that is keeping me here.
How did you raise your initial capital?
While schooling, I had savings from my monthly allowance sent to me by my parents. My family was helpful.
What kind of job offer can take you away from fashion designing?
Probably being offered a political appointment, however, my business cannot collapse. I have built it to a level that it can stand on its own.
You mentioned some of your friends who are out of fashion designing business, what reasons did they give for leaving?
Some were not self-confident. Any business person must be able to market what he or she sells and be convincing about its quality. This job involves a lot of energy, devotion of time and focus. I can work overnight for my customer. For example, I had a customer and had to make her wedding dress within two days, I had to do nights to deliver the dress.
What is your worst experience with a customer?
I don't disappoint. The only horrible experience you can have is that some customers feel they can disrespect you because they have paid you to do a job for them. People don't get satisfied easily but I have a thick skin to deal with such. Moreover, I have older people as my customers. Older customers value what you give them more.
Compared to Lagos, is fashion designing business thriving in Ibadan?
I think business in Ibadan has greatly improved. If I make any design, I sell at the same price to those in Ibadan and in Lagos and they purchase it.
How has the online media helped your business?
It has greatly impacted my business. My customer base is from the social media. Facebook and Instagram have greatly helped. I can make a video of a design on my social media handles and I do get a lot of views which translates into customers.
Entrepreneurship versus white collar job, your take?
I would support entrepreneurship because one is building your future and in case of eventualities, one's kids can take over. This is unlike a white collar job where one can get sacked at any time and get easily replaced. If it were one's business, the family can take over.
But many youths leave school and crave for white collar jobs because of lack of initial capital.
I acknowledge that entrepreneurship is not easy without capital. I actually started with fashion designing. All I needed was the sewing machine and cutting table. It was the money that I got from charges on those jobs that I started with. If you are good, people will look for you wherever you are. We have some small brands in a small corner making a lot of money because of the good services they offer and do better than those big brands. Without shop rent, you can start right in your house with a minimum of N100, 000.
Passion versus skill, which is more paramount for one to be an entrepreneur?
I think passion because it is the passion that will keep you going. You can be very skillful but you still need good hands to work with. Even if those hands are disappointing and you have challenges, the passion will remain the drive to keep on. For example, if a customer is dissatisfied with your services, you can't afford to transfer that to the next customer; the passion just keeps you going. There are some people that I started with who have left the fashion designing line. They keep saluting my perseverance.
Where do you see HoneyBimz in the next five years?
I would want to have my own ready-to-wear line; I will launch this in August. Also, I want to have a well-structured fashion school.  My ready-to-wear line will bring trending fashion pieces and put it together using our African prints. An idea where you can combine African prints with English material. You can make Ankara into corporate and casuals. When you have an impromptu outing, you can just come in and pick a readymade outfit. We have standard measurements so it is made to fit and they are affordable.