US consulate lauds Tribune, seeks more media support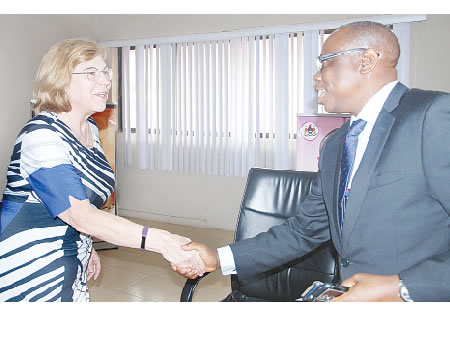 THE Public Affairs Officer of the US Consulate General, Lagos, Ms Darcy Zotter, has described Nigerian Tribune as the most prestigious and influential newspaper in the country. She also sought between Nigeria and the United States through the media in order to sustain the existing relationship.
Zotter, who led some members of the consulate on a courtesy visit to the Tribune House, on Thursday, stated that their visit was to seek the support of the company in the sustenance of the relationship as she urged the company not to relent in its area of coverage and reportage of the activities of the consulate.
Speaking on the importance of the visit, Zotter said United States cared about Nigeria and its relationship with the country, hence its decision to keep introducing more training opportunities that Nigerian journalists could benefit from adding that the United States recognised the crucial role the media was playing in the development of the country, especially a media house like the Nigerian Tribune, which has been in existence for over six decades.
According to her, they were happy to have hit a cordial relationship with the Tribune over the years and she asked for more collaboration in spreading the gospel across the nation.
"We care about Nigeria. We care about our relationship with Nigeria and this is what we want to follow up with this journey to Ibadan. We also want to let you know about some opportunities that we are holding in the hopes of further strengthening our relationship with the country. We are inviting journalists across the country for trainings in some parts of the country. We are always eager to meet with up-and-coming journalists and established ones to participate. We are bringing over 40 journalists from the United States for different training programmes that we have lined up."
Responding on behalf of the company the Managing Director/Editor-in-Chief, Mr Edward Dickson, affirmed that the activities of the US Consulate in seeking collaboration with the Tribune was laudable, even as he hinted that Tribune had been in the vanguard of crusading for a better Nigeria and would continue to welcome the opportunity to contribute to the development of the country.