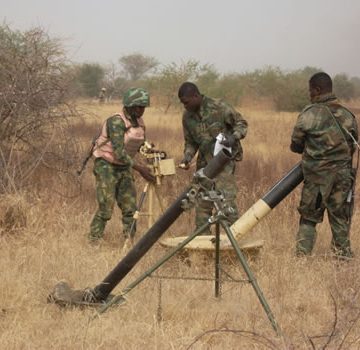 NIGERIAN Army on Wednesday said its troops destroyed a large scale Improvised Explosive Device (IED) factory and captured several Boko Haram terrorists in Sambisa Forest and Lake Chad region.
Col. Onyeama Nwachukwu, the Deputy Director, Army Public Relations, Operation Lafiya Dole, made the disclosure in a statement in Maiduguri.
Nwachukwu stated that troops of Operation Lafiya Dole, under Operation DEEP PUNCH II, supported by Nigeria Air Force, pursed the insurgents deep into the forest and destroyed their hideouts.
He noted that "on Feb. 6, 2018, the troops, closely supported by Nigerian Air Force, further exploited deep into the far end of Camp Zairo and aggressively carried out an offensive against Boko Haram terrorists, destroying a major Improvised Explosive Device (IED) making factory.
"The gallant troops successfully engaged the insurgents, demobilised their IED-borne vehicle, neutralised a number of them and captured the IED making factory."
The deputy director revealed that the troops recovered 88 Gas Cylinders; one laptop computer, one 100m Ultra High-Frequency Hand-held Radio (UHF HH Radio), one Motorola GP 180, Theodolite and two Global Positioning System (GPS).
He added that the troops also destroyed 22 motorcycles, 18 bicycles and other consumables.
ALSO READ: Army solicits media support to crush Boko Haram
He explained that sequel to the unprecedented successes recorded in the war against Boko Haram insurgents in the past few weeks, troops' morale remained high and unrelenting in ensuring total clearance of the terrorists' remnant.