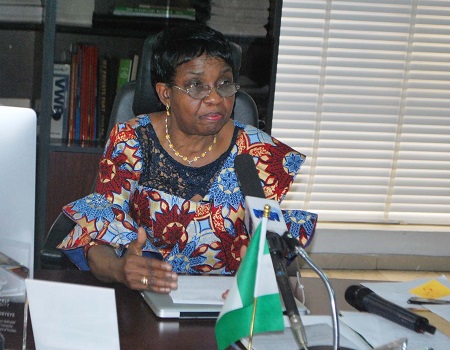 THE National Agency for Foods and Drug Administration and Control ( NAFDAC) on Wednesday, identified tramadol and codeine as the most abused drugs in Nigeria.
This is even as it unfolded plans to implement the recommendations of the United Nations General Assembly (UNGASS) 2016 outcome document on the safe use of controlled medicines for pain and palliative care among others.
The agency's Director General ( DG), Professor Mojisola Adeyeye made the disclosure in a statement, signed by her in Abuja.
Adeyeye, who decried the rate of abuse of prescription medicines and other psychoactive substances not under international control also revealed that very high dosage forms of 200 and 225mg tramadol have infiltrated the market as against the regulated 50 and 200mg dosage strengths.
"The most commonly abused drugs in the country are tramadol and codeine. tramadol is a synthetic opioid analgesic used to treat moderate to severe pain and is the most abused effective medicine among addicts. It has no effects on the respiratory system, but overdose causes arrhythmias, cramps, coma and death.
"In Nigeria, it is regulated as the 50 and 100mg dosage strengths but very high dosage forms of 200 and 225mg have infiltrated the market. There is also a noticeable increase in smuggling of tramadol capsules. tramadol use disorder is associated with physical withdrawal symptoms and compulsive behaviour," the statement partly reads.
ALSO READ: NDLEA arrest 38 drug suspects in Bayelsa
She further explained that:"Codeine can be obtained in a compound form in Over-The-Counter painkillers and cough medicines, but consumers often became addicted. The risk of addiction is great and, in many countries, including Nigeria consumers require a prescription for all opioid-based medication.
"The misuse of codeine products contributes to severe health outcomes including liver damage, stomach ulceration, respiratory depression, coma and death. In Nigeria, all codeine-containing products are locally manufactured and are prescription-only-medicines since 2012, but the reclassification did not stem the trend of abuse partly due to non-adherence to the provisions of prescription."
In view of the menace, she said that stakeholders are working with the Minister of Health, as well as the Office of National Security Adviser and the Presidency to develop strategies to mitigate the trend.
She reiterated the agency's commitment to continually raise awareness on the consequences of drug abuse to public health.
The agency also stressed the need for extra-territorial enforcement to identify, disrupt and dismantle organised criminal groups operating across the borders.