This Christmas, eat the beach!
Yaaay! It's the season of festivities and holiday fun. Have you wondered that your picnics by the sea, the endless pictures by the aquarium and the excursions to different waterfalls could inspire a meal at the dinning table with family and friends at Christmas? OK, let's see what the sea has to spill , with this awesome delight of pasta made with sea foods.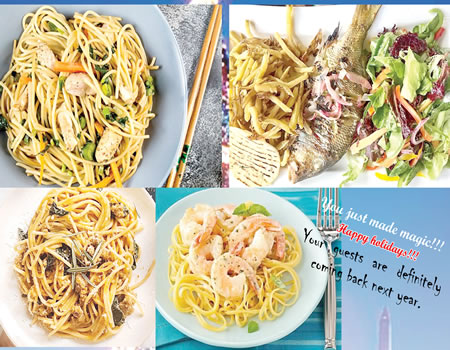 Seafood pasta
Ingredients:
Prawns/ shrimps
Oysters
Fish
White wine
Ground white pepper
Pasta
Tomato sauce
Tomato paste
Olive oil
Parsley
Garlic
Onions
Sesame oil
Seasoning cube and salt.
Preparation:
Add 3 tablespoons of olive oil and 2 teaspoons of sesame oil to a non stick pan on high heat.
Add half bulb of sliced onions and 3 gloves of garlic to the oil, stir till caramelized .
Add shrimps/prawns, oysters and pan-smear.
Remove seafood and keep aside.
In the same pan, add few drop of olive oil and sesame oil into pan.
Pour tomato paste into hot oil and fry till grainy .
Add 1 cup of tomato sauce into pan and stir.
After 5 minutes, add seasoning cubes, salt and white pepper and cook.
Add half a cup of white wine into sauce and cook for 2 minutes .
Add already cooked pasta into sauce and stir.
Cook for about 3 minutes and drop from heat.
Add few drop of lemon juice and freshly sliced parsley .
You can add your grilled or fried fish as an extra!
Serve hot
Courtesy: edenbynkechi