Strive to be the best in all spheres of life —Prof. Popoola tells students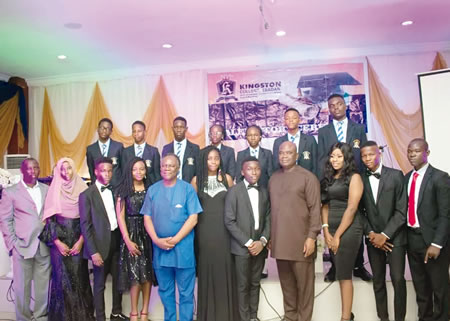 Executive Director, Kingston College, Ibadan, Mr Kayode Fasola (fourth right); Head of Performing Arts and Music Department, Ajayi Crowther University, Oyo, Professor Bode Sowande (seventh right); Barrister Tunji Aladejebi, (extreme left); the principal, Mr Joshua Ajayi; graduating students and the school prefects during the fourth Valedictory ceremony held at the school, last Friday.
The Vice Chancellor and Chairman, Board of Directors, Kingston College, Ibadan, who is a professor of Forestry Economics and Sustainable Development, Professor Labo Popoola last Friday, charged the graduating students of Kingston College, Ijokodo, Ibadan, Oyo State, to play their part in helping communities improve their quality of life as they climb higher ladder of academic success.
He said this during the fourth Valedictory ceremony of the school which took place at the school's Events Hall.
"Graduation is a time of celebration, triumph and marks the end of one phase and beginning of another phase."
He urged the outgoing students to set goals that are achievable having been protected and directed in the college so that their dreams which are in line with their goals are attainable. Not only this, Professor Popoola stressed the need to plan their activities well as the reward for planning far outweighs lethargy and laziness born out of lack of good career guidance.
"Do not be distracted by unnecessary issues in the institutions of higher learning, concentrate and be focused," he sad.
He commended parents who had made sacrifices in the last few years and had provided enabling environment, financial and moral support to help them through the just concluded phase. Teachers were not left out of his commendation, as they had done their best to help through motivation and encouragement in order to achieve positive result.
In his speech, the Executive Director of the institution, Mr Kayode Fasola, acknowledged the supremacy of God's mercy in all the activities of the school during the session. He also commended the teacher for their professionalism dedication and strategies employed for special groupings and small group teaching in some subject areas to cater for full range of needs. Of note were the efforts of the school management committee for its contributions to the college.
Fasola charged the outgoing students to put into use knowledge they had acquired academically and conduct themselves in public, friends and colleagues morally.
Leave Yoruba land now or face confrontation, Afenifere tells killer Fulani herdsmen
"Above all, as you leave, you must accept God with all your hearts, meditate and pray constantly. On a final note, the Executive Director commended parents for believing in the school system. He also appreciated all staff for their commitment to the course of the institution, praying for God's blessings upon everyone.
The principal of the school, Mr Joshua Ajayi, congratulated and also gave glory to God who helped every student who graduated from the school at the end of their six years to end well. He said "I want to challenge you this day that as you go out into this world of possibilities, try to be different in your endeavours. Be a positive thinker right from your day one of setting your feet on that university ground and make all efforts to be a dedicated student," Ajayi said. He stressed the importance attached to hard work which does not kill but would make them excellent individual at the end of the day.
Among the highlights of the programme were the cutting of the valedictory cake, presentation of awards which includes: academic awards to students, presentation of awards to outstanding members of staff and recitation of poems entitled: "be strong" and "the once of a country," by Mimololuwa Alokan and Akere Omotayo respectively.