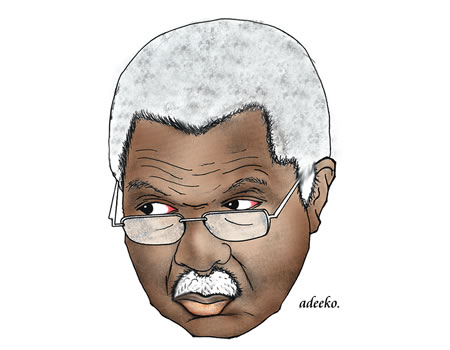 DR Alex Ekwueme's committee on creation of more states worked in conjunction with another committee inaugurated in the National Assembly and headed by Alhaji Abubakar Tuggar of the House of Representatives and with Mr Bamidele Adewunmi as the Secretary. The supporting staff of the committee were Mr D.O. Enanya, Ladi Falade and Dr. A. Dada. The committee was inaugurated by Dr. Joseph Waya, the Senate President on June 23, 1983 and the Speaker of the House of Representatives, Chief Umeh Ezeoke. In 1959, Alhaji Abubakar Tuggar was the Publicity Secretary of the Northern Peoples Congress. In 1979, he was elected to represent Gumawa Constituency in Bauchi State in the House of the Representatives.
The committee divided itself into subcommittees. One of the memoranda received by the committee proposed that Lagos Island, Lagos Mainland, Shomolu ,Mushin, and Ikeja Local Government Area of Lagos should continue to serve as a Federal Capital (or territory) notwithstanding subsequent movement to Abuja; that Epe and  Ikorodu Local Government Area should be merged with Ogun State. Attractive as this proposal may appear, the committee felt that it will be difficult to accomplish it since the National Assembly can only consider requests for creation of a new State validly made and received by it. Accordingly the question of retaining any part of Lagos State as Federal Capital or Territory can only be accomplished by an amendment to Section 261, Section 262, and the first Schedule Parts I and II of the Constitution rather than through the process f creation of New States.
At the end of the exercise, Dr Alex Ekwueme and Alhaji Abubakar Tuggar's committees recommended for the creation of the following states: New Anambra State to be made up of Anambra, Awka, Idemili, Ihiala, Njikoka,Onitsha, Nnewi and Aguata, Ebonyi State to be made up of Ishielu, Ikwo, Ezza, Afikpo, Ohoasara and Abakaliki, Gombe State to be made up of Akko,Tangale-Waja,Dukku and Gombe, Katagum State to be made up of Shira,Katagum, Gamawa, Misau and Jama're; New Cross River State to be made up of Calabar Municipality,Akampa, Obubura,Ikom; Anioma State to be made up of Ika,Oshimili, Aniocha and Ndokwa. DELTA STATE-to be made up of Bomadi,Burutu,Ethiope, Isoko,Okpe,Ughelli and Warri,TARABA STATE-to be made up of Wukari,Jalingo,Takum,Bali,Sardauna,Karim,Lamido,Ganye,Maye and Gamadiyo Districts of Numan LGA Zing,Jeren(Part of Mayo Belwa LGA), ABIA STATE-to be made up of Aba,Obioma Ngwa,Ukwa;Isiala Ngwa, Arochukwu Ohafia,Bende, Ikwuano/Umuahia and Isuikwuato District, Afikpo,Ohoazara,ABA STATE-to be made up of Aba, Isiala Ngwa,Obioma Ngwa and Ukwa,NJABA- As in the Request, Katsina: Daura, Dutsima,Katsina,Kankia,Mani,Malumfashi and Funtua. New Kaduna was to be made up of Zaria,Ikara, Saminaka, Kachia, Jema'a,Birni Gwari, and Kaduna LGAs, while New Ondo State would be made up of Akoko North, Akoko South, Akure, Idanre/Ifedore, Ifesowapo,Ikale,Ese Odo/Ilaje, Ondo and Owo. On the other hand, Oyo State would be made up of Ogbomoso, Oyo, Ifedapo, Isyin, Kajola, Irepo Iwo, while Osun State would be made up of Ede, Ejigbo, Ifelodun, Ila, Irepodun, Irewole, and so on.
I cannot publish in full the reports of Dr. Ekwueme's committee as it relates to all the states but I will like to refer to the committee's final conclusion on Anambra state. After careful consideration, Dr Ekwueme's committee arrived at the following conclusion as it affects Anambra state—That the request to join Anioma is unanimous, moreover the request is not homogenous in character, That the people of Onitsha Local Government Areas should feel free to request for boundary adjustment under Section 8(2) of the Constitution once Anambra State is created. Aghamelum Clan in Uzo-Uwani Local Government Area and Ugwuoba, Akpugo towns in Oji River were removed from the component units of the proposed New Anambra State,
The total land area of the proposed New Anambra State is over 4,923 square kilometres with  project population of 2.5 million people distributed among the constituent units of the proposed state. In applying the provisions of Section 8(1) (a) (i) (ii) (iii) of the Constitution of Nigeria 1979 the New Anambra State request is qualified to go into referendum hence it is recommended by the committee. Onitsha is recommended as the capital of the proposed state.   Altogether there were 21 new States recommended by Dr Alex Ekwueme and Abubakar Tuggar's committee to reflect parity and balancing of the Federation. Former Northern Region 11 new states were recommended: Zamfara, Jigawa, Lautai,Ghari, Katagum, Gombe,Gujba,Kogi,Nassarawa,Katsina and Taraba, Former Eastern Region, five new states were recommended: New Anambra,Ebonyi, Abia, Port Harcourt and New Cross River while Former Western Region,5 new States were recommended: New Oyo, New Ondo, Oshun, Anioma and Delta.
On December 31, 1983 the Nigerian Army headed by Major General Muhammadu Buhari overthrew the government of President Shehu Shagari. On September 23 1987, General Ibrahim Babangida created Katsina and Akwa Ibom states. On August 27 1991, the same General Babangida created Kebbi, Anambra,Jigawa,Osun,Taraba and Enugu states. Following the submission of the report by Chief Arthur Christopher Izuegbunam Mbanefo's committee, General Sanni Abacha created Ebonyi,Bayelsa,Zamfara,Gombe and Ekiti states on October 1, 1996.  If you look you look closely, what the two Generals did, was the implementation of Dr. Alex Ekwueme and Alhaji Abubakar Tuggar committee's reports with some amendment.
Teniola, a retired Director at the Presidency, writes in from Lagos.
ALSO READ: Lassa fever: Nigeria recorded 43 deaths in two months
Our investment in Lekki Free Zone 'll earn Nigeria N8trn annually ―Dangote