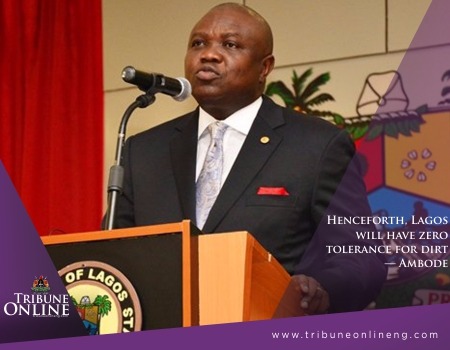 More than before, challenges of accommodation in Lagos is getting bigger by the day, as a result of growing population, which there is now signs of abatement.
As the trend continues, observers are of the opinion that proactive measures must be embarked upon, or else, there will be catastrophic consequences, particularly, as land is becoming more scarce commodity in the state.
The recent warning was at the behest of concern raised by town planners over the 'inappropriate' use of land in the State, where housing provision is on horizontal, instead of vertical use of limited land.
Experts' opinion is that vertical city development as an urban design concept, accommodates few slender buildings standing scores of multi-storey structures with many residents, unlike horizontal buildings that covers a lot of land space with few occupants.
The National President of Nigerian Institute of Town Planners (NITP); Luka Achi, in a forum recently held in Lagos, explained that vertical city developments are ideas that crop up as a result of growing land shortages in most cities, stressing that it is a way to conserve land.
The only problem, according to Achi, is lack of high level technology that would efficiently drive vertical development. "Without technology, integrity of structure, regular power supply and other infrastructure, its adoption could amount to a waste of time.
"Most buildings in Nigeria are yet to have 40-storey sky scraper condensed in one-land. Cultural belief among the people might hinder such an idea. The people might complain of building on their head.
"However, it is a matter of time, we might have to change into such plan in Nigeria. At least there was a time when we were using donkeys but now we use cars and aeroplane", he said.
Express worry on how land space is getting thinner as a result of improper  utilisation, the immediate past President of Nigeria Society of Engineers (NSE), Anyaeji Otis, told Journalists in Lagos recently that there are no other ways to solve the issue of housing deficit than adoption of vertical city development.
"With finite space and a growing human population, the natural direction of cities is ever upward as architects, developers, and urban planners think toward higher urban environments", said Otis, noting that the current trend is to create large, multi-functional buildings (MFBs), most typically combining residential, hotel, and retail functions.
In Otis's view, what that means is that the roads that are needed to service will be less, the cables that are needed to distribute electricity externally will be less, while the piping that is needed to also carry through the water will be less.
"Apart from little space accommodate the majority; this will also translate to more sufficient infrastructure for the people that will be there. When these amenities are extended to the new location they can cover almost 50 kilometres inside the city and one has to distribute all these infrastructures to those places even though external infrastructure is quite expensive to do," he added.
Shared the same view, Commissioner for Housing in Lagos, Prince Gbolahan Lawal, while admitted that high migration had left the state with about three million units of housing deficit, he was of the view that to curtail such rising deficits in the housing stocks, the state is  recommending the adoption of vertical city development because of its numerous benefits.
According to Lawal, failure to adopt vertical city development will makes it difficult to extend basic infrastructures across the city. To keep building bungalows will not only be a waste of land resources, but also be counter-productive to mass housing development.
"But if you were doing vertical development and doing that consistently and with good planning, then Lagos as it is today would have been contained maybe in 1/20th of the size of its land that is being used now," he said.
To the experts, a vertical city is designed to provide all of the necessary functions that a city typically possesses, including recreational and free public spaces, social and governmental services, education, energy, as well as food production.
It was also observed that attachment to horizontal development has further worsened existing housing deficit in Lagos-a deficit that was put at between 18 million to 23 million. As such, many housing experts believe that a housing model like vertical city development could be the missing link.
One of the advocate of vertical development to land use, is the For First Vice-President, Nigerian Institute of Building (NIOB), Mr Kunle Awobodu, who argued that there is the need to define and understand the rationale for adopting such city development model.
According to him, in a place with high population density but very low landmass, the only natural alternative is to go vertical to maximize the available limited land.
"That is why in some places like Lagos Island, Victoria Island, Ikoyi, buildings are going vertical so automatic and it is not something to therefore debate on because when the land is too expensive, you must learn to make full use of the land. If you don't go vertical, the value of land will not be commensurate with the housing unit on the land"
He warned that when such housing development is to be embarked upon, there is the need for economic reviews and projections by financial analysts or professionals to justify how lucrative, the investment would be.