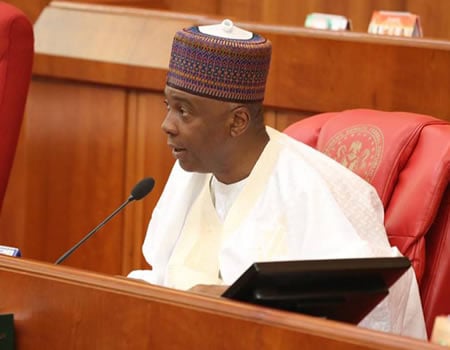 THE Senate President, Bukola Saraki, has told the federal government to scrap "Trader moni, since, according to him, it has become a purely All Progressive Congress (APC) affair rather than a Nigerian programme.
He has also questioned the motive behind the implementation of the initiative especially with government officials demanding for the Permanent Voters Cards (PVC) of prospective beneficiaries, which he said made it a sophisticated vote-buying.
Addressing newsmen in Abuja on Friday, the Director General (DG) of the PDP Presidential Campaign Council, observed only APC politicians were involved in the programme for which money had been appropriated for all Nigerians.
He advised that if the programme must continue with it, members of the opposition must also be involved in it.
ALSO READ: Why Nigerians are eager to elect Atiku ― PDP
Saraki wondered while the programme has become the biggest project of this administration if not for the sake of politics.
He added: "This programme has been going on for the last few years. In 2015, I didn't see the Vice-president going anywhere to give anybody trader money. In 2016, I didn't see the Vice-president going anywhere to give anybody trader money.
"In 2017, I didn't see the Vice president going anywhere to give anybody trader money. But all of a sudden in 2018, and the worse part about it is that he goes with women leaders of his party, governor of his party.
"At least, if you're going and since it is Nigerian money he should have women leaders of all the political parties because the money belongs to Nigeria.
"But all I see is APC women leaders. It is morally wrong. We have said it. It equates in a way to a sophisticated vote buying because if it is not vote buying, he should have been doing it since 2015. You got the budget for it 2015, in 2016 you didn't go, 2017 you didn't go but all of a sudden 2018 that's the biggest programme.
"And when you go, carrying APC governors beside you, women leaders of the party of APC beside you, you're collecting PVC cards.
"Nigerians are not going to be fooled like that. Anything that is not based on sincerity…if he has been doing it since 2015, 2016, 2017, then you can say that.
"But to us, most people, it is sophisticated vote buying.
"And next time he goes out, he should carry people that represent the community, not just one party.
"Let them carry members, women associations from not only a particular party or political association.
"Definitely, it is wrong. It's either they stop it completely or they expand the space and ensure that it represents all Nigerians. Because the money, when it was appropriated, we did not put beside it 'APC appropriated money.' We said it was money appropriated for all Nigerians.
"So, when they go out for such event, it should have all Nigerians present.
"I'm sure when they're going, they can invite neighbouring states or even the political leaders of other political parties in that state should participate at any event and not just the ruling party."
The campaign DG also admonished the ruling party that its propaganda and name calling against the presidential candidate of the PDP, Atiku Abubakar, will not work as he said that Nigerians were wiser than that to be fooled by such antics.
He said the call by the federal government for the United States not to grant entry visa to Atiku was a panicky move because it fears that the former Vice President will win next year's election.
The Senate President posited: "Let me go to the question of visa that was raised. I think it was a panic action by government.
"How does granting somebody visa a way of endorsement? It's more like a panic action because the government is panicking. They believe that if that happens it will send a wrong signal.
"They should not interfere; they should allow the normal process to go. But again, as I said, that it is a panic reaction of a government that is scared, that is worried, that it is about to lose election and is trying to see how they can muscle around and that is otherwise, a desperate act to go along those issues."
On the narrative being pushed by the APC that Atiku is corrupt, Saraki said: "The most important thing is for Nigerians to know at the end of the day, what is in it for me, because when you go out and vote, it's all about making this country better. It is not about calling people names. They won't do that.
"But we are going to stay…as they say, they go low, we are going to go high. We are not going to go low with them because that's where we believe it shows the responsibly of this party.
"This is a party that we believe that you know that we have come out reformed , we are more focused and what we believe what is important is how the average Nigerian's life is going to be better, who is going to make that better, who is going to make the country more secure, who is going to make the country more united.
"When Nigerians answer those questions, they will choose the person they should vote for.
"Today, a lot of people want a more united Nigeria. Who will unite Nigeria better? Atiku Abubakar or the President Muhammadu Buhari?
"Who will provide a better security in ensuring that the government runs more efficiently and who will fix the economy?
"If you look at those three issues, we will show over the next few weeks that Akiku Abubakar can do it better.
"And you also ask yourself too that in the last four years truly, has the country worked? And if those answers are also no, then we must stand and do what is right by voting for a better country. "
"Now talking about the stigmatization or calling names, they are all propaganda.
"Atiku Abubakar has shown these are names and slogans that they call. It's just a way to try and give him a name. I haven't stuck in any manner and it is clear to us that those are just words of propaganda.
"That is why I said it is names calling and it cannot work because Nigerians are better, more intelligent to understand to understand that that is not what the issues are.
"If there are any issues of corruption, we all know that there are no cases that he has before him. He has a clean bill anywhere and those are just innuendos and propaganda."
The PDP campaign boss disclosed that the party will kick-start its campaign in Sokoto on Monday before branching out to other parts of the country.
He promised and issue-based campaign which he said will be anchored on whether Nigerians are better off today than they were in 2015.
The Senate President maintained: "What we'll be saying to Nigerians is that it is our belief that, with our candidate, we have a candidate that understands what is required in moving the economy forward because I asked a question, is the economy better now and is it worse than it was in 2015?
"Are people suffering more now than they were in 2015? And to do that, the reality is this, that you need a candidate that can drive investments and get the factories working, bring the business economy working. That is the reality.
"Government alone cannot do it and the government has tried to do it for the last few years and it has not worked and unless you have a President that people believe that the investment climate is conducive you're not going to see that investment.
"We believe that Atiku Abubakar has the background, has the understanding and knows what it takes to address those issues."