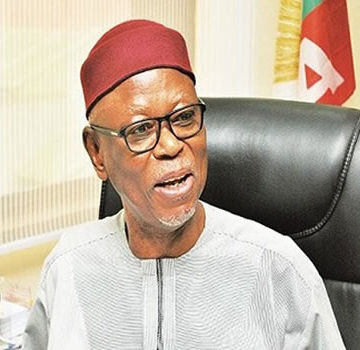 NATIONAL chairman of the ruling All Progressives Congress, (APC) has advised those canvassing for restructuring of the country to perish the thought for now as it would not be given priority by the Muhammadu Buhari administration.
Speaking on Thursday on a live television programme, Sun Rise Daily of Channels Television, the former Edo State governor declared that the focus of the present administration was how to revamp the distressed economy and provide job for unemployed youth in the country.
He said: "What is more important, to fix the economy or to embark on this political issue with all the contentious and different interpretation that the public give to it? It is very specific on the manifesto and we are not going to renege on it, no question about that."
Also speaking on same television station, Kaduna State governor, Malam Nasir El-Rufai dismissed recommendations of the 2014 National Conference, and further admonished the Senate to discountenance the idea of looking at the recommendations. "That is not likely to happen. We never believed in the Confab, we believe it is a jamboree. Our position has not changed, we are not going to look at the 2014 Confab," he argued.
While Chief Oyegun acknowledged the growing resurgence of ethnic nationalism, he submitted that the ruling party was conscious of the volatility of restructuring and cleverly avoided the word in its manifesto where it promised Nigerians devolution of power.
"It is contentious and lot of people talk about restructuring without any commonality. We have stated clearly what we want to do; devolution, true federalism. We really avoided the word restructuring because it means so many things to so many people. So yes, short answer to your question, we are coming to that but our priority for now, for today is to fix the economy and restore hope, provide jobs to the teeming millions of our youths in all over the country. So it is a matter of priority."
The APC chairman who cautioned separatist groups like Movement for the Actualisation of the Sovereign State of Biafra, (MASSOB) and the Independent People of Biafra, (IPOB) to stop toying with the idea of a sovereign state outside the Nigerian nation, assured that with sustained interface between the Federal Government and leaders of various ethnic groups in the country, the grievances, of  various ethnic groups would be sufficiently addressed.
"The Acting President has spoken forcefully on this issue, the leaders of that area are beginning to find their voice, there is no question at all, there must be a conversation. Out of that conversation will come the answers. It is a conversation that will lead to answers, as to what are the issues in contention, what did the youths and the people of that area want, all these conversation are taking place under the screen and eventually the nation will come out with answers to this problem."