For the third ti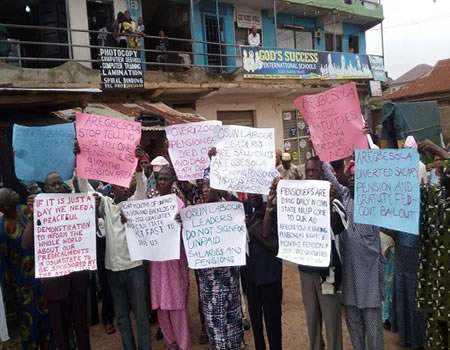 me this year, pensioners in Osun State, 
on Thursday,
 protested against the non-payment of their pension allowance of 12 months and gratuities.
The pensioners, numbering over 2,000 who marched from Ayetoro in Osogbo, the state capital, around 8.30 a.m. in what they termed: "Operation Occupy Osogbo" to the popular Olaiya junction chanted solidarity songs and carried placards, denouncing Governor Rauf Aregbesola for allegedly treating the welfare of retirees with levity in the state.
As a result of their peaceful protest, there was traffic snarl, which hindered motorists' movement as the pensioners took over the popular Olaiya junction for more than two hours, just as commuters 
 plying the roads were stranded for the period the protest lasted.
The protesting retirees had overtime been allegedly 
Governor Aregbesola of being insensitive to their plights by refusing to pay their entitlements and allowances which they claimed had culminated in the death of many of their members.
The protesting pensioners who converged under the 2011/2012 retirees  alleged that no worker that retired from the state civil service since 2008 till date had been paid gratuity.
They noted that it was disheartening to discover that despite three different financial interventions from the Federal Government to pay the workers their salary arrears,  the state government had failed to utilise received funds for the purpose it was meant for.
Addressing his members, the chairman of the group, Comrade Omoniyi Ilesanmi alleged that the governor diverted money meant for the payment of pension and gratuity adding that Aregbesola was also allegedly planning to divert yet-to-be received second tranche  of Paris club refund from the federal government.
In his remark during the protest, a former Head of Service (HOS)  in the state, Mr Segun Akinwusi charged the retirees to use their votes to change a government that had made life unbearable for them.
Reacting over the protest, Osun State Commissioner for Information and Strategy, Mr Lani Baderinwa said it was unfortunate that they the retirees have to protest each time they were demanding for their rights.
He stated, "I learnt that the pensioners were alleging that the governor had diverted the second tranche of Paris loan refund. It is very unfair and wrong for anybody to make such allegation. We have not received the second tranche of the Paris loan refund. The first tranche that was received, the state government used it to pay salary and pension arrears of three months".
"I want to appeal to the pensioners not to allow themselves to be used by some political elements as the state government is committed to their welfare and we would pay their allowances as soon as we have the financial resources to do so", Baderinwa remarked.