Reps call for revocation of modular refinery licenses
• Ask NNPC to re-issue licences to competent investors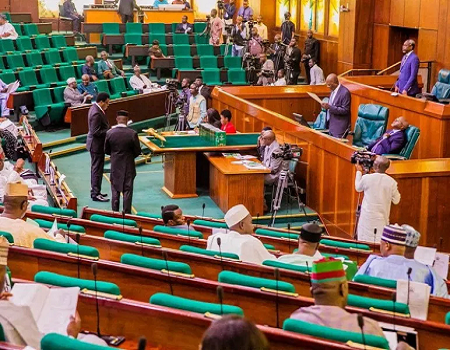 The House of Representatives, on Tuesday, called for the review of the Modular refinery licences issued to 38 indigenous firms in 2018 to set up modular refineries across the country, as part of efforts geared toward total deregulation of the downstream sector of the oil industry.
Worried by the failure of the policy, the House stressed the need for the Corporation to review the status of each of the licences, revoke and re-issue them to competent and reliable operators.
The resolution was sequel to the adoption of a motion sponsored by Hon Alex Egbona, who observed that the initiative would help in tackling incessant cases of crude oil theft and piracy in the oil-producing communities and the high seas.
He said: "The House further notes that approval for setting up of the modular refineries was in response to the outcry that government should intervene and address the perennial problems that were plaguing the oil and gas industry in the country.
"The House is cognizant that the modular refineries, when operational, would be expected to close the gap of importation of petroleum products for local consumption.
"The House observes that of the 38 licenses issued, only two have been reported to be at advanced stages of completion preparatory for commencement of production.
"The House is informed that the inability of the modular refineries to commence operations has continually forced the Federal Government to import petroleum products and sell to consumers at subsidised rates.
"The House is concerned that with the deregulation of the downstream sector and final withdrawal of subsidy, Nigerians are being compelled to pay more on petroleum products.
"The House is also concerned that COVID–19 pandemic was already having an effect on the citizens and the additional burden of paying more for petroleum products would make the already bad situation worse.
"The House is cognizant that the essence of issuing the licenses have been defeated as the beneficiaries have not been able to put them to proper use which is to refine petroleum products for local consumption and export," he observed.
While urging NNPC authorities to give technical assistance to those who have started construction work to enable them to commence operation to meet up the demands of Nigerians, the House mandated its Committees on Petroleum Resources (Upstream and Downstream) to ensure implementation.
YOU SHOULD NOT MISS THESE HEADLINES FROM NIGERIAN TRIBUNE
Fake Website Asking N-Power Candidates To Verify If They Have Been Shortlisted For N30,700 Grant
CLAIM: A viral post on WhatsApp is asking N-Power candidates to verify if they have been shortlisted to receive ₦30,700 Batch C grant
VERDICT: FALSE. Registration can make you lose your WhatsApp account to scammers.
FULL TEXT: A viral post on WhatsApp is asking N-Power candidates to verify the status of their application and see if they have been shortlisted for the batch C cash grant…Reps call for revocation of Modular Refinery Licenses
Reps call for revocation of Modular Refinery Licenses