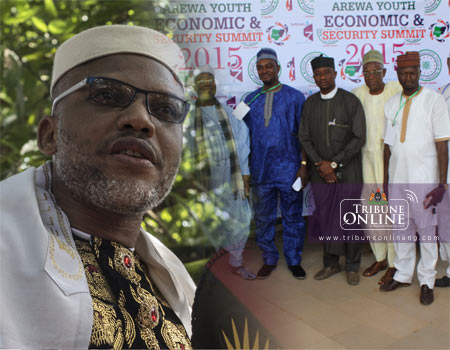 THE Leadership of Indigenous People of Biafra (IPOB) has said that the withdrawal of Quit Notice order by the Arewa Youths is inconsequential to them, urging the Southerners living in the North to return home before October 1, this year.
In a statement issued by the Media/National Publicity Secretary of IPOB, Emma Powerful which was made available to Tribune Online in Enugu on Friday, stated, "It is inconsequential to IPOB whether the 'quit notice' rescinded or not because it will in no way impact the pace and direction of our effort to restore Biafra. We urge all southerners in the core north to return home before October 1 as history will most definitely repeat itself."
Read also: Arewa youths withdraw quit notice to Igbo
The pro-Biafra group recalled, "Southerners were massacred in the pogroms of 1966 and 1967 after similar assurances were issued then that people should remain in the North. The presence of a serving governor and senator of the Federal Republic of Nigeria during the supposed press briefing confirms what we have always known that the incitement to genocide which is what then 'quit notice' is all about, has the blessing of the Arewa political class.
"It betrays the mind-set of those clamouring for One Nigeria as irredeemable blood thirsty psychopaths hiding behind ethnic bigotry to unleash what will amount to the 15 mass murder of non-indigenes resident in core Arewa North. If President Buhari is at all serious about clamping down on hate speech, he should arrest those behind the 'quit notice' along with their sponsors.
Read also: Ohanaeze Ndigbo lauds Arewa youths for withdrawal of quit notice
"Trying to drag the name of our revered leader Mazi Nnamdi Kanu into their blood fest will be resisted. The idea is to cower our leader with calls for his arrest.
"Our quest to restore Biafra is unstoppable and the sooner the Islamic Arewa North knows this, the better for everyone. If Nigeria has any case against Nnamdi Kanu they should present it before the law courts not recruiting barely literate street urchins to issue a threat of mass extermination of Igbos living in the North.
"We are not afraid of the fabled Fulani hegemonic juggernaut that has literally steamrolled every other ethnicity in Nigeria into submission because we are Biafrans. Threats don't have any effect on us, so our advice to Arewa North is to please stick to the October 1 deadline or else they have no honour."