A peaceful protest by aggrieved students from Niger Delta states at the headquarters of the Nigeria Petroleum Development Company (NPDC) in Benin City, Edo State capital was marred by echoes of gunshots allegedly fired by policemen at the gate.
In the ensuing bedlam, a 400 level Mass Communication student of the University of Benin (UNIBEN), Miss Juliana Martins was reportedly shot in the leg by the trigger-happy policemen and rushed to an undisclosed hospital for treatment.
Angered by the refusal of the authorities at the oil firm to fulfill their promise of a laptop the end of a training workshop organized by the Petroleum Industrial Act (PIA), an event organized by the NPDC, the students had taken to the streets to kick against the action.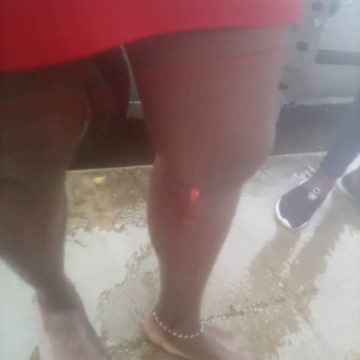 Speaking with journalists at the premises of the Nigeria Union of Journalists, Benin, the spokesman of Niger Delta Student's Union Government and coordinator PIA workshop, Mr. Romeo Emieye alleged that they were at the company's gate the previous day but were told to come back the next day.
Emieye listed other grievances as transportation and a cash incentive for about 50 persons, noting that the amount that was agreed upon was not honoured while they were given empty bags in place of laptops.
According to the coordinator, they were at the gate demonstrating peacefully when a policeman attached to the company let out a volley of shots in anger despite warnings from his superior colleague, hitting Juliana on her leg.
The spokesman demanded that the police should sanction the trigger happy cop to serve as a deterrent to other policemen.
Speaking on his mobile phone, the Edo State Police spokesman, Mr. Bello Kontongs, said he was at the university town of Okada, Ovia North-East local government area, and was yet to be briefed about the incident.
Kontongs, a superintendent of police however promised to find out the full details as soon as he gets back to base in Benin.
YOU SHOULD NOT MISS THESE HEADLINES FROM NIGERIAN TRIBUNE
Viral Voice Note On WhatsApp Billing False
Claim: A viral WhatsApp voice note, purportedly made by the director and CEO of WhatsApp, claims users will have to start paying for WhatsApp services.
Verdict: The viral WhatsApp voice note claim is a hoax. The content is not new and has been circulated as a broadcast message several times in the past.
Experts Say Mixture Of Snail Slime, Evaporated Milk Cannot Cure Stroke
CLAIM: A Facebook user claims water gotten from snails (snail slime) and peak milk can cure partial or full stroke.
VERDICT: The claim that water gotten from snails (snail slime) and peak milk can cure partial or full stroke is false.
FULL STORY: On July 26, 2020, a Facebook user, Prince Nnamdi Enyinnaya Emelelu Eluwa, in a post claimed that water gotten from snails (Snail slime) and peak milk can cure partial or full stroke. The post which is over a year old has recently been reshared by other Facebook users.
Marburg Virus: What You Need To Know About Disease Recently Detected In West Africa
On Monday, August 9, 2021, the World Health Organisation (WHO) confirmed the first case of Marburg virus in West Africa in Guinea. This development has sent shivers down the spines of West Africans who are still grappling with the effects of the coronavirus pandemic. But before this dreaded disease is greeted by rumours and misinformation, here is what you have to know about the virus.APC states to establish Health Emergency Trust Fund…
FACT CHECK: US Did Not Give Nigeria 48 Hours Ultimatum To Detain Abba Kyari
CLAIM: Several social media posts claim the United States of America (USA) gave Nigeria's Federal Government 48 hours to detain suspended Deputy Police Commissioner, Abba Kyari, or face severe sanctions.
VERDICT: The claim is false and misleading. The US did not give Nigerian Federal Government 48 hours ultimatum to detain Abba Kyari.