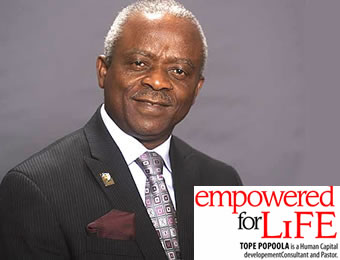 empoweredI yield this column today to a protegee Dr. (Mrs.) Tinuke Babalola, a life coach and relationship expert. She has a message that rings pertinent and I believe deserves to be projected. I have edited it for the purpose of this column. Enjoy!
No matter the height a man has reached in life, there is a place called better. Life is not designed for stagnation but for motion. When life is void of progress it becomes a burden. If you are not tired of where you are; where you are is tired of you! Don't settle for the good, when the best is a reality.  Your goal in life must not just be to maintain the status quo.
Personal development is a lifelong process. Philosophers and scholars agree that life is perpetually in a state of flux and improvement takes place every day. There is a kind of renewal that goes on either through evolution or revolution. Personal development is therefore a deliberate process through which people assess their skills and qualities, consider their aims in life, set achievable and measurable goals in order to realize and maximize their potentials.
There is a balance in creation. Every creature undergoes change, be it physical, spiritual, psychological, emotional, intellectual, social, environmental etc. Irrespective of your age, when you stop learning, you start dying.
The greatest investment anyone could make is the one made on self-improvement. Someone has defined personal development as a way of investing in yourself so as to manage yourself effectively and master your circumstances. If you fail, neglect or refuse to change who you are, it is most probable that you will always have what you have. Jim Rohn posits that income rarely exceeds personal development. So, to have more than what you have you must first become more than you currently are. Personal development is the key to progress and a better future.
Success is usually a consequence and not a coincidence. You do not succeed by luck but work.  You must take conscious steps to succeed. To earn more, you must learn more. Become a lifelong student. Mark Twain once admonished that you should empty your purse into your head and the return will be more than what your purse can contain. An increase in knowledge implies an increase in value and increase in value definitely leads to increase in relevance.  Positive information increases your upward mobility in life.
Personal development is a personal adventure. It implies accepting responsibility for the change you seek. Responsibility is the price for greatness, according to Winston Churchill. Every man is his own ancestor for he devises his own future. In the same vein, every man is his own heir for he inherits his own past. There is therefore a need for you to be proactive rather than wishing for things to change. It has been said that the heights great men reached and kept were not attained by sudden flight, but while their companions slept, they were totally awake in the night toiling upward.
Personal development demands that you close the door on yesterday's success. Someone said failure is not hereditary and success is not genetic. So, don't be afraid to fail.
To attain your ideal, you must be dissatisfied with your status quo. John Wesley used to rise at four every morning and worked until ten at night leaving brief periods for meals. At 83, he was upset about not being able to write more than fifteen hours a day without hurting his eyes.  At age 66, he was ashamed to admit that he could not preach more than twice a day and he was angry that he would sleep until 1 a.m.  He preached three sermons a day for fifty years preaching more than forty-four thousand times altogether.
To become a better you, shun mediocrity and be committed to excellence. Excellence implies finest in quality and exceptionally good or superb. It is about doing things that are common in uncommon ways or getting ordinary things done in extraordinary ways. You must be committed to excellence and keep working at it. To achieve this, you must work harder on yourself than you do on your job. Don't ask "What am I getting?" but "what am I becoming?"
For that to happen, you have to sharpen your skills. Skill is not bestowed, it is acquired. You must aim at being an expert aiming for the apex of your profession. You must desire to be a stakeholder and not a spectator in your chosen field. Quality is a race with no finish line says Williams Johnson. In fact, if you don't aim for excellence, you are settling for acceptable.
In your bid for self-development, you must be committed to reading. Readers are known to be leaders. Knowledge not updated makes you outdated. Somebody once said of the black man that his problem is not his skin pigmentation but that he prefers entertainment to enlightenment. Read an average of two books per week. You cannot read too many books. You can only read few books. To get started, set aside a portion of your income to buy books in your chosen field on a monthly basis. Read for at least 30 minutes a day. Read journals, read book on history, and the biographies of successful men because the secret of men are in their stories. Attend seminars. Working in an establishment for 10 years without any self-improvement translates to only one year's experience repeated ten times. Don't have an analogue mind in a digital world. Go for information.
Time management is also pertinent to your journey of personal development. Time is one of the essential currencies that must be utilized to achieve success in life. Procrastination attracts failure. I love the way Tope Popoola coined this, he says procrastination is yet to change its nature.  It is still the thief of time. Make your time count for you.  Your output tomorrow depends on your input today. Separate what is important from what is trivial. Unless you have goals, it is impossible to manage your time effectively. Don't spend your major time on minor things. Shun frivolities and learn to say no to distraction even when it appears attractive.
Great people mind the company they keep. Your friends and principles are like buttons in the lift; they either take you up or bring you down. The dictum still holds till today that birds of a feather will always flock together. You can't fly with the eagles if you continue to scratch with the turkey. You are either inspired by your friends or you become expired. You must surround yourself with friends who will not be intimidated by your success.
Reasons are said to be fuel in the furnace of motivation.  The more reasons you have to improve, the more intensely you will desire personal development. In the words of Eleanor Roosevelt, the future belongs to those who believe in the beauty of their dreams. See you at the top.
Remember, the sky is not your limit, God is!