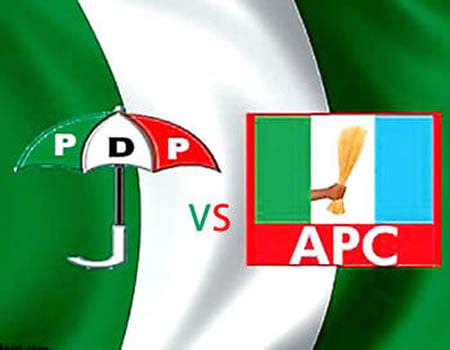 The Ekiti State chapter of the Peoples Democratic Party (PDP), has said the effort by the All Progressives Congress (APC) to cause disaffection within the PDP will always fail because the people of the state won't join a sinking ship the APC has become.
 The party described as laughable the claim by the APC that some prominent PDP members including the Chief of Staff to Governor Ayodele Fayose, Chief Dipo Anisulowo and some lawmakers have defected to the APC.
"Only a few days ago, they started the rumour that Honourable Segun Adewunmi, Honourable Mrs Titilayo Owolabi and others have joined them. The people of the state have found out the truth and are further rejecting the party of locusts and their discredited platform.
The PDP, in a statement by the State Publicity Secretary, Mr Jackson Adebayo, in Ado-Ekiti 
on Friday
, advised the APC to wake up from its dream and face the reality of its impending defeat in the coming 
July 14
 governorship election.
"The Yoruba have a proverbial saying that a farmer who planted 200 yam sets and is telling people he planted 400, after eating the real 200, would also eat the other 200 in his imagination. They are deluding themselves. Chief Anisulowo was never at any of their rallies, but they are saying he defected to their party at a rally in Anisulowo's hometown, Are-Ekiti.
"They have met a brick wall as they go round the state. The reception they are being given is not only cold but depressing to them. In Ekiti East, Gbonyin, and Ikole, they were rejected by the people and they vent their anger by destroying the billboards of our candidate.
" They are now claiming that they went to campaign in the local government of the state governor and his chief of staff and ridiculed themselves by saying Anisulowo joined them there. It is not only that the PDP is waxing stronger daily, the people are on our side and many men and women of goodwill are joining our party," he said.
Adebayo also added that PDP lawmakers in the House of Assembly were resolute in their support for and membership of the party.
"Anisulowo, Adewunmi and our lawmakers have also appealed to their teeming supporters not to be swayed by the lies being peddled by the APC and to also continue to mobilise for our candidates, Prof. Kolapo Olusola and Kazeem Deji Ogunsakin in the coming election," he stated.