Ooni of Ife: Like father, like son
There is this once popular refrain: Whatever-it-is-that-matters-also-shows! The imagery it conjures quite befits the finer grains of the personality of the father of the new Ooni of Ife, Prince John Oluropo Ogunwusi. Want royalty with unassumingness and grace? Then the father of the Ooni of Ife ticks both boxes.
In March this year, Ooni Ogunwusi caused some stir by choosing as his queen, a young cousin of mine -Sonia Otiti (Wuraola) Obanor. That decision and its consummation could well signal the beginning of a new fire that could possibly open a fresh page of history on the pile of the old Benin-Ife fraternal cooperation. But that is subject for another day.
I remember every now and then this encounter with the Ooni's father at both Benin City and Ife where nuptial ceremonies took place. The amiable Ooni Ogunwusi Ojaja11 sent his father and other royal emissaries to fetch his bride. We obliged him and then joined him at the Royal Court of Ife the next day for the final public act.
What struck me like a friendly cannon was the uncanny display of meekness and good breeding by the senior Ogunwusi who was flanked by his gorgeously attired and stately queen of a wife. Given our complicated world, together, they put simplicity on a pedestal that only a few men may be able to appreciate. The kind of richness of appearance that can be regarded as simple majesty!
Baba Ogunwusi navigated through the fluffy end of the ceremony with a stand out comportment, humility and calmness and thoroughly enjoyed the rendition of the Igun eronmwon song at the home of the bride's father. As soon as I introduced myself to him as a journalist and former Foreign Affairs Editor of the Guardian, he beamed with smile and said with glee and warmth "oh my colleague from the fourth estate of the realm" And anytime we came near each other, he would stretch out his hand for a handshake. He cut the picture of a man of essential frankness. I am told he had been a radio and television anchor and star presenter in the eighties and that he had also brought honour to the profession. But it is not every now and then that society witnesses an era of an Ooni with a father…
Meeting important personalities locally and internationally is one of the things the journalistic trade freely grants. One has had cause to meet with the very cream of top of diplomatic, political, business and traditional personalities and to sustain such relationships beyond the confines of offices, summits and conferences, to homes and lounges. But prior to March this year, I'd had business at the Ile Oodua only once. I recall meeting late Ooni Okunade Sijuade at his palace on a somewhat different setting from last March's.
It was sometime around 2002 when the Federal government had already awarded the contract for the dualisation of the Ife-Ibadan highway. As a journalist on tour of the western states with Chief Tony Anenih who was then Works Minister, we were at the Ooni's palace and the very regale and excited Sijuwade pointed at Anenih just as the head of delegation approached his royal dais to take his seat beside him. He spoke some Yoruba and then was very effusive with praises and prayers. Something like: "Anenih, you made this possible? This wish that we have been asking for, for years now. The Almighty would bless you, you will go far… and whatever you ask of him and us, would be granted to you…" He was saying.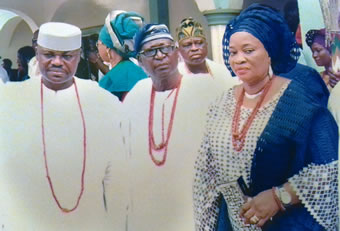 And as I was saying, in both Benin City and at Ife, Senior Ogunwusi never sought to throw his weight around using any of the well-known Nigerian 'big man' tactic as the father of arguably the biggest traditional ruler in Yoruba land. After all, he has since made history as the first father of a living Ife king. I am convinced that the senior Ogunwusi's breeding, has most certainly rubbed off on the Ooni leaving Nigeria with a remarkably humble royal personality.
The Ooni received with some measured panache and good cheer, everybody that came into his palace, as persons related to his new queen and generally, the people who came in from Benin. You could hold up his hand during a handshake and converse. For instance you could say: Kabiesi, I look forward to meeting you again in Abuja, etc… and being born with grace, he would listen to you give a heartfelt response.
When the Ooni left the reception hall with the usual ululation by praise singers and his band of gong beating bards, it did look as though he was retiring for the day. With his Pose, he went round the rebuilt reception area to the left of his main residence where some other royal fathers were being feted, he greeted them one after the other before entering the mansion containing his inner chamber within the palace grounds-an imposing edifice completed in 1937 by the late Ooni Adesoji Aderemi. Here, as you would expect are on display some paraphernalia of royalty. The entire floor is white carpeted with the seal of the Ooni embossed on it…
Remarkably, after about an hour and half, Ooni Ogunwusi came back into the reception Marquee upon learning that the big groove in honour of his wedding was still on. Oba or no Oba, the Ooni did not betray his constituency as he swung gracefully to the delight of the young men and women including students of the Obafemi Awolowo University as they played Kabiyesi by Dr. Sid and Don Jazy.
This Ooni Adeyeye Ogunwusi has all the imperial swagger and then something more: A calm mien, ability to relate with people irrespective of caste/class permutations. That he could connect well, were all on display at Ife. You might argue that for a persona occupying the exalted Ife stool, the humility of king Adeyeye stems from the fact that he is a very young man. But he was not born last night either. That "young man" talk counts for nothing in the circumstance when a good breeding is on display.
And never mind that before the wedding, there were some disturbing, maybe sinisterly sponsored media publications. The Ooni refused to join the throng who wanted to condemn what was revealed later to be a sacrosanct choice. He instead restored his Olori and chose to walk the lane of men of uncanny grace and wisdom.
What is on the diary is that the autochthonous people of Ife, 'migrants' and visitors alike, had unlimited fun inside the Ooni's reception marquee. And the way he is going, he would continue to win more friends. He would will be disarming many with his humility and gracefulness beyond his handsome face and lotus eyes
Surely if as it is said that the Ooni does not measure the amount of olive oil in his salad, then a combination of factors: Good breeding, divine fortune, distinctive personality, a man at home with his people, and an obvious heart of gold marks him out as someone who would be loved and respected by the people of Ile-Ife. In the days to come, the people of Ife and those who lay claim to the Oduduwa House would regard the coming into history of Ooni Ojaja 11 as something to be especially cherished.
As a French saying goes: Chaque chose an son temps-Everything in its time! With king Ogunwusi, Ife should never be the same again.  Already, there are great expectations in the air. The time for the things fortold!
From my little observatory here in Abuja, the vistas seem at Ooni Adeyeye Ogunwusi as someone specially prepared at this time for the people of Ife. And besides the mythic validation by predestination, his father prince Oluropo Ogunwusi must have been carefully chosen also as the vessel to nurse such an important personality for his people. So as the Ooni reigns, we must always remember his father. It has to be, that so much of the good breeding was imparted on the king by the patron father!
*Oghogho Arthur Obayuwana is former Foreign Affairs Editor of The Guardian, now Chief of Party Centre for Ethics & Values and Civic Nigerian blog and a Public Affairs Analyst based in Abuja.