JOSEPH ENNA writes that the Eggon people of Nasarawa are no longer waiting on government ot bring development ot their domain. This they are doing by digging into their socio-cultural practice of communal efforts.
IN traditional African societies, communal lifestyle is still very much in practice. This way of living ensures that there is no helpless person in the society; the weak is taken care of and those in need have something for themselves to survive on.
2019 : 61 Political parties rejects INEC draft election guidelines
If an individual needs his farm to be cleared for the planting season to commence he seeks the help of his fellows and the job is done. He may only need to provide some food and palm wine where possible. Also when there is a need to embark on development projects everyone is involved and the community is better for it.
It is in the spirit of this way of living that the people of Eggon Ero chiefdom in Nasarawa Egon Local Government Area of Nasarawa State decided to help themselves in the area of physical development, where government presence had continued to remain elusive for a long time.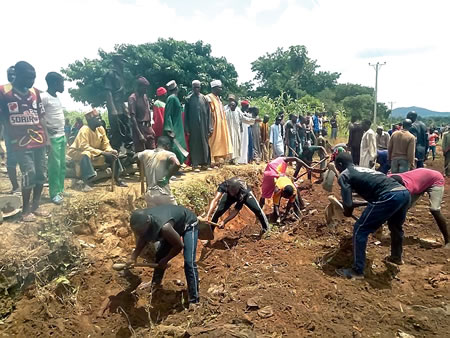 Sunday Tribune recently visited the community where the age-long cultural practice of communal self help is extant. This time they came together to fix an access road linking various villages in the area.
The communal practice commonly called Igbu in Eggon language or aikin gaya in Hausa exhibits the vital role that each and every member of the society plays in contributing their quota to the overall development and existence of the community.
Though some communities had completely neglected similar communal practices and are now totally relying on contractors, government and well-meaning individuals to assist them in fixing their dilapidated roads and bridges as the case may be, the Eggon had stuck to their own brand of self-help to engender development.
However, for the five communities under Eggon Ero namely: Umme, Bekeno, Alizaga, Arugbadu and Sako, there is a resolve to sustain the practice resuscitate and this has been helping them to foster mutual peaceful coexistence and development through collective efforts.
For these communities the usual practise is to come out in their hundreds every Saturday with zeal and passion, dancing to the rhythmic and melodious drumming of Eggon cultural traditional tunes, as the youths pick hoes and shovels tilling the ground to fill in pits and water ways washed away by rain and making their community road passable for vehicles to transport their farm produce which had been trapped and rotting away on the farms.
The communities which are about 30 kilometres from the Nasarawa Eggon main town, have promised to continue the cultural display and communal practice inherited from their parents since help had been slow in coming from all the levels of government in the country.
The paramount traditional chief of Eggon Ero, Alhaji Usman Maikeri, who in June this year received the mantle of leadership as Aren Eggon Ero, from Governor Tanko Al-Makura, took the initiative and mobilised his subjects when he discovered that many basic facilities were lacking in his community and no help was coming from higher quarters.
The Aren, who described the communal activity as inherited said there was also the need to preserve the culture as well as to constantly encourage the people to promote it.
"This communal work has three things attached to it. First, it avails us the leaders the opportunity to preach peace and unity to our people who for one reason or the other do not associate themselves with other people.
"Secondly, what we are doing today is also sending signals to the government that Eggon Ero people are a peaceful and one indivisible entity with unforgotten long-existing historic cultural practices inherited from their fathers.
"It has also availed us the opportunity to express our challenges and problems to the  government, hoping that  they would answer our cry one day," the chief stated.
Alhaji Maikeri, while praying for the country's unity, asked that government should take more interests in local communities by constructing more link roads, especially in the five local communities in the area.
Speaking further, Maikeri said: "Since our people have answered the call to go back to the farm which is President Muhammadu Buhari's message to the people, and since farming is our major occupation and source of livelihood, we have taken up the challenge. We thank God for the bountiful harvest He has given farmers this year.
"The major challenge before us now is how to convey the produce to nearby markets to sell. It is the major factor troubling us in this place because the road is in deplorable conditions such that vehicles find it difficult to ply it, talk less of conveying huge farm produce on such a road.
"This prompted my decision to assemble all my people and encourage them on the need for us to reminiscence on the things that our fathers did in the past which we saw while growing up and which had helped us greatly.
"I see this communal effort as paramount and we would not stop this exercise until government responds to our cry. It has been over 12 years since government visited this area, even though we have being crying for assistance but all to no avail. However, I believe that this time the government will wipe away our tears."
Also the community's youth leader Arugbadu Abdulmumuni Garba, emphasized that the road was very bad and that only motorcycles could ply it more easily.
"The resolve for this collective effort is actually a good idea worthy of commendation. We appreciate our traditional chief for this initiative. We still want to call on the government to come to our aid to construct this major road. That's all that we need from them, nothing more," he said.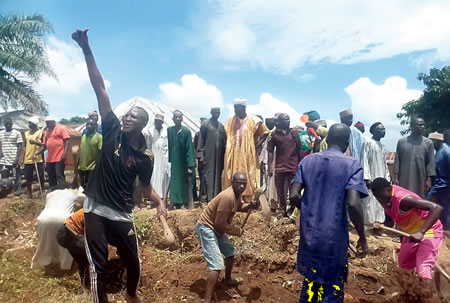 Also, a resident of the community, Umar Abdulahi Gale, commended the efforts of other residents for embarking on such project, while asking other communities to follow suit.
"That is community effort  to complement what the government is doing in the society, because Government today has a lot of responsibilities shouldered on, and  it is through such effort in our communities that problems are addressed.
"Other communities should see Eggon Ero communities as an example to follow. I know of a village who are also doing same, like Alogani and Gale are doing similar project that we can emulate.
"There are many rural roads in Nasarawa Eggon LGA that need government attention, but a lot of communities chose not to help themselves thinking that government would do it for them.
"I think, it is high time they changed their minds and address their challenges without waiting for government," he stated, adding that waiting for government is like postponing the evil day.
Anther indigene of the town, Idris  Umme appreciated the Aren Eggon Ero for revitalizing the ancient practice, urging that it should be a continuous process.
"This would unite them as one entity with common sincere purpose. I am happy to be path of this and I will always support the initiative," he added.
Though the Nasarawa Eggon people might have succeeded in using small tools to fill potholes and level the rough patches on their link roads, the fact remains that they recognise the difference between the road they have constructed and the ones constructed by road construction companies.
Government presence to them is very important because their needs in terms of social and economic development would be faster when those at the helms of affairs in the country show interest in their overall well-being.