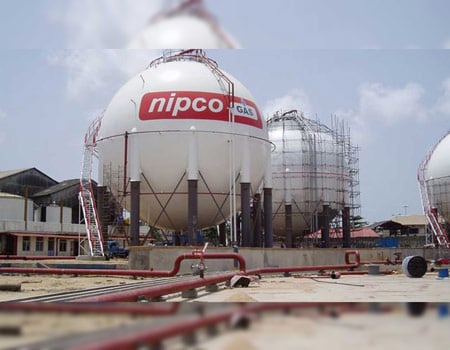 The management of Nigeria Liquefied Natural Gas (NLNG) has commended the management of NIPCO Plc for building the largest Liquefied Petroleum Gas (LPG) storage facility in Africa.
Speaking during a courtesy visit to NIPCO facility on Tuesday, the Managing Director, NLNG Ltd, Mr. Tony Attah, described the NIPCO'S 5000 metric tonnes (MT) facility as very impressive.
According to him, "As I said to the Group Managing Director (GMD) of NIPCO, I have never in my wildest imagination believed that this kind of facility exists in Apapa here. The initial picture I have of Apapa is just a congested area."
"But coming here today, I can see that beyond the congestion, there is quite a lot of value being created here for Nigeria and indeed to just see the vantage position that NIPCO has taken being in front of at least three or four jetties and receiving both white products and LPG."
"I can see also very huge investment that NIPCO has put in to upscale the amount of LPG that they can receive into the country."
"For me, that is a real game changer and we are committed to continue to support NIPCO and indeed Nigeria to bring about the positive change in terms of energy availability for Nigeria."
On his part, the GMD, NIPCO Plc, Mr. Venkataraman Ventakapathy, stated that the expansion of LPG skid is aimed at receiving increase product from the NLNG.
According to him, "we are really an extended arm of NLNG in ensuring adequate supplies to domestic market. We are encouraging Nigerians through Corporate Social Responsibility (CSR) to deepen usage of LPG in the country."
"We thank the NLNG and now the NLNG can pump simultaneously in two different pipelines to PPMC and NIPCO. The recent commissioning of the new 5000MT storage facility will allow us to take large parcel sizes and increasing the turnaround of NLNG vessels."
He said NIPCO has deliberately undertook steps aimed at growing LPG consumption by supporting households with cooking gas accessories.
"Our efforts in consumer education to increase awareness of the benefits of LPG and other forms of domestic fuel participation and sponsorship of LPG awareness programmes are aimed towards boosting domestic cooking gas consumption," he said.