NCPC boss inaugurates metropolitan coordinators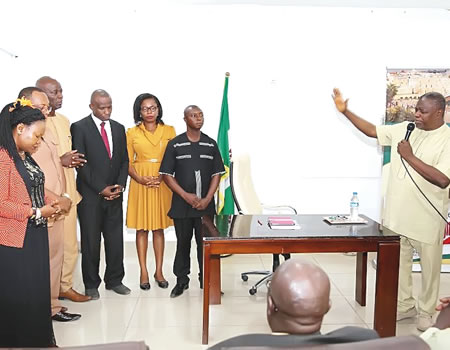 The Executive Secretary of the Nigeria Christian Pilgrim Commission (NCPC) Reverend Tor Uja, has inaugurated metropolitan coordinators who will head the newly created metropolitan offices across the nation at the NCPC corporate headquarters, Abuja.
Speaking during the Conference of Metropolitan and Zonal coordinators with management and desk officers in Abuja, the executive secretary explained that the reason for the creation of metropolitan offices is to take pilgrimage to the people and cause both the church and Christian community to own Christian pilgrimage.
The NCPC helmsman stressed the need for the church to invest in pilgrimage and to be strategic stakeholders who would quicken Christians in Nigeria to own and to participate in pilgrimage as a regular and normal Christian activity.
He stated that it was imperative that pilgrimage to be a blessing to Nigeria and should open doors for revival to the church. His words: "If pilgrimage does not revive the church, then it will not make much meaning". He added that pilgrimage should solve problems, open doors for blessings and create opportunities for services and ministry that would help develop the country.
Reverend Uja noted that Nigeria is expending a lot of manpower, finances and energy in the pilgrimage sector and as such deserves to experience the impact of pilgrimage in all the nooks and cranny of the country.
The NCPC boss explained that the commission is working out plans to make pilgrimage an exercise through which Christians would have a deeper spiritual relationship with God and contribute to the development of Nigeria which the world would benefit from.
He added that NCPC is in dialogue with the Israeli authorities to make Nigeria benefit from the great gifts that God has given to Israel and vice versa.
Reverend Uja charged the coordinators to use the Bible as the greatest instrument in promoting pilgrimage and to build up people in the values of Jesus Christ.
Six metropolitan coordinators were inaugurated to head Lagos, Abuja, Asaba, Port Harcourt, Kano and Awka Metropolitan Zones, the Sokoto and Gombe Metropolitan heads would be appointed and inaugurated at a later date.