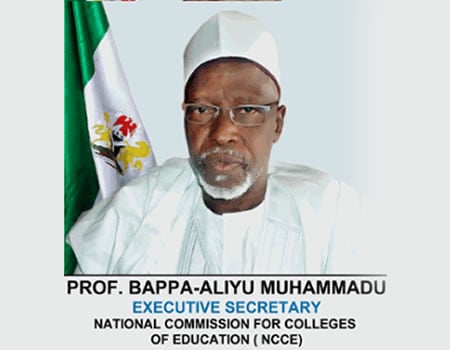 THE National Commission for Colleges of Education (NCCE) will soon be replaced with the National Commission for Teachers' Education (NCTE), which will oversee all institutions involved with teacher education . in the country.
In a telephone interview with Tribune Education on Tuesday, the executive secretary of the NCCE, Professor Bappa-Aliyu Muhammadu, said the proposal to that effect had been presented to the Federal Ministry of Education, and that he was optimistic it would eventually be approved.
Professor Muhammadu told Tribune Education that with NCTE, "Teacher education will be in one place – regulated, controlled and supervised by one unit. It will be able to streamline and be able to provide consistency in curriculum development.
"Let me give you an example. NCE is now three years; then you go to the university and do another three years. If the curriculum of NCE is streamlined along the degree programme, then you don't need to do three years in the university.
"We are proposing; government has heard us, but has not said anything yet; but that is one of our projects."
The NCCE executive secretary had also while on a courtesy visit to the Federal College of Education, Abeokuta, Ogun State, recently hinted that a comprehensive review of the NCE curriculum would soon take place.
He appealed to the management of the college, which, according to him, has the calibre and quantity of human and materials resources to award degrees, to make available diligent academic staff to assist in the imminent curriculum review.
He said teachers in colleges of education would be invited to look at the teaching subjects one after the other, as against the former practice of consulting university lecturers, for the review.
Professor Muhammadu also expressed delight at the peaceful atmosphere prevalent at the FCE Abeokuta, and urged the college management to continue to do all in its power to sustain it.
After being taken on a guided tour of the college, in company of members of the college management, Professor Muhammadu described FCE Abeokuta as one of the best colleges of education in Nigeria.
He, however, identified the need for the management to seek intervention in respect of the construction of motorable road network on the campus.
Earlier in his welcome address, the provost of the college, Dr. Ayodele Ajayi, noted that the FCE Abeokuta was the oldest tertiary institution in Ogun State and the most peaceful, having never lost an academic session since inception.
He thanked the federal government and the Tertiary Education Trust Fund (TETFund) for their financial contributions to the college, as virtually all facilities and infrastructure TETFund-driven.
Dr. Ajayi also attributed the educational development of staff to the availability of TETFund sponsorship, adding that most teaching staff in the college have doctorate.
He, however, expressed concern about the outflow of PhD holders to universities as soon as they acquire the doctoral degree.