Ozubulu attack: Church releases full list of victims, death toll rises to 13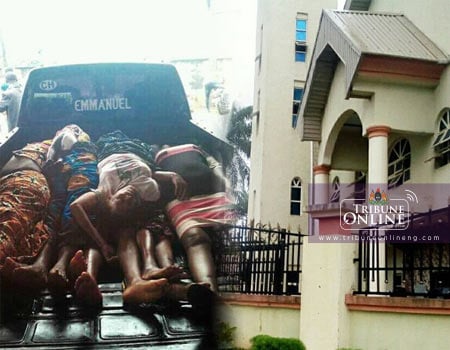 THE Catholic diocese of Nnewi, Anambra State, has released the names of victims of the attack on St. Philip's Catholic church, Ozubulu, just as the death toll increased to 13.
The church was attacked on Sunday by a lone gunman who killed 12 worshipers while 18 others were injured.
Acoording to The Cable, a statement issued by Hilary Odili Okeke, bishop of the diocese, the church indicated that the death toll in the attack had risen to 13.
The dead, according to the list released by the church, were: Cyprian Ikegwuonu, Hyacinth Oramadike, Cecilia Ewin
Eunice Akanigbo, Rose Okoye, Anulika Obunadike, Uchenna Obunadike, Anthonia Ufondu, Oluchukwu Uhelu, Christiana Igbeja, Udeze Pauline, Victoria Uzokwe and Florence Nweke.
It listed the 22 surviving victims as: Ikegwuonu Caroline, Nwakile Anthonia, Okoye Odinaka, Okoye Patricia, Isaac Chinedu, Oramadike Chinagorom, Oramadike Chinecherem, Udegbunam Chidimma Ndulue Samuel, Udegbunam Obiageli, Ugochi Obiajulu, Chukwueloka Chineze and Oramadike Chioma, Azuka Basil, Oramadike Chiamaka, Uchechukwu Chukwueloka.
Others were Nwanya Ngozi, Ngwuta Chinemelum, Asomba Chukwudum, Nnudule Leonard, Muomah Michael and Oramadike Favour.
Two of them, according to the statement, had been discharged while others were in different wards in the hospital.
While soliciting for funds for the care of the victims, the diocese said it had opened a bank account in that regards.
"Anybody, parish, institution, company, society, association or group that would like to join the diocese in providing assistance to the victims and their families can send their contributions," the statement read.
"We shall keep accurate records of contribution and distribution of the funds," it added.