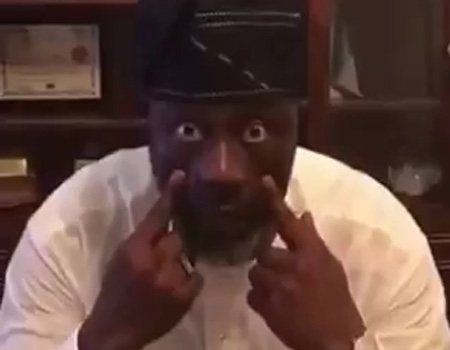 SENATOR Dino Melaye is the direct opposite of his predecessor, Sen. Smart Adeyemi. Having won the election, he moved from the House of Representatives to the upper chamber proving wrong all predictions that he wouldn't make it to the red chamber. He was only politically promoted. He has blatantly refused to refine his image which dates back to his undergraduate days.
In terms of controversy, he is second to none. He has either initiated or participated in the crises at the House of Senate and Kogi State. Despite all the negative comments that often trail his behaviours, the Senator remains undaunted; most of the time, he comes out vindicated, perhaps victorious, as he would say.
He was at the centre of political crisis that almost sank the ruling APC when it was time to elect the principal officers of the two chambers of the National Assembly (NASS).
In a twinkle of an eye, his constituents had commenced a recall process, collating their own signatures for the Independent National Electoral Commission (INEC). He runs from pillar to pole looking for ways to stop the process at court. The court of appeal has given its nod to INEC to continue the exercise of a case that will be the precedence in Nigeria
But all these do not really threaten the national security of the country. They are not issues that directly affect every member of the country. The latest allegation against the hefty Senator is serious and should be taken as such. Six men with guns and other weapons were nabbed by the police. Upon their interrogation, they confessed to having a sponsor. And that's how Senator Dino Melaye came to limelight again.
2019 general elections are near, there is a buildup going on, though behind the scenes and a number of caches of arms and ammunition have been discovered and seized by the police in Osun, Ogun, Ekiti, Zamfara, Benue and other states. If not for the election, the Senator has an issue at his senatorial district in Kogi State. The apprehended suspects and the seized arms cannot be separated from the remote and immediate challenges of the serving lawmaker.
Police arrested some persons, detained them, they confessed, listed names, vanished and were rearrested. It all looks like a game, hide and seek to be precise.
Gbongan, Osun State