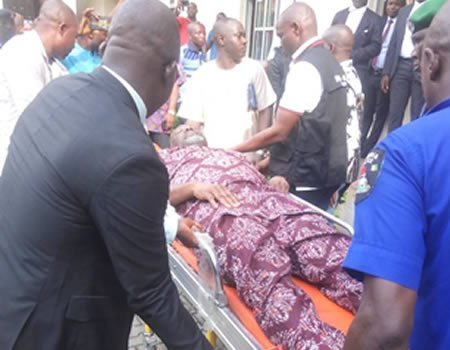 THE Senator representing Kogi West Senatorial District in the Senate, Senator Dino Melaye was on Wednesday docked before a Chief Magistrate Court sitting in Wuse II in Abuja.
The Police docked Melaye on allegations that he escaped lawful custody while being driven in Police vehicle to Lokoja, the Kogi state capital to be arraigned on criminal charges.
The embattled Senator, who has been having a running battle with the Police recently, was brought to the court on a stretcher for him to take his plea.
He pleaded not guilty to the charge preferred against him by the Police and the court granted him a N90million bail.
According to the First Information Report (FIR) read before Magistrate Segun-Bello, the Police specifically alleged that on April 24, 2018, about 1330hrs at Area One round-about Abuja, "You Senator Dino Melaye of the Federal Republic of Nigeria while being conveyed in a Police White Hilux Bus with Registration number NPF 3354 D to Lokoja Kogi State to be arraigned in Court for Conspiracy and Unlawful Possession of Prohibited Firearms in Charge Number CMCL/14SC/2018 filed at the Chief Magistrate Court Lokoja, you Senator Dino Melaye intentionally broke the side windscreen of the Bux and jumped out of the bus after it was blocked by a Hilux Vehicle with registration number Kaduna MKA 603 GY occupied by your younger brother Samuel Melaye and one Barrister Amefula David Emeka and driven by yet to be unidentified person who escaped from the scene after the blockade.
"You Senator Dino Melaye after breaking the side windscreen attempted to kill yourself by jumping out of the bus and fell on the ground and thereafter started shouting that you want to kill yourself and implicate the Police for your death.
"That Police Officers who were escorting you in the bus tried to re-arrest you back to the bus but you resisted further arrest with the help of your brother, Samuel Melaye and some lawyers in your company and further threatened to injure the Police officers if they try to further arrest you and you finally escaped from the scene in another Hilux vehicle".
The maintained that Melaye committed an offence punishable under Sections 148, 153, 172, 173, 231 and 326 of the Penal Code Act.
The lawmaker was however re-arrested after meeting the bail conditions and consequently admitted on bail.
The lawmaker, who was injured as a result of his refusal and struggle with armed policemen inside a police van on their way to Kogi high court, was admitted to the Zankli Hospital, Abuja.
Melaye has been objecting to him being arrested by the Kogi police command or arraigned before the Kogi high court on security grounds which reportedly pitched him against the law enforcement agents.