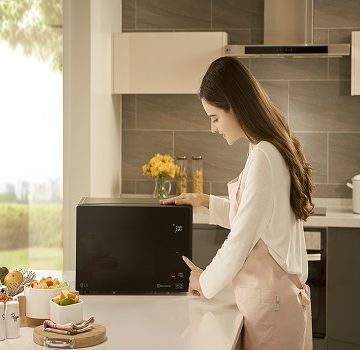 It's without that technology is moving at train's speed and probably faster than that. And one company in that train is LG Electronics.
According to Alice Julier, Associate Professor of Food Studies at Chatham University, United Kingdom, in her book, 'Eating Together', eating and dining together can radically shift people's perspectives: reduces people's perceptions of inequality and tend to view those of different races, genders, and socioeconomic backgrounds as more equal than they would in other social scenarios.
A dinner table, according to her, which is usually situated in the kitchen in modern homes, is an important place for the socialisation of children.
The family meal, she said, is a prime setting for their introduction to the rules and norms of accepted behaviour and family values and expectations. She argued that for toddlers and pre-schoolers, it teaches what is considered culturally acceptable food and, on a more basic level, what is considered food and non-food.
Speaking on how LG is strengthening family bond, Mr Taeick Son, Managing Director, LG Electronics, West Africa Operation said LG is committed to innovative designs that will enable lifestyle convenience while creating seamless user experience of its products.
ALSO READ: World TV Day: LG Electronics strokes revolution with OLED TVs
"Today, families are paying more attention to healthy lifestyle and appreciating the importance of having a family meal. These have led to a rising interest in getting smarter in the kitchen. We want to make life better for everyone by providing affordable devices", he said.
Son stated further that, "LG is offering consumers even more exciting choices when it comes to designing their kitchen with LG's fastest-growing feature for the kitchen — LG Instaview — proving that with LG, there's no need to compromise.
"When you knock twice on the mirrored dark-tinted glass panel on the right side door of an LG Instaview Door-in-Door refrigerator, the interior lights up to reveal the contents without letting cold air out. A clear barrier called a Coldsaver Panel between the rest of the fridge and the Door-in-Door compartment reduces air loss even more. Savvy consumers who want to save time and money will likely learn to put refrigerated snack foods and drinks in the Door-in-Door compartment for quickest access.
"LG's collection of high-end Door-in-Door refrigerators set the gold standard for food preservation. In addition to their innovative and ergonomic designs, these refrigerators use insights gleaned from decades of research to lock in cold air and prevent food from degrading.
"Equipped with special temperature controlled cabinets, Door-in-Door refrigerators can keep fruits and vegetables in a pristine state while also prolonging the lifespan of leftovers stored inside. The ergonomically-friendly Door-in-Door design can even decrease the refrigerator's environmental footprint by decreasing energy consumption. And newer LG refrigerator models offer improved smart functionality that simplifies everything from shopping to preparation.
"With all these exciting features packed in the LG Instaview Door-in-Door refrigerators, consumers can chill and enjoy good meals and wine with their families with great assurance of freshness and health benefits," Son stated.