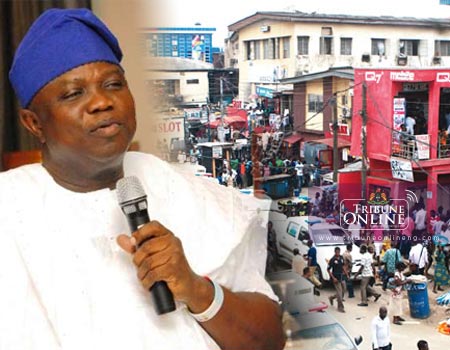 Lagos State government has restated its commitment to actualise the relocation of Computer Village from Ikeja to Katangowa, just as it denied involvement with an infrastructural firm, Master Realty International Concept Ltd, allegedly reported to be parading itself as having approval to construct an ICT specialized mall directly beside the newly built Ikeja Bus Terminal.
The State's Commissioner for Physical Planning and Urban Development, Tpl Wasiu Anifowoshe, said this on Tuesday in a statement made available to journalists, declaring that the state government had not given planning permit for such development.
"This information is false, Lagos State government did not issue any permit to him because his plans are not in sync with the state government's regeneration plan so it is not possible for him to obtain approval from the appropriate authorities," Anifowoshe said.
Speaking further, Anifowoshe restated Governor Akinwunmi Ambode's commitment to actualise the relocation of Computer Village from Ikeja to Katangowa, assuring of the state government's continuous implementation of the provisions in the Ikeja Model City Plan, which designated Computer Village for residential use.
He said the purpose was to achieve urban regeneration and increase housing stock, revealing that the take-off of the Katangowa project was at its final stage, disclosing that the government was working tirelessly towards ensuring that the project was concluded as scheduled.
"Therefore, government will not take it lightly with anyone caught attempting to disrupt the relocation plans of moving Computer Village from Ikeja to Katangowa. The Lagos State government met with the Executive Members of Computer and Allied Products Dealers Association of Nigeria (CAPDAN) of Computer Village and assured them that Government is committed to its relocation plans.
"In order to demonstrate this, all the banners displayed which are in contravention were marked, since it does not have planning permit to confer on it as a construction site. We have removed the illegal fence constructed without fencing permit and sealed the site to prevent illegal development," the commissioner said.
He added that the state government had also deployed officers of the ministry to monitor any illegal development in that area, enjoining Lagosians to alert the government if they noticed such development, so that they don't fall prey to fraudsters.
The commissioner also implored Lagosians, particularly those intending to rent, lease or buy property to always ask for necessary planning permits and approvals before transacting business with any developer.