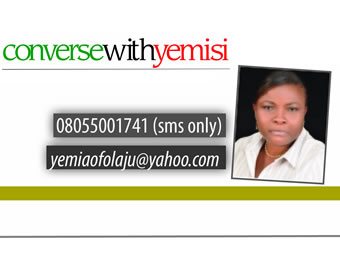 converse with yemisiDear Yemisi,
After few minutes of sex I get tired, I don't go more than one round.
What do I do?
Akhigbe , shegelking@gmail.com
Dear Akhigbe,
I quite appreciate your plight and what you are going through. If you have been following me on this page, you would have seen my various interventions on this subject matter.
This question of yours has been addressed so many times. All the same, I will still reproduce my earlier intervention on the same issue. Not lasting in bed depends on varied reasons. Majorly, your sex partner is very crucial to how long you last as well as your psychological and emotional dispositions at that material time.
If you are too anxious or you have been craving to sleep with a new found bed mate, you cannot last. I hereby reproduce below what I had written earlier on the same issue.
What you are experiencing is termed premature ejaculation, which is not strange to many men in life, going by what urologists have discovered over time.
According to sex experts, there are two approaches that you must work on if you want your sex life to improve. These two approaches are both physical and psychological in nature.
Talking about the physical approach centres on targeting the sensations you feel during sex while psychological addresses your worry, stress or other mental factors that may induce premature ejaculation. Physical remedies target the sensations you feel during sex.
Do not forget that duration is not the most important part of the formula for avoiding premature ejaculation with a precaution that you must try these out on your own before the real act.
You have to regulate the way your body responds to physical sensation. Avoiding premature ejaculation is to bring yourself right to the edge of orgasm before stopping all sexual or masturbatory activity until you have excitement under control.
Practising this technique can help you teach your brain and body to better control your orgasm response, added another sex therapist.
Whenever you feel orgasm coming on, stop and squeeze right below the head of your penis. Apply firm pressure with your thumb and forefinger and focus the pressure on the urethra, counsels another sex therapist. According to the expert, this approach can help you last longer in bed by pushing blood out of the penis and eventually decreasing tension which represses the ejaculatory response.
Though the use of spray is equally suggested to desensitise, but with a warning as the continuous use of the spray can lead to lack of sensation that will impede your staying erect during sexual intercourse.
Aside the above, getting involved in physical exercise before the real act could go a long way in helping you ease tension and getting you relaxed. It is not a do-or-die of assignment, but one that should come naturally .
————————————————————–
He does not want me to know his parents
Dear Yemisi,
I am a 30-year-old lady in dire need of your readers and your counsel.
I am a graduate and by all standard a success in my chosen career. It took me almost three years before I got a man who proposed to have me as his wife.
We have been dating for almost four years now  and it has been our desire to seal the union as we exchange marital vows. Ever since we have been courting I have been asking  my husband to be take me to meet his parents or better still his siblings.
He keeps posting me that the time is not yet ripe for such familiarisation. Considering how far we have gone in the relationship, he has been doting on me and he keeps doing so. He surprises me at all times with gifts and never hesitates to share his future plans with me.
But getting agitated by his singular attitude of his hiding me from his parents has subjected me to sleeplessness as I no longer have sound sleep again. I have asked him severally why he is not excited about this honest request of mine.
I am beginning to doubt his sincerity  as I am of the opinion that he is not what he claims to be because it is alien to our culture  for a would be wife  not to get to know the family  of the man she wants to live with for the rest of her life.
Dear Yemisi, I am getting anxious about my situation. What do you think I can do? If at 30 in a four-year relationship cannot point at my future in laws then, when will that be?
Age is becoming an issue of concern for me. He appears not to be on the same page with me on this issue. In this part of the world, knowing one's in law is so crucial to the success of any union. All he tells me anytime this issue is raised is that his parents are in their village in far away Kogi as we are based in Lagos.
I will appreciate if you can use this medium of yours to ask for advice on what I should do from your numerous readers.
Please, it is very crucial people address my issue with the frankness it requires.
Jane.
Dear Readers, Jane wants your honest pieces of advice on how to go about making a life decision. Kindly send your reactions to 08055001741 or yemiaofolaju@yahoo.com.