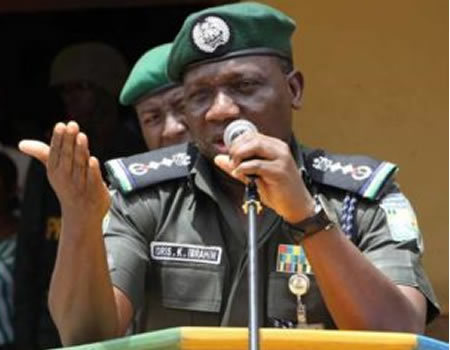 The Inspector General of Police, Ibrahim Idris and the Commissioner of Police in Ondo State are presently faced with a charge of contempt of court over the refusal of the IGP to obey the ruling of an Akure High Court.
The notice of contempt, which was served on the IGP on August 30, indicated that he is being served Form 48 (Consequences of Disobedience to Order of Court.).
In the suit in question,  the IGP, the Commissioner of police in Ondo State as well as the Olugbo of Ugbo, Oba Obateru Akinruntan were jointly sued in the applicants' attempt  to enforce their fundamental human rights over alleged forceful arrest of three people — Adefemi, Weminmo and Okon.
The notice from the Sheriffs' section of the High Court, Akure dated August 28, 2018 and addressed to the Inspector General of Police was titled Re: Form 48 (Consequences of Disobedience to Order of Court.)
It reads: "Above subject matter refers, "The attached  speaks for itself.
"I have been mandated  to serve on your good self the court process.
"Thank you."
The document was received on behalf of the police by the commissioner of police (legal) on August 30.
The Akure High Court had in a suit seeking the enforcement of fundamental human rights by Prince Adefemi Mafimisebi, Prince Wemimo Mafimisebi and Prince Alfred Okon and three others  ruled that the IGP should release the trio unconditionally after they were arrested and detained.
The affected persons, however, filed a suit intimating the court that the IGP failed to comply with the court order as they were said to have been admitted to bail on certain conditions. The court, had in a ruling on July 18, 2018 averred that the action of the police raiding the houses of the trio and arresting them, while also parading them naked was unconstitutional, unlawful and oppressive.
It ordered that the detained persons be released from police custody immediately and unconditionally, while also imposing a fine of N10million was approved to be paid to them as damages.
It also gave an order of public apology by the police to the trio for their unlawful arrest and detention and violation of their rights to personal liberty, and dignity which are to be published in two national dailies.