I suffered sexual violence, but didn't seek justice —Hauwa Ojeifo, Bill and Melinda Gates Award winner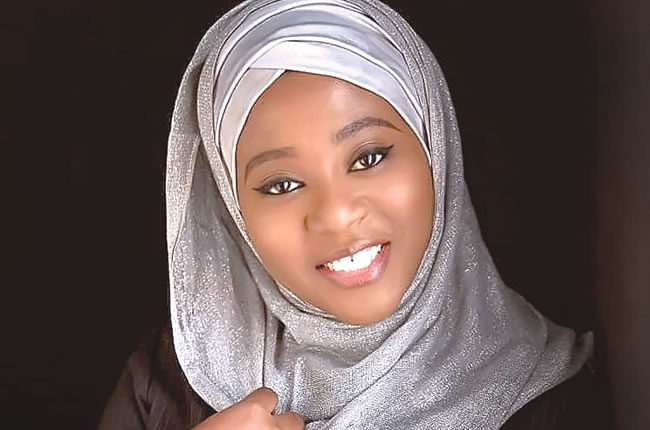 Hauwa Ojeifo is a mental health coach and the founder of She Writes Woman (SWW). This September, she won the Bill and  Melinda Gates Goalkeeper Award as a Global Changemaker of the year 2020. A 2018 recipient of the Queen's Young Leaders award, a One Young World ambassador, and a sexual abuse survivor, she is working to end the prevalence of sexual violence and mental health stigma in Nigeria. In this interview by KINGSLEY ALUMONA, she speaks about her organisation, her mental health story, and what the awards she has amassed mean to her.
Briefly tell us about your education and your fondest formative memory.
I studied Business Administration with specifics in International Business at Bells University of Technology, Ota, Ogun State. After that, I did my Masters in Investment Banking and Islamic Finance at the University of Reading, United Kingdom.
My formative memory is the one from during my Masters. I realised during that time that the Nigerian educational system had done me no good. During my Masters, I got challenged. I struggled with confidence—confidence to get it done and still come out the best. I think what that taught me is that, sometimes, your self-worth doesn't have to be tied to being the best in terms of generic achievements.
Do you currently work in the banking and financial sector?
No. I used to work in the banking space. I worked in an Islamic bank for about a year then an investment bank for two years. I also have a CFA. I used to work there. It's something that I had a deep interest in.
Prior to that, I took over my mother's fashion business. I was in the fashion space between that time and 2017. I ran a label called Mariamoussa. With it, we achieved quite a bit in a short period of time. We dressed contestants for TV shows like American Idol, Miss Nigeria, etc.
I've worked across six industries: fashion, finance, healthcare, non-profit, SME consultancy and digital marketing.
Could you tell us about these six businesses?
I don't talk about them a lot because She Writes Woman is what I want to be known for. I put the fashion business on hold a while ago. I'm still waiting for the right time to re-enter the business or to strategically partner in order for me to fulfil that part of me that likes the fashion industry.
Briefly tell us why you founded She Writes Woman (SWW).
She Writes Woman started as an outlet. I didn't think of it as an organisation. I thought of it as this social media handle that I would package my own experiences as nuggets and posts. I didn't feel like my condition would be readily acceptable to the world. But over time, I started becoming more comfortable to talk about myself, and it started attracting more people.
Subsequently, we started the helpline. Then it was more than just picking up the phone. "How do we ensure that there's a place where all of us can sit down and talk and have that level of shared experience and accountability? How do we've that echo of me too," I hear. That's my story as well. I know personally how liberating that is. That was how our support group started in October 2016.
Facebook (Accelerator) is currently supporting one of SWW Safe Place programmes. What is the programme about?
It's about creating a virtual community for mental-health-conscious Nigerians to have access to self-care tools, mental health resources and digital mental healthcare.
In terms of what they will benefit, it's that sense of community. It's first being able to create a community that's not just about associating mental health with illness but understanding mental health from a place of wellness and how intersectional that can be and how the information knowledge resources that we're hoping to build within the community can affect people's lives holistically, not just from a healthcare point of view.
They stand to gain access at highly discounted rates for digital mental healthcare, self-care resources, masterclasses, sessions with mental health professionals, and creating better wellness practices.
It is public knowledge that you were sexually abused, which later caused you bipolar and post-traumatic disorder. Did you seek legal justice against the perpetrator?
The sexual abuse caused the PTSD, but the sexual abuse isn't directly linked to the bipolar disorder. In retrospect, the bipolar disorder was there since my teenage years. It preceded the PTSD. It's just that I got diagnosed at the same time.
I didn't seek any legal redress, and that's for obvious reasons. We can see how it's very tough for sexual violence survivors to seek justice in this country. While it's hopefully going to be progressively possible, it's not yet enough.
The way I deal with my conditions is holistic. I feel like that's one way I feel has helped me deal with it differently than a lot of people who live with mental health conditions. I could take the medications, but it's not just about that—it's also having that holistic approach to reassessing my life.
Why do you pride yourself as a mental health coach?
It's not just about priding myself—I'm actually a certified, integrated mental health coach. I've practiced and met my time requirements. In terms of my own area of work, a lot of our therapeutic interventions border on energy psychology, psychodynamics, psychoanalysis and a whole lot of energy healing. It's more in-depth: something that addresses the roots rather than the symptoms.
If a girl walks up to you and tells you she was sexually abused, what would your first reaction be?
It's a combination of everything—my words, my body language are powerful in that situation. It's important that I'm not just saying the right things but my body language is also communicating the right things too.
It's ensuring that I'm giving them eye contact, undivided attention and being able to validate what they say. It's me telling them, "I believe you. I'm grateful you've chosen me to share this aspect of your life." That helps with safety, rapport building. It helps them to further drop their guard.
What is your take on castration and extreme judiciary measures for rapists?
As we've known in human history, there have always been crimes. I don't know whether we're going to solve all these problems at the moment. But I do know we're doing a lot in terms of changing the narrative and in terms of strengthening and paving the way for that kind of thing to be done.
On one hand, we need what may come across as extreme measures in terms of deterring certain kinds of behaviours, whether rape or otherwise. When we look at the Nigerian judicial system, the criminal justice system, you realise that when you put very extreme measures, it is highly unlikely that our lawmakers are going to sign it into law.
Your humanitarian causes have earned you many awards. What do these awards mean to you?
These awards have meant some level of validation. The good thing is you can have self-approval. But, validation tells you: "We see you work, and your work is valid." We don't live for it, but it makes a difference in our lives.
Not just validation, but being able to have the work that we do amplified in the way that we want it. It's ensuring that the narrative of mental health is with the people who actually live with mental health conditions.
In the first sentence of your One Young World speech, you said, "My story is not that unique." Why do you think so?
I do stand that my story is not unique in the context of sexual violence and everything. I think what we tend to think is that sexual violence is an outlier event, an anomaly. That's what the entire speech is really driving at, that this is more rampant than we think. Exactly how it happened to me is how it happened to a lot of women. It's not about my entire life story. I'm talking about the sexual violence story.
What do you like doing at your leisure? And, if you were to make a wish on your next birthday, what would it be?
I genuinely say that sleeping is my hobby, up until recently. I like to be in bed. It's how I feel I rehearse my life. It's my deepest level of meditation. I also like to listen to audiobooks. I like to be by myself a lot. If I'm not alone, I would typically be with my family, my siblings and my close friends.
If I were to make a wish for my next birthday, I always want a getaway. That's something I feel I never have enough time for. Maybe a ten-day getaway, even if it's for five days.
YOU SHOULD NOT MISS THESE HEADLINES FROM NIGERIAN TRIBUNE
Lagos Govt To Close Ojota Interchange To Second Bridge For Three Months
The Lagos State government on Friday announced that it will close the popular Ojota interchange up to the second bridge in the area for three months beginning from Monday, September 21, for some repairs…
Mixed Reactions Over Gbajabiamila's Engagement With African Speakers To Loose Africa From Stranglehold Of Foreign Debts
Hundreds of followers of the Speaker of the House of Representatives, Hon. Femi Gbajabiamila have continued to react to the twitter message on his official twitter handle: @femigbaja, on his engagement with his counterparts from Ethiopia, Ghana, Kenya, Senegal and South Africa on the planned collaboration in the joint task of loosening the stranglehold of foreign debt on our economies, ahead of the 2021 conference of African Speakers, scheduled to hold in Abuja…
Nigeria To Sell Petrol Less Than N100 Per Litre ― Buhari's Aide
The Senior Special Assistant to President Muhammadu Buhari on Niger Delta Affairs, Senator Ita Enang has said that plans were on the way for Nigeria to sell petrol less than N100 per litre. Senator Enang said as soon as local refineries begin operation…
Ondo 2020: PDP not divided over Jegede ― Campaign organisation
The All Progressives Congress (APC) has won 14 out of the 18 chairmanship seats in the just-concluded Ondo State local government elections conducted in the state last Saturday…
Stop harassing Mailafia, Secondus tells DSS
The National Chairman of the Peoples Democratic Party (PDP), Prince Uche Secondus, has admonished the Directorate of State Security Service (DSS), to refrain from further harassment of former Deputy Governor of the Central Bank of Nigeria (CBN), Dr Obadiah Mailafia…
Baba Suwe debunks death rumour, says those wishing him dead 'll go before him
Veteran actor, Babatunde Omidina, famously known as Babasuwe has debunked the rumour of his death, describing the development as sad and uncalled for…
After Two Years, Daddy Freeze Apologises To Bishop Oyedepo
Daddy Freeze whose real name is Ifedayo Olarinde has apologised to Bishop Oyedepo who is the presiding bishop and founder of Living Faith Church aka Winners Chapel…