ASIDE the constant warning from emergency and weather monitoring agencies that Nigeria will still experience more devastating flash floods in the month of October, data from the Nigerian Meteorological Agency between 1981 and 2017, analysing 13 affected locations, has revealed a rising trend in annual rainfall and flooding. YEJIDE GBENGA-OGUNDARE, however, reports that while increase in rainfall is likely a significant factor responsible for floods, experts believe flooding in Nigeria is more human-induced, making Flood Risk Management (FRM) a difficult process in Nigeria.
Recently, the Nigeria Hydrological Services Agency (NIHSA), an agency of the Federal Ministry of Water Resources, predicted more devastating floods from the end of August to early October, adding that the flood will get worse in 121 local government areas in 27 states and the Federal Capital Territory (FCT) might experience severe flooding this year within that period as a result of heavy rainfalls compounded by poor drainage system.
And as part of the preparation for the expected floods, the agency called on Nigerians, especially the state governments, to be fully prepared by ensuring cleaning of blocked drainage system and canals, removal of refuse, weeds, water hyacinths and floats on water channels.
In Oyo State, preparations are in top gear to ensure the annual flooding experienced within Ibadan metropolis is curbed. The Ibadan Urban Flood Management Project (IUFMP) has embarked on dredging of 45 streams and rivers to ensure the city does not experience the usual flooding.
Flooding is the most common disaster in Nigeria today with many states increasingly suffering from annual flooding during heavy seasonal rains which are a regular feature of life in Nigeria.
Records by emergency agencies indicate that flooding regularly wreaks havoc in Nigeria: in 2012, devastating flooding forced two million Nigerians from their homes and 363 died; in 2015, more than 100,000 were displaced, with 53 deaths, 92,000 were displaced and 38 died in 2016 while in 2017, flood affected 250,000 people in the eastern-central region while this year, floods have killed almost 200 people with many thousands displaced and the National Emergency Management Agency (NEMA) says these figures are likely to rise as the full impact becomes clear.
However, while it is difficult to manage other natural disasters, flooding can be controlled if proper planning is deployed alongside the provision of necessary infrastructure. But flood maintenance is difficult in Nigeria because it is mainly human induced and there is prominence of  poor urban planning practices: building on water ways, blocking flood plains and poor waste disposal practices.
Coordinator of Ibadan Urban Flood Management Project (IUFMP), Engr.  Olasunkanmi Sokeye, stated, during an inspection of dredged sites in the city last week, that "flooding in Ibadan is made more complicated by solid waste issues, people should avoid dumping their solid waste in rivers. It has been a story that has been told over and over again for the past 70 to 80 years, stop dumping waste in the rivers.
"If Ibadan residents can just stop the idea of seeing streams and channels as dumping ground for solid waste, I can assure you that the risk of flooding in Ibadan will be reduced by as much as 80 to 90 per cent."
There had been questions about whether Nigeria's heavy rains are responsible for incessant flooding across states as experts have expressed the opinion that heavy rainfall have certainly increased the likelihood of rivers overflowing and flash floods. But it has also been said that it is not just rain fall in Nigeria itself.
Floods in Nigeria
While heavy rainfall has been given as a factor responsible for flooding, Nigeria's main electricity-generating dams; Kainji and Jebba on the Niger river as well as Shiroro dam on the Kaduna River have been identified as another factor as they have been said to be bloated by the heavy rains and releasing excess water downstream over the month, according to a staff of the Niger State Emergency Management Agency (NSEMA), Hussaini Ibrahim.
It is stated further that the uncompleted Zungeru dam in Niger State, the Lagdo Dam in neighbouring Cameroon,  have previously caused the river to swell by releasing water.
Other factors raised by experts are human-induced  which include poor or non-existent drainage systems, unregulated urbanisation which leads to building on water channels and blocking waterways, poor waste management system and weak implementation of planning laws and corruption, among other issues
According to research, most residential areas in Nigeria have no drainage system and rely on natural drainage channels, thereby obstructing drainage channels while increasing urbanisation hassled to more concreted surfaces without adequate provision for surface runoff. Also poor waste management has been highlighted as one of the anthropogenic factors worsening the already difficult flooding problem in Nigeria.
And because people explore the loophole of ineffective development control and non-implementation of laws, there is poor town planning, making flooding worse in Nigeria. The law is non functional to the extent that after flooding in some areas, people go back to flooded areas to rebuild structures in flood prone areas. The lack of proper urban planning has been blamed for the reoccurring cases of flooding in most cities across Nigeria.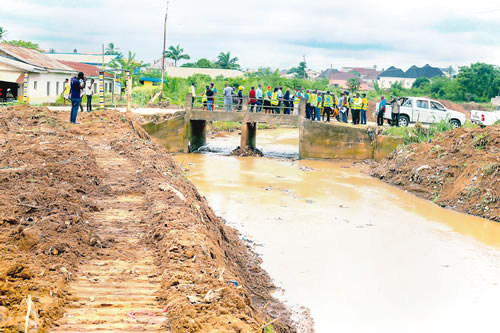 Flood risk management
Flood risk management (FRM) is a system that adapts to changing circumstances to reduce the likelihood and impact of floods. It encompasses the prediction of flood hazards, socioeconomic factors and consequences as well as measures for risk reduction in Nigeria. FRM, according to experts, hase been focused on post-disaster flood response than control.
According to experts, there is now a national framework aimed at moving reactive flood response and recovery to pro-active risk management. Though the effect has not led to visible change the government is not lacking research institutions and agencies with the skills to design an FRM strategy. The National Emergency Management Agency (NEMA) has a department of planning utilising Geographical Information System (GIS) to work on flood data but little has been done about its early warning system despite efforts by many states to put people on notice. Also, the National Meteorological Agency (NIMET) provides seasonal rainfall predictions but the information seems not to be judiciously used.
There has been a call that to address the shortcomings of current practices, there should be spatial planning as it has the potential of integrating existing practices as it is best suited to the local situation given that the country is located in a relatively stable geological zone which is not prone to extreme natural disaster events like landslides, cyclones and hurricanes which cannot be controlled.
At present, a state of emergency has been declared in four states, Niger, Kogi, Anambra and Delta and President Muhammadu Buhari has pledged $8.2m (£6.2m) for relief efforts while NEMA has activated five local operation centres to coordinate emergency responses to the perennial challenge of flooding with its increasing intensity annually.
FRM in Oyo State
In Oyo State, there is a laid down system for flood management following the devastating flood of August 26, 2011 which claimed 120 lives in Ibadan and destroyed properties valued at billions of naira. The intervention is in the establishment of the Ibadan Urban Flood Management Project (IUFMP) which has helped to reduce incidents of flooding in many communities within Ibadan.
IUFMP has done so much since its establishment; creation of the Ibadan master plan, creation of Environmental Social Impact Assessment, rehabilitation of many rivers including the Eleyele dam as well as annual dredging of flood prone stream and rivers as well as clearing of drainages and blocked water channels.
This year, IUFMP has taken a proactive effort in line with its usual activities of forestall devastating floods following early warnings by intervening in 45 rivers within Ibadan. According to the project coordinator, Olasunkanmi Sokeye, "the state had used loans from the World Bank to intervene in five major rivers in Ibadan; Ona, Orogun, Agodi,  Ogbere and Kudeti but there are more than these mentioned rivers flowing through the city of Ibadan which the funds available are not able to cover in the sense of the recovering like the major five rivers.
"The five rivers are going to be concrete lined just as we have in Ogunpa river, but the money is not enough to cover all the streams in Ibadan. That is the reason the state government under Governor Seyi Makinde now thought that we might not have permanent solutions on other streams apart from these five, let us be making some interventions in them and for the past five or six years, dredging activities have been going on annually on some of these streams. This year we are intervening in 45 of those streams which you have also seen. What we are doing in those streams is to dredge, trim and clear; these are also measures we are implementing to ensure the free flow of water is in these streams so that the chances or risk of flooding happening in those streams gets reduced.
"The resources we get have been judiciously used and we have even made savings because we were able to get them done at amounts lower than what was estimated; the stream with the maximum length is about three kilometres and the stream with the shortest length is about 500 metres."
Also speaking, Engineer Rufus Iyiola, a consultant for (IUFMP), said dredging rivers and streams within Ibadan has become an annual activity for IUFMP, adding that due to the incidences of flash-flood that usually occur, there is a necessity to take action. "According to NiMet forecast for this year, there are about 26 States where flood will occur and one of the states is Oyo and some local governments in Ibadan metropolis. That also made it a necessity for Oyo State with a proactive government and agency to prevent loss of lives and property within the city.
"For this year, we have 45 streams and rivers to be dredged. We broke the 45 into four lots to enable us to do it as fast as possible and this spreads across the major local governments within Ibadan metropolis. So far, we have been able to deliver about 30 of them out of the 45 but work is still ongoing. There are so many things that are needed to be considered before we can say that we have gotten to the final stage, for now, we can only minimise flooding. Looking at IUFMP portfolio, we have been carrying out constructions of some structures and we have been channelising some rivers such as Ogbere river, Agodi river, Orogun river and as well as Kudeti river which is under construction.
"All these are to forestall flooding in Ibadan city but most importantly, the community has to cooperate in the area of not dumping refuse into these rivers and streams within the metropolis and again our people must learn not to construct their buildings on flood plains so that it will not obstruct the flow of rivers and streams. Those are major things to do in order to prevent flooding in Oyo State. The government is seriously embarking on the project of channelising the Orogun, Kudeti, Agodi, and Ogbere rivers," he said.
Streams that have been dredged by IUFMP  includes Isokan, Peku and Gbekuba at NIHORT Area, Alafara stream at Ologuneru, Ikolaba stream, Omolayo stream, Bolajoko stream, Ebenezer main river and Ebenezer tributary stream at Alakia Olosan, Glry Estate river at New Garage and Aba Alamu  stream, among others.
Our experience –Residents of flood prone areas
Pa Agboola Areo, who lives around Gbekuba stream at NIHORT Area in Ibadan said he is a victim of flooding, adding that "I was about to write to the Oyo State government because for the past four to five years, I suffered a number of times whenever there was heavy rainfall and my house fence usually collapses; this has happened about two or three times, but now like other landlords along the River valley, we are happy that the water can flow without any hindrances, the only thing we could ask from the government is to raise the bridge as a result of embankment, so that whatever things that are being dragged along by the stream whenever we have heavy rainfalls would easily pass through and not block the waterway. Surely we are very happy, and my advice is that government should also please pay more attention to other places in Oyo State where we have this potential threat of annual flooding."
Paul Ajani, a resident of Onasele at Kuola area of Ibadan, said, "Before the government widened the bridge on the river here, it was really bad. The water usually went over the bridge and it caused a lot of problems as motorists and motorcycles could not pass once it rained. My advice to people is that they should stop dumping refuse in the river because this was the source of our problem. The government should also help by putting punitive measures in place."
Another resident who identified herself as Mrs Aderintan said before now, when it rained in their area, those living on the other side won't be able to cross because of flood and their shops would be ravaged, adding that, "now that the bridge has been repaired, we are no longer affected by flood. I want people to stop dumping refuse in the river; government should advise and enlighten them about it and provide waste bins for different areas."
Mr Adupeji corroborated this. "When I moved here, the stream was narrow but it kept getting wider, most of our fences collapsed due to flooding but now that it has been fixed, we are happy and I thank the government for this," he said.
YOU SHOULD NOT MISS THESE HEADLINES FROM NIGERIAN TRIBUNE
We Have Not Had Water Supply In Months ― Abeokuta Residents
In spite of the huge investment in the water sector by the government and international organisations, water scarcity has grown to become a perennial nightmare for residents of Abeokuta, the Ogun State capital. This report x-rays the lives and experiences of residents in getting clean, potable and affordable water amidst the surge of COVID-19 cases in the state…  October 1st: FG issues security alert ahead of celebration
Selfies, video calls and Chinese documentaries: The things you'll meet onboard Lagos-Ibadan train
The Lagos-Ibadan railway was inaugurated recently for a full paid operation by the Nigerian Railway Corporation after about a year of free test-run. Our reporter joined the train to and fro Lagos from Ibadan and tells his experience in this report…  October 1st: FG issues security alert ahead of celebration
[ICYMI] Lekki Shootings: Why We Lied About Our Presence — General Taiwo
The Lagos State Judicial Panel of Inquiry probing the killings at Lekki Toll Gate, on Saturday resumed viewing of the 24hrs footage of the October 20, 2020 shooting of #EndSARS protesters by personnel of the Nigerian Army…
ICYMI: How We Carried Out The 1993 Nigerian Airways Hijack —Ogunderu
On Monday, October 25, 1993, in the heat of June 12 annulment agitations, four Nigerian youngsters, Richard Ajibola Ogunderu, Kabir Adenuga, Benneth Oluwadaisi and Kenny Razak-Lawal, did the unthinkable! They hijacked an Abuja-bound aircraft, the Nigerian Airways airbus A310, and diverted it to Niger Republic. How did they so it? Excerpts…