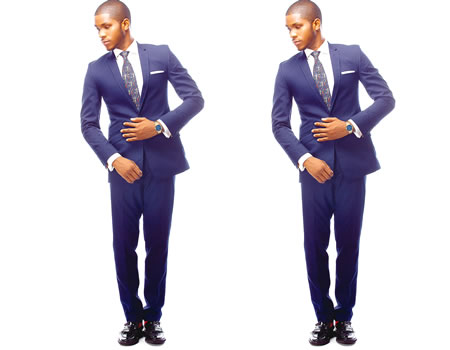 EVER heard the Nigerian joke that describes a suit as a coat? This is usually when a suit has no fitting on a guy. Many events – even religious settings – demand the unspoken rule of wearing suits, and it would be a minus for a man not to know the basics about choosing a suit.
There is a very slim line between classy and trashy when it comes to suits for men. Two things to bear in mind when you decide to join the evergreen-suit generation are quality and fit.
Quality
When it comes to suits, there are no allowances for leniency with your pocket. You either go for something in the range of the best in quality, or just let the thought of getting thesuit relegate to your subconscious at best.
Quality in this sense doesn't have to come with breaking the bank. Quality also takes into note the colour – know the colours that work with your skin tone – as well as the fabric used for thesuit. Ensure the fabric is of the best quality and not one that will look as old as time after a single wash. Always seek the services of an expert designer. If you have a friend whose suit choices are also impressive, seek his opinion.
Fit
This is the most important thing to keep in mind. You can spend your entire life's income on a suit, and that effort won't be worth a dime if the fit is the teeniest bit out of place. For fit, first, you have to decide what kind of suit you're going for, how many buttons you're looking at working with, and how much activity you're going to be involved in where you're going.
Fit is finding a place that is not too tight or too loose. Here, keep in mind that you're working with something close to perfection. Your arms, chest, shoulders, torso are what you should be working strictly with when deciding on the suit that suits you best. The pants are also as important as the jacket when choosing the right fit. Here, the length should be just right – no hanging beyond the start of your shoes. Also, unless you're at a celebrity event, where there is more or less no formal dress code, figure-hugging pants for a suit is a no-no. Formal Nigeria is not there yet!