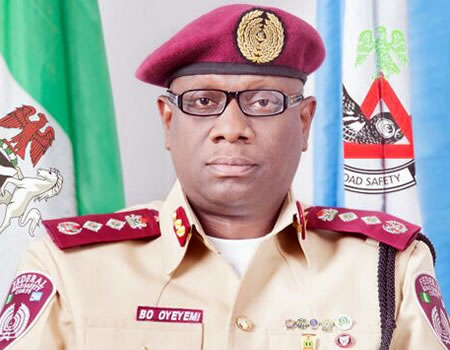 THE Corps Marshal and Chief Executive of the Federal Road Safety Corps Dr Boboye Oyeyemi has felicitated with Nigerians on the occasion of the Christmas and New Year celebration, just as he warned motorists to be safety conscious on the highways.
In his Christmas and New Year message, Oyeyemi congratulated Nigerians for witnessing yet another yuletide and urged them to celebrate with care.
FRSC Corps Public Education Officer, Mr Bisi Kazeem in a statement on Sunday, said Oyeyemi,also  enjoined the drivers to drive with safety consciousness and avoid acts capable of undermining their safety and other road users who have equal right to the use of the highway.
The Corps Marshal particularly warned against overloading, speeding, dangerous driving, use of phone while driving and route violation.
Oyeyemi, had ordered the deployment of 36,000 regular and special marshals nationwide for the end-of-year special patrol operations.
About 795 patrol cars, 204 motorcycles, 106 ambulances and 21 tow trucks were also be deployed for the exercise, which was code-named Operation Zero Tolerance with the theme, "Right to Life on the Highway, Not Negotiable". The exercise kicked off on Wednesday last week and will run until January 15, 2018.
The Corps Marshal called on drivers of articulated vehicles including tankers to be mindful of the need to operate with minimum safety standards to avoid causing hazards to themselves and other road users.
He expressed gratitude to President Muhammadu Buhari, for the support his administration has continued to show towards the success of the campaign for safer road environment in the country.
The FRSC Boss also thanked members of the National Assembly for their concern for safety and security of road users particularly through the ongoing review of the FRSC Establishment Act 2007 which would increase the present fines regime of the Corps and serve as disincentive to those with penchant for committing traffic offences.
The statement further added that the Corps Marshal assured members of the public that adequate numbers of the FRSC personnel and logistics have been deployed to identified black spots across the country for effective traffic management and rescue throughout the period of the celebration and beyond.
"I call on all Nigerians to celebrate with care and drive safely into the New Year," he stated.