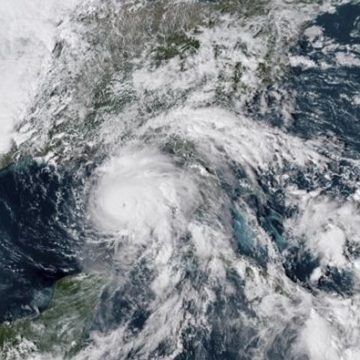 Hurricane Michael has been upgraded to a category-4 storm, only hours before hitting mainland United States.
Category-4 storms are considered highly dangerous with winds up to 250km/h, according to the US National Hurricane Center.
As outer rainbands from the storm began to lash the coast, the centre said a monster storm surge of up to four metres (13 feet) is expected in some areas.
More than half a million people in Florida have been urged to seek shelter on higher ground before the storm hits the US on Wednesday afternoon Reuters reported.
"This is a life-threatening event for portions of the northeastern Gulf Coast," the organisation said on Twitter.
"Hurricane Michael is an unprecedented event and cannot be compared to any of our previous events. Do not risk your life, leave NOW if you were told to do so," the National Weather Service (NWS) said in a dramatic appeal.
The NWS office in Tallahassee said it had searched its historical database for category four hurricanes – the second-highest level on the Saffir-Simpson hurricane wind scale – that made landfall in the panhandle and Big Bend and found none. It posted a map of the coast on its Twitter feed.
"This map says it all – it's blank – this situation has never happened before," the office said.
President Donald Trump issued an emergency declaration for Florida.
"It is imperative that you heed the directions of your State and Local Officials. Please be prepared, be careful and be SAFE!" Trump tweeted.
Florida's governor Rick Scott also warned people, saying it was their last chance to evacuate before the situation was too dangerous.
He has also activated hundreds of Florida National Guard members and waived tolls to encourage those near the coast to evacuate inland.
On Tuesday, Scott called Michael "a monstrous hurricane", and has declared a state of emergency for 35 Florida counties from the panhandle to Tampa Bay.
The hurricane is expected to be the most powerful storm to strike Florida's panhandle – a finger-shaped strip of land on the Gulf of Mexico – in the last decade.
The Federal Emergency Management Agency (FEMA) said on Twitter the hurricane is not only expected to flood parts of Florida but several other states as well.
After hitting land, the storm is expected to diminish in strength while moving up the East Coast, where it will hit North and South Carolina, which are still recovering from Hurricane Florence last month.