Don't neglect us, fix our roads, community development associations plead with govt
•No cause for alarm, we're working to fix them, says govt
As Lagos prepares for rain which forecast says will linger this year, SUBAIR MOHAMMED checked with various communities the state of their infrastructure.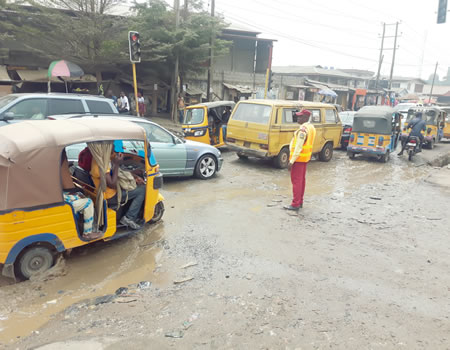 SUCCESSIVE administrations in Lagos State – Nigeria's budding mega city – have consistently rejected poor evaluation of the state by international rating agencies. The current administration of Babajide Sanwo-Olu has also disclaimed a recent report about the state and pointed out its massive infrastructural interventions in many critical areas.
Mr Tunde Balogun of Ajeromi-Ifelodun Local Council Development Area can't see what the state government is pointing at to disprove the poor live-ability rating. Balogun, who is the chairman of one the community development associations in the LCDA, told Saturday Tribune that it appeared they had been neglected by successive administrations to the point that residents now resort to self-help to fix some of their bad roads.
But the state government has restated its commitment to Lagosians and their well-being, especially when it comes to the question of critical infrastructure such as roads. It said all bad roads are being attended to. The government, through the Commissioner for Information and Strategy, Mr Gbenga Omotoso, however, pleaded with the people to be patient as all the roads cannot be fixed at once.
Rain will soon be here
The rainy season is dreaded by a lot of residents. Being a state of waters and literally existing on waters, Lagos rain isn't always like any other and the frightening predictions of experts for this year are already getting many jittery. Memories of the havoc rain wreaked last year are still with many, while heart-breaking pictures are still on the internet, though they may not be trending like when the sorrowful cries of deaths and massive destruction of properties rent everywhere.
A public analyst, Mr Nuel Ola, in an interview with Saturday Tribune, decried the usual back and forth between government and the residents whenever rain wreaks havoc with neither of the sides doing anything concrete to prevent a recurrence.
"This infrastructure crisis, particularly roads in Lagos, is a reflection of failure of leadership because you also need to provide the right leadership for people to follow you. Last year, the government said residents were blocking canals and drainages to explain the omiyale (flooding) that many residents experienced. Were they blocking the roads, too, which made many of them impassable despite the repair works on them? The people, too, have their issues like sentiment in choosing leaders, starting from the grassroots. I am not even talking of governorship or National Assembly now. Elect the right people as councillors, chairmen and members of the House of Assembly. Don't collect salt and sachet of milk on Election Day and then cry that you have been abandoned. If you collected money to elect a member of the House of Assembly, you can't force him to speak on your behalf. He has paid for your votes. Please, tell our people this," he said.
'No single running water tap in entire LG'
A sachet water marketer, AbdulSalam Ayinla lives on Otua Street in the LCDA where he distributes his packaged water to his numerous customers. But due to the bad roads in Otua and other adjoining streets, he said he constantly spends huge sum of money at the mechanic workshop where he repairs his distribution truck.
He said: "Almost all the roads in Ajeromi-Ifelodun LCDA are bad but worst are roads in Otua and other connecting roads. They have big holes and rough surfaces. There is hardly any week that I don't visit the mechanic workshop for repair works, no thanks to the bad roads.  How much profit do I make on sachet distribution that I will be spending all my profit on repair?
"Aside from this, there is no access to tap water in the whole of the LCDA. We rely on borehole to bathe, drink and for other domestic needs. The hardship is unbearable. I am appealing to the state government to bring development to our community. We lack social amenities – no good roads, no access to potable water, our children live in an unhealthy environment and as a result are exposed to water-borne diseases. The drainage channel that was constructed many years ago by the LCDA has worn out and caused damage to the road."
Streets away from Ayinla is Madam Ajayi's abode on Olayinka Street. For her, she has almost come to terms with the reality that no serious development will ever be undertaken by the state government for the benefit of the residents. But she is not totally resigning herself to fate. She told Saturday Tribune that their lives are far more important than good roads, so she wanted the state government to first address the security challenges in their domain.
Ajayi, a grocer, said she was more concerned about the safety of her family and business as she had been living with the challenges of bad road network for ages. Her complaint is about the incessant street fights which throw the entire community into panic.
"No one knows what causes the fights. But whenever they break out, it is usually bloody and leaves many people injured and property destroyed. The police should maintain 24 hours surveillance of the community to check incessant public assault and mayhem unleashed on residents by miscreants. Our lives are important to us because it has no duplicate."
When asked if official request for urgent intervention had been made to the state government, the CDA chairman, in obvious show of frustration, answered in the affirmative. None, according to him, was acknowledged.
SOS from Alimosho
Alimosho Local Government is the largest and most populated in the state and a must-win for anyone or political party desirous of occupying the Alausa seat of government. Ajeromi and Alimosho also have identical political history of returning large number of votes to parties and candidates of their choice. Their electoral worth and relevance are, however, not transforming into commensurate democracy dividends and Elder Ademola Osibeluwo, the chairman of Igando-Ikotun Community Development Committee, is asking the governor to come and see for himself the terrible state of roads in his community.
He told Saturday Tribune that all the roads in Ikotun-Igando, especially Mushin-Ikotun Road and down to Egbeda-Akowonjo Road rroundabout require total reconstruction.
He said: "The Mushin-Ikotun road is in a total mess. The road is always immersed in water even during dry season. Passengers and motorists using that road are not finding it easy walking and driving through the rough and patched surfaces. All the asphalt has disappeared from the surface of the road. Since he assumed office as governor, Mr Babajide Sanwo-Olu has made it a point of duty to rehabilitate bad roads in the state. But he is yet to touch roads in our community.
"For me, considering the hardship residents face on that road daily, I would have preferred for the Mushin-Ikotun Road to be closed for repair works to commence. We have had cases of heavy-duty vehicles falling on passers-by and vehicles on the damaged spot. Many accidents have been recorded too due to the dilapidated road. As we all know, Alimosho Local Government has the highest number of residents in terms of population and this is telling on infrastructure on the axis and on the quality of lives of residents and traders. I am urging the governor to save our soul and fix our roads."
The extra we charge goes to mechanics –Danfo drivers
Normal vehicular movement between Idi-Oro and Baba-Olosha in Mushin Local Government, even at traffic peak period, is less than five minutes, that is, without the gullies that now dot the roads and are forcing commuters to spend hours. A commercial bus driver, Ezekiel, shared his experience on the route and the damage it has caused his vehicle.
He said, "On a normal day, we charge N50 from Empire Bus Stop to Mushin Bus Stop but as a result of the extra hours we are forced to spend in the traffic, we collect N100 per passenger. At the end of the day, the extra amount charged goes to the mechanic to repair what has been damaged by potholes on the roads."
Even in Surulere Local Government that is considered urban, Ijesha Road is among numerous roads in the local government that require government attention. The country's number four citizen – the Speaker of the House of Representatives, Mr Femi Gbajabiamila – is from the local government and represents it at the National Assembly.
Oshodimania
For residents of Oshodi-Isolo LCDA, fixing the Osolo-Aye Junction Road fixed is one task they pray the administration of Governor Sanwo-Olu will undertake soon. According to a resident in the LSDPC Estate, Tijani Kayode, the blocked four-ft drainage system from the Lagos State Polytechnic to Aye Junction is responsible for the persistent flooding on that road.
"When Honourable Segun Jibril was the chairman of Oshodi-Isolo LCDA, the drainage was cleared and there were no cases of flooding on roads within the LCDA. But since he left office, subsequent administrations in the LCDA have abandoned their responsibility and the result of that is the suffering that motorists and other road users are exposed to daily. There is nothing like pleasurable drive in that axis. The roads are in a bad shape with deep potholes. It is unfortunate that the council boss lives within the LSDPC estate and he plies this road every day with the havoc being caused by it. Almost on a daily basis, particularly at the LASPOTECH Roundabout, a container falls off the truck, causing accident and traffic gridlock. I want to appeal to the state government and the LCDA to fix these roads and save us from the daily stress," Kayode said.
Apart from the Osolo Way-Aye Junction Road that requires urgent fixing, Saturday Tribune gathered that the entire stretch of roads from Pako, Jakande gate, NNPC Road and Iyana-Ejigbo to Egbe-Ikotun are in a deplorable state. Prior to the rehabilitation work embarked upon by the state government, on selected roads, virtually all the roads in the 20 local government areas and the 37 LCDAs of the mega city are in a state of disrepair.
Following the governor's directive, the first phase of the project has taken off, while other areas are still expecting the governor's gesture. In spite of this intervention, a lot more still needs to be done to overcome the barrage of infrastructure deficits which have turned living in the state into a nightmare.
The affected roads that require urgent reconstruction are marked by manholes and gullies with dire consequences for the residents.
Be patient, we're fixing Lagos roads –Govt
In the meantime, the state government, through the Commissioner for Information and Strategy, Mr Gbenga Omotoso, gave the assurance that all bad roads are being attended to. It, however, pleaded with the people to be patient as all the roads cannot be fixed at once.
In an interview with Saturday Tribune, Omotosho said: "We are doing the roads. Contractors are everywhere but they can't do them in one day. There are over 6,000 roads in Lagos State. Even where there was fire in Abule Egba, the deputy governor [Dr Obafemi Hamzat] and I were there three days ago. From Alausa, Ikeja, to that place, we drove down to the place. There was no single pothole on the roads.
"And then we saw men of the Public Works Department. They are everywhere, even at night. If anybody is saying roads are bad, I don't think a story on roads is the story in Lagos anymore. This is not the time when they felt nothing was being done. Now things are being done. And road is nothing you can do in one hour. If you go to Facebook and Twitter, you will find that people are praising the government.
"I am telling you that there are about 6,000 roads in Lagos State. We can't do everything in one day, but we will continue to do them. The Public Works Department is being empowered every day with equipment, with more men, with materials. The major ones are being handled by contractors and these contractors are there. They are working. Even that Egbeda that you mentioned now, there is a major project that is going on there. That Egbeda Roundabout is being removed so we can have a better flow of traffic.
"Areas that had never been touched before like Ijedodo, Ijegun and all these places, roads are being built there now as I speak with you and these are areas that have never been touched before."
Also when contacted, the Director, Public Affairs of the Lagos State Works Department, Mr Segun Ogundeji, gave the assurance that the rainy season this year is going to be a lot better than last year because a lot of roads have been fixed and many more are scheduled to be repaired.
"The Lagos State government has fixed so many roads, and there are already 116 roads earmarked for rehabilitation this year, so the rainy season is going to be a lot better for road users this year," he said.
When reminded that the Mushin, Oshodi, Egbeda and Ajeromi roads are in critical condition, Ogundeji stated that the Agege Motor Road linking Mushin to Oshodi is one of the 116 roads earmarked for rehabilitation this year.
"The Agege Motor Road linking Mushin and Oshodi is part of the 116 roads that the Lagos State Government has earmarked for rehabilitation. For Ajeromi and Egbeda, I will need you to be specific on the roads that you are talking about because those areas are large and have many roads crisscrossing them.
"For Mushin and Oshodi, Agege Motor Road is the major road linking both and it is part of the 116 roads we have penciled in for rehabilitation this year," the Lagos State Works spokesman told Saturday Tribune.