Cascading Waters: Of forgiveness and second chances
A review of Titoluwa Olumideko's fiction, 'Cascading Waters'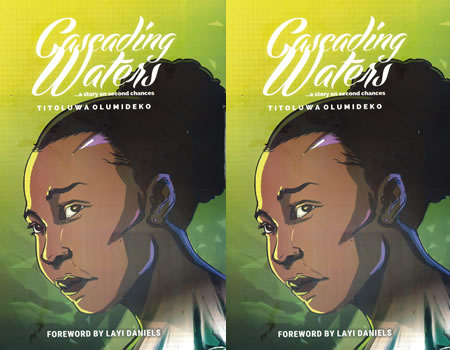 TITOLUWA Olumideko's fiction, 'Cascading Waters', is a beautifully-crafted story that reveals that no matter one's mistake in life, one can usually use such to one's advantage. It is also possible that God is trying to use such situations to fix some people's lives.
Now, Olumideko is using the sensitive issue of getting pregnant out of wedlock to tell the world that even when it happens, it is not the end of life.
The book centres on Tijesunimi, a young lady getting pregnant just before the wedding vows with her fiancé, Kunle, are taken, thereby going against the church's doctrine of not joining together anyone who gets pregnant before the actual wedding.
However, in Tijesunimi's case, her pregnancy belongs to Kunle, who she is due to marry in six months time. While Tijesunimi lives in Ibadan, Kunle lives in Kaduna, but the death of TJ's mother suddenly makes her lonely and needing a companion.
One day, she travels to Kaduna just to see Kunle and one thing leads to the other, (which we are made to believe in the early section of the story), thus resulting in pregnancy.
Tijesunimi, also known as TJ, is already at the hospital trying to abort the pregnancy, when she calls her dad to inform him about her condition and the decision she has taken, but the old man kicks against it, ordering his daughter to return home immediately.
Back home, while TJ and her father are discussing what happened, Pastor Ayokunle, an assistant to the Senior Pastor in the church TJ and her dad attend, called in.
Pastor Ayokunle likes TJ, but she has not given him the opportunity to get close, however, at the period he called in, Engineer Tunji Oni (TJ's dad) feels the pastor can help his daughter in overcoming her emotional state, following her experience. So while TJ is trying to figure out what to tell Pastor Ayokunle, who has signified his intention to visit her, her dad collects the phone, telling him he is welcome to the house.
At Engineer Oni's home, Pastor Ayokunle learns of everything that happened to TJ; it is also at this period that TJ gets a text message from Kunle, informing her of his decision to end the relationship because she has been 'defiled.'
Kunle, who is also religious, tells TJ that he has promised himself to marry a virgin, and as such, she no longer fits the bill. Pastor Ayokunle and Engineer Oni, however, helps TJ overcome this turbulent period.
Another gripping part in the story is when TJ, her father and Pastor Ayokunle went to see the Senior Pastor of their church, Pastor Martins Oladiran, to inform him of TJ's pregnancy.
According to the doctrine of the church, whoever gets pregnant before marriage is expected to move around the church as restitution, but on that particular occasion, Pastor Oladiran informs them that there is no need for TJ to do that. It is, therefore, a shock to them the following Sunday when Pastor Oladiran mentions TJ's issue on the pulpit while delivering his sermon.
This gets Engineer Oni angry, as he later confronts Pastor Oladiran in his office at the end of the service, telling him why didn't he (Oladiran) also move around the church to restitute for his past mistake.
Engineer Oni and Pastor Oladiran have been friends for several years and he is aware that the pastor has a child out of wedlock, which is definitely unknown to his wife.
As the story unfolds, readers get to know that the sex that happened between Kunle and TJ is not consensual, meaning it is rape, but TJ keeps blaming herself for it.
Engineer Oni's attack on Pastor Oladiran also makes the pastor realise it is important to settle that dark aspect of his life with his family and church, while the love between Pastor Ayokunle and TJ then finally blossoms.
While the story is about love, hope and forgiveness, the author ought to have included efforts to reach out to Kunle on TJ's pregnancy, especially by TJ's dad and friends, as it is expected in the African society.
It is also very difficult how Pastor Ayokunle finally falls in love with TJ despite her carrying another man's pregnancy.
However, in all, Olamideko's gripping story inspires the hope that no matter one's mistake in life, God has a way of using it to one's advantage in the long run.