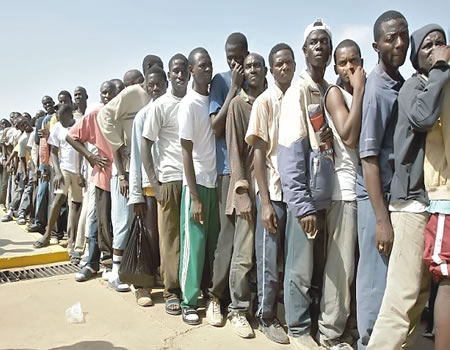 SHOLA ADEKOLA writes about the ordeals that illegal migrants of Nigerian extraction go through and the need to arrest the situation.
I T is on record that there are over ten million youths roaming about Nigeria in search of jobs. It is no longer news that as each day passes by, many of the youths and even middle aged citizens as a way of finding alternative means to survive the avoidable hardship have decided to look for greener pasture elsewhere. Hence, part of the the reasons responsible for scaring stories of Nigerians embarking on all manner of dangerous journeys to other parts of the world.
Therefore, in seeking greener pastures, many Nigerian youths going out of the country, mostly through illegal means for the purpose of picking up their shambled lives in places like Europe and America, often failed to achieve their mission as they end up losing their lives in the desert or in the Mediterranean Sea or worst still languishing in various jails across the world.
In their desperate bid, many had to travel through the desert for months to get to border countries like Libya for the purpose of transiting to Europe, an ambition they hardly achieve courtesy of the hostile militias in the North African countries who usually seize the opportunity to subject such Nigerians to inhuman treatment such as rape, imprisonment or even death.
Migration Enlightenment Project Nigeria (MEPN) was conceived by the African-German Information Center, Germany, and The African Courier Verlag, Germany and is being implemented in co-operation with Nigerians in Diaspora Organization, Germany with the support of Germany's federal ministry of foreign affairs.
Unimaginable ordeals
Awoniyi, the project director reeled out a disturbing narrative of the horror that befall many young Africans including Nigerians while traveling through the illegal routes.
According to him, the ordeal that many go through either in transit countries of Niger and Libya or during the perilous journeys on rickety boats across the Mediterranean is better left unimagined.
Information got from the campaign meant to raise awareness of the risks and dangers of irregular migration which was the first of the kind to be held in Nigeria, disclosed that in 2017 alone, that over 2,500 migrants have perished in the Mediterranean while many more must have died traveling through the Sahara Desert.
In Libya in particular, many migrants seeking employment or trapped in transit are exposed to harsh living conditions and widespread human right abuses. Some are traded as slaves for ransom, labour or sex by gangs of human traffickers and many die in appalling conditions of detention facilities run by criminals and militias.
Behind the figures of drowning in the high sea and agonizing deaths from dehydration in the desert are personal stories of tragedy and sorrowful ordeals for the families left behind by such people.
International organizations have published credible reports, documenting regular and severe human rights violations of refugees and migrants in official detention centers.
The rising human costs of irregular migration have necessitated the concerted action from governments and voluntary groups to curb irregular migration.
The enlightened campaign by MEPN captioned 'Look before you leave' was meant to educate would-be migrants in Nigeria about the realities of the journey.
According to a 2016 report of the United Nations Refugee Agency (UNHCR), Nigerians have the highest rejection rate of asylum applications made by Africans in Europe. The report shows that the applications made by 21,427 Nigerians were rejected in 2016 alone.
Sadly, there are currently 12,000 Nigerians awaiting deportation in Germany as their asylum claims have been rejected because Nigeria is not seen as a country where there is political persecution at the moment.
Confirming this, the German Ambassador in Nigeria, Bernhardt Schlagheck had in July this year in his statement in Abuja when the House of Representatives Committee on Diaspora led by its Chairman, Honourable Rita Orji visited the German Embassy on oversight function, declared: "Think of Nigeria the way you want but there is no political persecution here. The likelihood that most of these absurd applications will be rejected is almost 90 to 99 per cent."
"Desperate immigrants have their livers, kidneys sold out"
More scaring was the revelation of the Chairman of the House of Representatives Committee on the Diaspora, Rita Orji who lamented that Europe and Asia are experiencing an increase in illegal immigrants from Nigeria.
Many migrants from Nigeria, Orji explained, are women who are sexually abused by their sponsors and are compelled to engage in prostitution. The height of the illegality is that most of the Nigerians repatriated from foreign countries, especially Libya, are HIV/AIDS positive.
"Some of those that voluntarily returned from Libya came back with various sexually transmitted diseases, including Acquired Immune Deficiency Syndrome (AIDS). Most of our ladies are used as sexual machines in Europe and other parts of the world. In some circumstances, kidneys and livers of illegal immigrants are being given out to sick people in China and other countries," she said.
The Diaspora affairs chairman therefore, urged Nigerians migrating from the country to have proper knowledge about their mission abroad in order to avoid being taken advantage of by their sponsors.
"Parents encourage their children to embark on perilous journeys"
Many parents are said to be blamed in this deadly journeys made by the young Nigerians who are often being put under pressure by their family members to go out at all cost and start earning foreign currencies even when such pressure do cause migrants to seek illegal and dangerous methods of doing so.
"Some think it's a class status for their wards to be abroad. Some families will sell their lands and other valuables for their children to travel abroad by all means. Most of them don't even know why they are going aboard.
"When they eventually get there, they are subjected to various degrees of hardship, which they can't resist because of their [illegal] status. Some of them are lied against by the security agencies in those countries, but there is no one to defend them.
"Where are Nigerians going? What are they going to do in those countries? Some parents will sell their properties and assets in order to search for greener pastures abroad. It's a wrong notion", Orji declared.
Rather than embark on a deadly journey, the enlightenment campaign revealed several legal ways through which such Nigerians can actually travel with their integrity intact without exposing their lives to avoidable dangers.
According to Awoniyi, the MEPN project director, one of such clean means to travel is keying into the opportunity of studying in these desired countries.
Citing the example of Germany where he said it is not difficult to obtain their visa, Awoniyi said:" It is easier than you think. It requires filing the details. Around 400 higher education institutions of learning in Germany offer undergraduate and postgraduate programmes.
At the campaign launch in Lagos, the organisers warned Nigerians willing to travel out of the country to analyze why they are embarking on such quests to see if it is worth the trouble.
Would-be immigrants should first examine where they want to go, look at what is legally required of you to get there, look at the situation that awaits you at your desired destination and check the situation very well to be able to decide if it is necessary at all to leave Nigeria.
Through the interactions with these illegal immigrants at the Lagos airport in particular, they often attributed reasons for traveling out of the country to hardship and unemployment in Nigeria and in order to fend for themselves they have chosen to use all means to achieve their dream.
Corroborating this fact, one of the deportees who simply identified himself as Tobor who spoke to some journalists after he was deported on why he traveled, confessed that his father encouraged him to relocate to Italy through Libya for which he paid an agent a huge sum of money.
Presently, the perilous journeys young Nigerians embark on have been traced to poor unemployment rate but the campaign has cautioned against moves by such frustrated Nigerians to choose suicide in the desert or rot in jails in foreign lands.