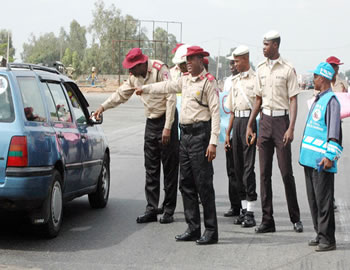 THE Federal Road Safety Corps (FRSC) in Bayelsa has warned motorists against making phone calls while driving, saying that violators would not go unpunished.
Mr Wobin Gora, the State Sector Commander, FRSC, told the News Agency of Nigeria (NAN) in Yenagoa on Wednesday that making calls while driving was a serious offence that contributed to fatalities on the highways.
Gora said that the fine attached to the offence was N4,000 and urged both government and commercial drivers to endeavour to comply.
He frowned at the rate of violation of traffic rules and regulation in Bayelsa, describing it as worrisome.
Gora said the corps was prepared to clamp down on offenders and violators of traffic rules.
"We want to state it clearly that whoever is found making calls while driving, will be punished as the FRSC would no longer take it lightly with such offenders.
"I urge you to avoid phone calls while driving, to save lives; also, there is need for drivers to know their speed limits, because speed contributes up to 70 per cent of the causes of road crashes,'' he said.
Gora said that the mobile courts in the state had been helpful and very impressive in punishing arrested violators of traffic rules.
He said that the mobile courts would assist in checking violators of traffic rules, especially people who drove recklessly in the state.
"For those of you, who drive carelessly and break traffic rules and regulations, when we arrest you, you will definitely be arraigned in court and punished accordingly,'' the sector commander added.