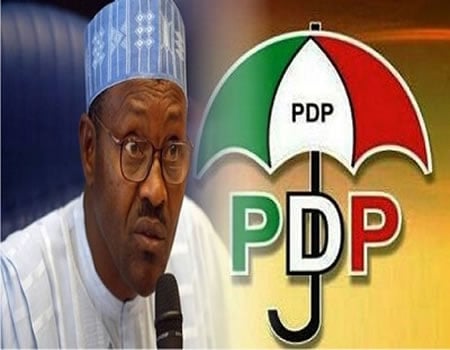 THE Peoples Democratic Party (PDP), Kogi state, on Tuesday described the ruling All Progressives Congress (APC) as a cankerworm that must be uprooted from the country.
The party also raised the alarm that the ruling party had perfected plans to engage in vote buying during the
Lokoja/Kogi federal constituency bye-election scheduled for Saturday.
It also said the actions of the party in the state and at the national level in the last three years had shown that it lacked the capacity for governance.
A former governor of the state, Alhaji Ibrahim Idris, said this in Lokoja, the state capital, at a rally in support of the candidate of the party for the Lokoja/Kogi federal constituency bye-election scheduled for Saturday.
According to him, the people of Kogi state have experienced the governments of the PDP and that of the APC, saying the people had become wiser.
He said for almost 13 years that the PDP governed the state, there was never reports of civil servants that were dead because of non-payment of salaries, lamenting that many had died in the last two and half years of the Yahaya Bello administration in the state.
Idris, who governed the state between 2003 and 2012, said APC stood for deception as the people were deceived to vote for it in 2015.
ALSO READ: How Mask-wearing DSS operatives blocked National Assembly
He said, "The by-election is a brighter future we are having as PDP. I hope we will get there, we shall clinch the position because when you have two wives and you tested their soups you will be able to know which one tests better. Kogi people should know which of the wives' soup tests better.
On vote-buying, he said, "Like I said people already know where they are And what they want to do this I know very well, people are going to vote according to their conscience. As for vote buying, it will happen but in spite of that people know exactly where they want to go and I bet you they will go there."
Also speaking, the immediate past governor of the state, Idris Wada, alleged that that APC had perfected plans to buy votes with huge sums of money.
He, however, charged the electorate to be vigilant, collect the money and vote according to their conscience and for the PDP.
The former governor said the election had given the people an opportunity to express their dissatisfaction with the present administration by voting massively for the PDP.
A former senator from Kogi west, Senator Tunde Ogbeha, said it was disheartening that the state government had been using security apparatus to harass members of the opposition.
The PDP chieftain noted that for the entire period that the party ruled the state there was never a time the state was hounded like it was happening in the state.