APC inaugurates PMB 2019 action committee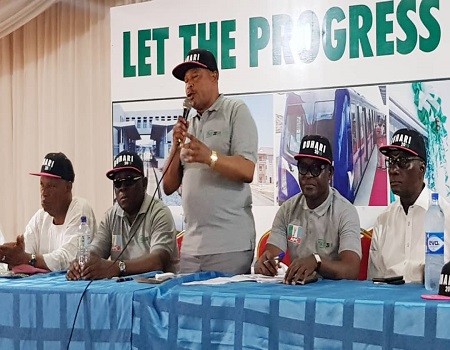 THE PMB 2019 Support Group of the All Progressive Congress(APC), Lagos State chapter has inaugurated PMB 2019 Local Government Action Committee in a bid to ensure that President Muhammadu Buhari become victorious in the next presidential election.
The committee, which was inaugurated on Monday, comprises of 570 members chosen from the 57 Local Council Development Areas(LCDAs) within the state.
Speaking at the launching of this Action Committee in Oregun, Lagos yesterday, the Chairman, Mobilisation Committee of the group, Hon. Cornelius Ojelabi, said, the 570 members who were inaugurated were to act as wards and LCDA coordinators in the 377 wards across the state.
ALSO READ: LAUTECH protests new tuition increase
According to him, "this Action Committee comprises of 570 members, equivalent to 10 persons per local government. With this development, we are attaching at least one person to each ward who is to act as coordinator in his ward and we have 377 wards in Lagos."
On his part, Apex Leader, Lagos West Senatorial District, Prince Rabiu Oluwa, charged the new committee to work assiduously to deliver Lagos State for Muhammadu Buhari come 2019, adding that, the integrity of the president in fighting corruption and addressing security issues are reasons why Nigerians must vote for Buhari in the next election.
Stating that the Nigerian economy retrogressed in the 16 years of reign of People's Democratic Party(PDP), he noted that APC is gradually growing the economy and that if Buhari could be re-elected, there would be rapid growth and development in all spheres of the economy.
He promised his support for the group while appealing to Lagosians to vote en masse for the current president in the next presidential election.
"The committee will go to the grassroots, that is, the local government to create awareness on the achievement of Buhari and why people need to vote him again in 2019. We want to canvass for at least 2.5 to 3 million votes for Buhari in Lagos State and that is possible because people can see what he has done in the last three years or so," he pointed out.
The Treasurer, APC, Lagos State, Alhaji Layi Eniola, said President Buhari is like a saviour, who has saved the country from looters, saying, he is not a corrupt man, as he has never be convicted of corruption.
He advised the coordinators to work in unity for the progress of the party in a bid to ensure victory for APC in the next presidential election.