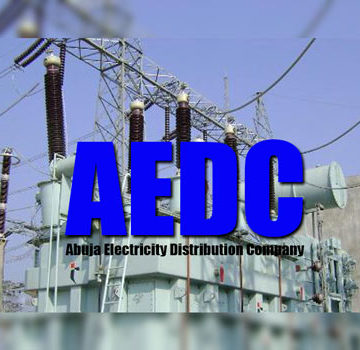 THE Abuja Electricity Distribution Company (AEDC) has denied claims by the Transmission Company of Nigeria(TCN) that that excessive dropping of load by its company was responsible for the shattering of its equipment and the subsequent 72-hour outage which occurred in Lokoja, the Kogi State capital from Friday, 23rd February 2018 to Monday, 26th February, 2018.
It said the allegation was not only untrue and unfounded but also unfortunate, especially as it is coming at a time when all stakeholders in the Nigerian Electricity Supply Industry (NESI) are joining hands to ensure sustainable improvement in power supply across the country.
This is contained in a statement issued by the Head of Corporate Communications, Oyebode Fadipe in Abuja on Tuesday.
It explained that contrary to claims by the TCN, the recent outage in Lokoja and environs which lingered for about 72 hours  was due to a maintenance work, which was scheduled to start and end on Friday, 23rd of February, 2018, but had to be extended to the evening of Monday, February 26, 2018.
It maintained that it neither drops a load in its Lokoja network nor any other part of its operational area, which comprises the Federal Capital Territory (FCT), Kogi, Nasarawa and Niger states, stressing that it has in fact been yearning for more electricity allocation to enable it to meet the demands of its customers.
The statement reads: "The TCN had duly notified our Area Office in Lokoja that it was carrying out a maintenance work on its 150MVA transformer at the 330/132 transmission station in Lokoja on Friday, February 23, 2018, but we later got to know that the maintenance had been extended beyond that day, and by Sunday, February 25, 2018, it was all too obvious again that TCN could not conclude its upkeep on the transformer, forcing yet another extension to Monday, February 26, 2018.
"It is rather unfortunate that the TCN will also turn round to blame the lingering outage in Lokoja on AEDC when the actual reason for the outage was quite obvious."
While reiterating its concern about the TCN's allegation, the AEDC concluded by appealing to all stakeholders in the NESI against buck-passing, saying that; "we should all work towards building on the successes that have been recorded so far in the power sector, in order to win greater public confidence in our capacity to turnaround the sector."
---
---