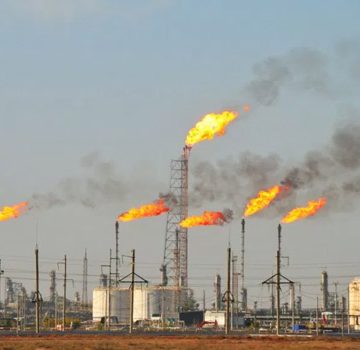 PRESIDENT Muhammadu Buhari has been urged to insist on bringing an end to the menace of gas flaring by oil companies in the Niger Delta region.
The National Coordinator for Centre for Peace and Environmental Justice (CEPEJ), Comrade Sheriff Mulade, made the plea in a statement made available to journalists on Monday in Delta State.
Mulade said the call was necessary following the government's plans to charge those who flout gas flaring law that cost her billions of dollars as stated by Finance Minister, Mrs Kemi Adeosun.
He opined that it seemed oil companies plying their trade in the region preferred flaring gas to harnessing the gas for the economic benefit of the people.
Comrade Mulade stated that the new intention by government to approach lawmakers to amend the law and have the world "charge" replaced with "penalty" would not stop the flare since companies find it easier to flare, pay the penalty and move on, without considering the hazardous effects on the people.
"It is believed that the gas flare law is weak; hence the oil companies flout it at will.
"Most communities are suffering terrible hardship as a result of gas flaring and oil spill.
"While some are under the threat of relocation by oil companies to make way for more gas flare," the environmental activist noted.
He, therefore, urged the Federal Government to demonstrate an effective political will to enact environmentally friendly policies, build a dynamic and competitive energy sector, enhance governance and commitment to regulate enforcement, and expand external financing solutions.
He urged the Federal Government to provide a legal, regulatory, investment and operating environment that is conducive to upstream investments.
ALSO READ: NNPC pledges support for legislation to stop gas flaring
Comrade Mulade also advised oil companies to develop new oil fields and operate according to plans that incorporate sustainable utilization of the fields associated with gas without routine flaring.