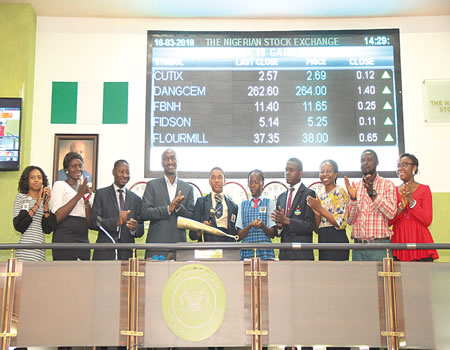 AS part of its initiatives to promote risk management culture among the capital market operators in Nigeria, the Association of Stockbroking Houses of Nigeria (ASHON) in collaboration with a frontline management consulting firm, IRM Professionals has exposed market operators to a range of risk management challenges that impact their activities.
Speaking at the forum, the Managing Partner and Chief Executive, IRM Professionals, Mrs Owodunni Yussuff, explained that certain risks were peculiar to capital market operations and they should be managed in order to ensure business continuity.
Yussuff stated that the risks were usually classified into business risk and consequential risk, saying that business risks include credit risk and market risk, while consequential risks comprise legal risk, liquidity risk, operational risk, settlement risk and reputational risk
She further explained that apart from the technical risks, there are regulatory risks that are currently affecting capital market operators in Nigeria.
" As part of the minimum operating standard (MOS), they are expected to have a risk management function, and a risk manager.
But many of them are not well equipped in the area of risk management department for optimal performance. As of now, many of our operators have not established what we call risk culture.
"The principal risk associated with a broker-dealer or a capital market operator in Nigeria is compliance with the rules and regulations of the Securities and Exchange Commission (SEC), The Nigerian Stock Exchange, the Investment and Securities Acts (ISA).
Capital market operators are obliged to comply with the regulatory rules and regulations in order to avert sanctions with its attendant implications on corporate reputation", Yussuff said
Commenting on the imperative of training capital market operators, ASHON's Chairman, Chief Patrick Ezeagu, explained that the Association had no option than to expose capital market operators to Risk Management training in view of inherent risks associated with the capital market operation.
Ezeagu noted that capacity building would always be on the front burner of ASHON's activities in order to support global competitiveness of capital market operators in Nigeria.
"ASHON in its own wisdom looked at the deficiencies in the human capital capacities of operators within the industry and found out that with the kind of economy that we are operating, risks are inherent in the business we do.
ALSO READ: NSE demutualising bill passed ―Dogara
" Effective and efficient risk management structure positions Stockbroking Houses to exist in perpetuity as going concern.
Risk changes over time and therefore, tools of identifying and managing risk must change over time and the only way you can ensure that we are prepared to manage risks is to continually train and re-train risk Managers within the Capital Market space.
" It is necessary to consistently train those who are involved in the day to day management of risk associated with our businesses.
That was why we decided to organize the training workshop on Risk Management. We also looked through the other training programmes and they appear theoretical and they do not cover some practical aspects of risk management.
" Once the integrity of the market is assured by the fact that people operate within rules and regulations guiding the market, then you can be sure that the market is well protected.
The market is guided by rules and regulations and there is the Apex institution that is like the "big brother" watching you.
These are the things that ensure that there is integrity and investors can trust the market and participate actively in the market. ", sad Ezeagu
Yussuff explained the strategy for effective management of risk thus: "Don't manage your risk without specifying it.
Risk Management is about risk analyses, monitoring and measurement. For risk control to be effective, it has to be efficient. Risk must be monitored and reported"
The training focused on peculiarities of a risk-based environment, the difference between the structure in a control-based environment and risk-based environment, analyzing and reporting risk and developing a positive risk culture among others.