Popular actor and movie producer, Ibrahim Yekini, otherwise known as Itele is fast emerging as one of the leading producers, whose movies are enjoying positive reviews from all sides. From being a professional boxer to embracing acting where he is currently holding sway, the young producer says the journey has just begun. He shares the story of his rise to fame in this interview by SEGUN ADEBAYO. Excerpts:
You have come a long way in your career but it seems you have been getting a lot of attention these days. What's the reason for this?
I don't think it is really about coming a long way. It is just about God's timing. No man can amount to anything without the God factor and His time. Coming a long way is good because you have been working and hoping that one day, people would appreciate you and notice the level of work you have done over the years. But that does not equate  to success. It is only God that crowns one's efforts in life. I think it is just my time and I am extremely happy about the unfolding realities of my life and career. Having said that, I should also add that I have been persistent and resilient. Those who know me would tell you that I work hard. I work with all my energy. I love to relate outstanding and relatable stories. So, I guess everything is about persistence and God.
You appear to be a quiet person but your roles in movies always portray you as a hard guy. Why do you love such roles?
I am still puzzled at how people keep saying I am a quiet person.
Buhari signs bill to establish Daura Federal Poly, others
Are you not?
Sure, I am but my life as an actor is different from my normal life. I am a versatile actor; I act both soft and hard roles. I am a huge fan of challenging roles because they always bring out the best in you as an actor.
What exactly informed your decision to become an actor?
You know that when you are good at something or you seem to have the potential to be very good at something, some people around you might have noticed the traits in you. From there, you would be encouraged to give it your best shot and never stop believing that you can do it. My career would not have seen the light of the day if I had not been encouraged by the people around me at that time that probably saw what I never knew I had. The people around me then saw the potential in me and advised me to go for it. That's how I got to where I am today.
Looking at how far you have come and the success you have recorded so far, would you say you have done well with your career?
Without sounding too loud and immodest, I think I have done fairly well. People might see the success today but there is a story behind the glory.
Would you mind to share some of the stories?
I would rather wait for the right time. You know that as a movie-maker, one's everyday life is a movie on its own. We put some of our experiences in life into the movies people see out there. The journey has been full of issues here and there but I am grateful to God for bringing me to this level. So, looking at where I'm coming from and where I am now, I give God all the glory, and I believe I still have a long way to go. As I always tell people, this is just the beginning of a new thing. The end of one journey is the beginning of another, so it will be preposterous to claim that I have finally got to where I am going. The journey continues and I am trusting God to lead me on.
At what point did you decide that acting was the only thing you wanted to do?
Interestingly, I am a trained boxer.
How long did you practice?
I trained under an uncle of mine, Es Murphy. I fell in love with boxing watching him train. One day, I told him that I would love to be a boxer too. That was how it started. I trained under him for two years and I was a professional boxer for seven years before I quit.
How many fights did you win?
I won pretty much fights and I think I lost one bout. Mike Tyson was my motivation at that time. I love seeing him fight in the ring. Apart from being a boxer, I also love to sing. But I didn't pay much attention to music because I discovered that acting is the only profession I am so passionate about, it gives me the opportunity to want to do more and helps me to get better, judging by what my fans tell me.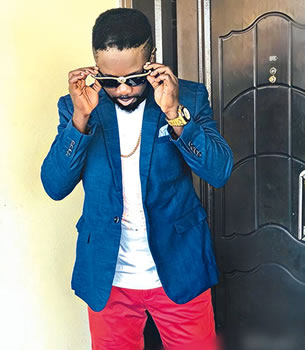 How did you manage to switch from boxing to acting?
The beginning was not easy and I can tell you that it was quite rough, but I thank God for where I am and where I am going.
You have worked with many actors and actresses over the years, which of them thrilled you most on set?
This question is funny. You want to box me to one corner. No way! We have fantastic talents in our industry. I am glad to have worked and still work with some of the best brains in the movie industry. They always give their best anytime we meet on set. They are simply fantastic actors.
Let's talk about your new movie, Kesari, what informed the story line?
There is a movie, Black Panther. I love the action scenes in the movie and I was really inspired. So, I came up with the creative concept of 'Kesari' and the movie was widely embraced.  I can't even explain how I am feeling now because the movie has gone farther than I ever thought. I have received calls from every part of the world commending the job and the brains behind it. The movie recorded feats that had never happened in the history of Yoruba movies in Nigeria.
How do you mean?
'Kesari' is the first movie in the history of Nollywood to hit 1million viewers in less than 20 days. It is also the first Yoruba movie to hit 1million viewers. The return of Kesari is also the first Yoruba movie to hit 200,000 viewers in 12hours on YouTube. It can only be God. I am grateful to all the cast and crew of the movie. I appreciate all my fans and colleagues.
What are the challenges you encountered shooting the movie?
Getting the right and perfect locations did not come easy at all. The location gave us some hitches but we are happy that we recorded success.
You wrote the script, played the lead role and even directed the movie. You did all of these?
It was not as easy as you say. Acting alone is a lot of work let alone adding directing to the task. But as I said earlier, when God is at work, everything will come easy and fall in line.
It seems as this is about the most challenging movie you have produced?
Yes! It is the biggest among the rest.
Why did you decide to play the lead role in the movie?
As the owner of the story and as an actor/director, I already saw myself in the picture when I was writing the story.
Why are you called Itele?
The meaning of Itele is the title of my first movie, so since then, I started using it as my stage name.
But we heard you and the marketer of the movie are at loggerheads because he was not paying you well?
Whatever and wherever you find yourself, always give thanks to God for the grace to do what you are doing.  You know things like these are bound to happen when a movie records huge success. I have chosen to remain humble and calm even in the face of provocation. I don't want to talk about the issue with the marketer because things are being resolved amicably between us and I don't want to start raising the dust again.
You acquired a Lexus recently; perhaps the proceeds of the movie earned you the vehicle?
No, I've had plans to buy a new car even before I produced 'Kesari', so my Lexus Jeep came from hard-earned money.