The recent rape allegation by Busola Dakolo (wife of Timi Dakolo) against the General Overseer of Commonwealth of Zion Assembly (COZA), Pastor Biodun Fatoyinbo, has thrown the social media space into frenzy. While many supported the pastor, some could not hide their disappointment on what they regard as a recurring decimal. OLASUNKANMI OSO sampled the opinions of Nigerians to enquire their opinions on this allegation. Their views:
Yusuf Mubarak
We cannot outrightly believe or not believe her allegation, given that rape victims sometimes lack evidence and rape itself could be ambiguous. Many times, alleged rapists do not even know they were raped (violent cases exempted). Also, for a long time now, we have had several cases of supposedly men of God using their platforms to commit atrocities. Personally, I have had an encounter with a victim who got raped by a 'Man of God'. In another development, we have also seen cases where people (mostly ladies) lie about being raped for several reasons ranging from merely tarnishing the image of the alleged rapist(s) to seeking public attention or pity.
Buhari signs bill to establish Daura Federal Poly, others
Kehinde Oyeleye
Many rape survivors have same challenges of narrating their ordeals because ninety per cent of the perpetrators are people that are well respected and that have built trust in the minds of people, thus making the allegations difficult to believe. Also, it is going to be a death sentence to survivors when we try to create a system where the blame is shifted from the perpetrator to the survivor. Children, even matured ladies or boys do not usually come out to talk. About five per cent speak out. Probably less than four per cent seek help. What Busola Dakolo did was a grand deliverance to many who have been victims of the devil in 'men of God' clothing. Most times when people confess, it is eighty per cent true and twenty per cent may be influenced by many other factors. But, we should not forget it is same Pastor Biodun Fatoyinbo in Ese Walter's case and now Busola Dakolo. This one is too many.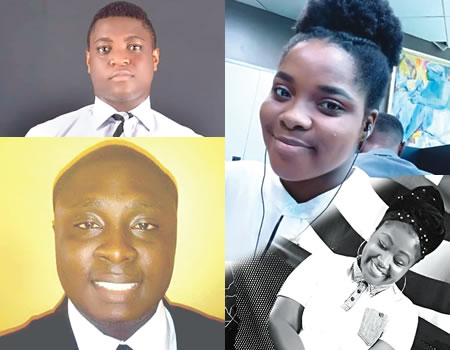 Babatunde Adeleke
If this is true, which I think it is, then the law must be allowed to take its course. As a clergyman, God has forgiven him. However, he is a citizen of a nation with laws. He must be prepared to abide by those laws. This is not the first time such an allegation is levelled against this pastor. It shows there is a pattern. This time, the pastor must be made to dance to the tune of the law. This would send a clear message to other highly-placed offenders about how serious this issue is. Also, parents must also make conscious efforts to get their children out of harm's way. It is not a gender-based issue. Anyone, any child, could get raped.
Taophequat Aiyepola
I do not care if the trend is true or false. What I would not allow is anyone spewing gibberish as regards the circumstances surrounding a rape incident. As if when your loved ones tell their sad tales, you listen to them. So many children are molested under their parents' watch, yet those children are scarred forever and left alone to carry the burden. Mind you, boys get abused and raped too.
Emmanuel Adeboye
I have no problem with the timing of her statement. These things are psychological. It is not easy to come out. The truth is that, we do not know if she is telling the truth or not. There are reports of previous allegations made against the same pastor by different women in the past. That makes him look guiltier.
A popular saying goes: He who comes to equity must come with clean hands. We cannot say hundred per cent if she is telling the truth or not. Most people have just been either supporting or castigating her out of assumptions and emotions. We can only wait and see how things unfold and hope that the truth comes out eventually.
Victor Ikenna
Do I believe Mrs Dakolo? Yes. Am I feeling disappointed in the COZA Pastor? Absolutely. Am I interested in seeing some serious investigation and prosecution carried out here? I would be delightful to see that happen. Do I think that those defending him instead of demanding a fair trial are very stupid? I have never been more certain in my life. I just sincerely hope this case would not be swept under the carpet of societal negligence once again. It would be a shame.
Felix Sihitshuwam
The allegations have a mathematical possibility of being true. There have been verified cases of sexual abuse by reverend fathers who are sworn to celibacy that it does not take much effort to believe a Pentecostal pastor could do same. My problem is: If she did not voice it then, why now? Our dearest Christianity has been heavily marred by controversies that are making the hearts of genuine believers bleed. Sex scandals are nothing new. The problem is how it affects our faith and other Christians out there.
Favour Uka
First, I think it is necessary we consider precedence in the nature of this issue. The Pastor in question has had similar allegations against him in the time past and never has he come up to affirm or condemn it. That speaks a whole lot about the veracity of the claim. The time she spoke up about this rape incident should not be in question. Our society is not exactly fair to rape victims. I believe the pastor ought to be accountable to the law and to his congregation. Rape is a crime. If the case may not be properly heard in court (time lapse and all), societal justice can still be meted. The pastor should speak up about this issue. No one should experience that and every rapist must be brought to justice. Busola is brave and strong for speaking the truth. The great burden is now shifted to the pastor.