When Akwaaba hosted global market segment in Nigeria
•Dubai, Ghana, The Gambia, Ethiopia, Caribbean, others laud organisers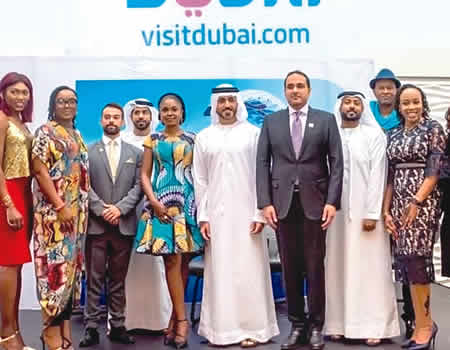 Akwaaba African Travel Market (AfTM) is the biggest Meetings, Incentives, Conferences and Exhibitions (MICE) show that it holds the ace in attracting the B2B stakeholders in the travel, tourism and allied value chain from across the world to Nigeria. At its 15th edition, AfTM engaged a broad spectrum of key global players that see Nigeria as a big market segment to explore, WALE OLAPADE, who was at the just-concluded travel trade show brings you details.
THE astonishing increase in the population of Nigeria, coupled with its market size and the purchasing power of her citizenry, which is creating a big market value for different segments of the global products, has influenced this year's edition of Akwaaba African Travel Market (AfTM), with the organisers raising the bar of its MICE game as it attracted more global exhibitors, travel trade buyers, sellers and DMCs to Lagos for the travel show.
At its 15th year, AfTM, an all tourism segment and allied industry platform, drew a sustainable line between the past and the present through its outing at the Eko Hotels and Suites, Lagos, where it hosted delegates from around the world from September 22 to 25, 2019.
The travel show, which has different sessions of conference, product update and new trends in the tourism, aviation, hospitality and other allied business industry, also helped participants and countries' delegates to network and seal deals.
Visitors at the event, who could not hold back their feeling about the level of participation, described the outing as a show of hard work by the organisers to build, not alone a sustainable brand, but also to connect different chains of the tourism market segment from around the world through a common ground in Nigeria to engage in B2B networking.
The travel show, according to many, has come of age in terms of quality participant from notable tourism nations who see Nigeria.
Talking of one of the biggest attendees, the Dubai team, in recent years, has doubled their effort at the Akwaaba travel show, bringing over 22 DMCs to explore and market the all purpose trendy tourism destination and offers, not only to Nigerians, but also to other trade buyers that attended the show.
Also, one of the frontline countries in terms of appearance and their unskilled brand position at the the yearly travel show, the rainbow nation,  South Africa, was significantly absent, which was attributed to the aftermath of xenophobic attacks that recently rocked the country.
However,  Uganda, the country of the martyrs, took South Africa's vintage position at the 2019 AfTM, emerged as one of the outstanding stands at the MICE show.
Also Ghana, Ethiopia, The Gambia, Kenya, Benin Republic, among others, came out in their best to explore and get their market share of the diverse buyers of destinations and products abound at the networking platform.
For the first time in the history of the AfTM,  the Caribbean, Belize, Dominica, Tobago and Barbados were represented through  a powerful delegation who were not only attending Akwaaba travel show for the first time but, also their first time in Nigeria.
The Akwaaba African Travel Market has significantly become a pull for every global tourism giant looking for prospect in the Nigerian market, with people who are not only passionate travellers and great shoppers but also big spenders.
Even when the government has not yet come to terms with the reality of the magic wand of tourism as a huge money, spinner and economy booster, Akwaaba has continued to use the platform as a dress rehearsal for government of Nigeria to refocus their interest and channel their resource to making the tourism and aviation one of its prioritised industry in the MDGs agenda.
The event, gradually has become a brand platform for not only African countries, Middle East and  others, who attend the expo yearly because of the improvement on their marketing returns, but also helped some fraction of tourism stakeholders in Nigeria, who have seen reason in participating to grow the business, while many others are yet to wake up to the advantage it portends in growing their brands.
Significantly, The Gambia recently made bold its statistics, stating that participating at Akwaaba African Travel Market has increased their tourist arrival by 39 per cent, and a reason they have promised to always patronise the travel expo.
However, Travelpulse&MICE, which was on ground for the event, went out to feel the pulses of newcomers to the travel exhibition as well as those who have made it back-to-back from onset and the testimonies of progress about attending the show.
For the deputy minister, Ministry of Tourism, Arts and Culture, Dr Ziblim Iddi, who spoke on the year of return and Ghana's tourism products "I have been to so many international tourism fairs, I can say this is one of the biggest; this can match the ITB, the FITUR and all those that you have in Europe. So when I walked in, I was very impressed about the set up. I was impressed about the attendance, I was actually impressed to see Dubai, I thought it was a West African thing; you see Kenya, Uganda and people from the Caribbean all coming here to attend and promote their tourism.
"We have participated in the event over the years, but this year is more impressive. Ghana has had a good relationship with Ikechi and his team. This year is a special year for us in Ghana because of what we call the year of return. This marks 400 years of the first slaves leaving the shores of Africa.
Another tourism expert and former minister of Tourism, Civil Aviation, Ports and Marine of Seychelles, Alain St.Ange, has said that tourism could be the sure way to build a sustainable relationship with Africa and its Diaspora
St.Ange urged Africa to work with Africa so that the continent can be strong, adding that African stakeholders must decide to use all its assets and key unique selling points to reposition Africa.
"To help give the relationship a boost, the organisers of Akwaaba African Travel Market collaborated with US-based Africa Diaspora Awards to organise the conference of Africa- Africa Diaspora Tourism, St. Ange pointed out.
The CEO of Dubai Tourism, Salim Dahman, who was visiting Nigeria for the first time too, could not keep the euphoria as he said,  "Nigeria is our number one source market in Africa and Nigeria is one of our top 25 out of 30 source markets in terms of visitation globally, and in Africa is number one, because of the population and we want to take advantage of that.
"Dubai tourism comes at least four or five times every year to Nigeria to do trainings, do trade shows and also to interact with the talents, so we work closely with Nollywood talents and musicians to try and also have an exchange of culture between the two countries."
Director of Tourism Development of the Barbados Ministry of Tourism and International Transport, Dr Kerry Hall  said Barbados aim is to deepen bilateral ties, connectivity with Africa and a reason they are at the travel expo to rub minds with stakeholders who can make it happen.
"So one area is air services agreements and another is the lifting of travel visas between Barbados and Africa, this will increase tourism, business investment and trade, which would stimulate business in Africa.
"We understand that to boost travel back and forth from the Caribbean to Africa, and Africa to the Caribbean, one of the major obstacles or hurdles that need to be overcome is not just the waving of visa requirement, but also having that direct connectivity," she said
General Manager of Ethiopian Airline in Nigeria, Firihiewot Mekonnen has described the Akwaaba Travel Market as a veritable platform to showcase Africa as well as push the concept of Africans doing business with other Africans.
We have been with Akwaaba from the beginning, over 15 years now. What drives us, is that this is a kind of platform where different African countries can showcase their cultures, tradition, economy and other things, and then, what we believe at Ethiopia is that Africa should buy from Africa, inter African market.
"We have a lot to offer to each other and unless we support each other for different things, we cannot grow together," she added.
Also speaking at the side line of the event, the Director-General of National Council for Arts and Culture, Chief Segun Runsewe, commended the organisers of the AfTM for their steadfast and sustainable feat at bringing he travel to such an enviable standard that has made Nigeria a MICE hub for different global segment market.
"As you can see, we have to be proud of the Akwaaba show for attracting big names in global tourism to Nigeria for over five days. It is a plus not for the organisers alone but a national pride that must be supported by all and sundry."
The National President of National Association of Nigeria Travel Agencies (NANTA), Mr Bankole Bernard, who was astonished by the crowd and the unprecedented number of delegates from Dubai Tourism, said "I am highly impressed by the level of organisation Ikechi Uko has put together to make this event a grand one.
"I am highly impressed to see the Dubai team taking a massive space at the event, which is encouraging and I am very happy to tell you that it is high time we threw our weight behind what this man is doing. He is not doing it for himself alone but also for the benefit of us all."
"He has practically reduce the stress it would have taken industry players to visit the Dubai team in their country for B2B talk. At no cost they are at your disposal, i think we have to rally round him. Next year, i promise we are going to mobilise our members to be here."